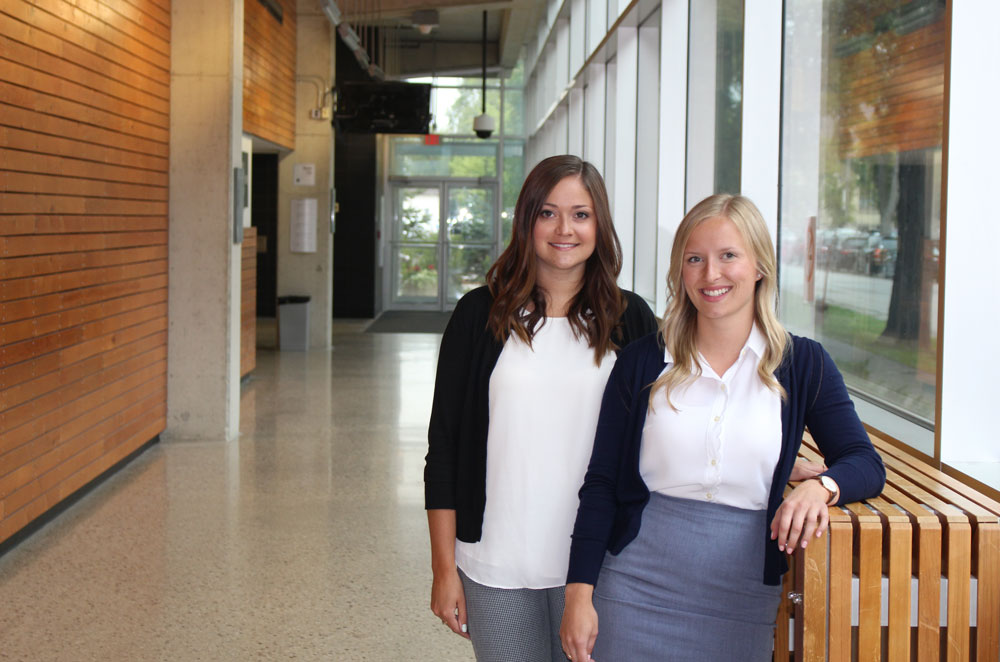 Dispensing wisdom
Pharmacy students connect with faculty for summer research program
September 7, 2017 —
For many students, a summer holiday is just what the doctor ordered to get back to school refreshed and reinvigorated. For nine pharmacy students, a completely different prescription was called for. Their particular constitutions mean they crave even more of what they love—science.
As part of summer research program, these students took the opportunity to load up on even more information and data, partnering with the College of Pharmacy faculty members on a wide area of studies.
Linnea Shackel describes it as challenging—but in the best possible way.
"They threw me right into it!" she said. "They said, 'we need an ethics proposal done' and I'd never done one before; I didn't even know where to start." But that's the whole point, she said. "I had all these people supporting me and showing me the ropes." Ultimately, she was not only able to write that proposal, but she also got into collecting data and then writing a paper. "I didn't know I'd be able to accomplish so much," she enthused.
Shackel worked alongside two of her favourite professors, Dr. Grace Frankel (Pharmacy Practice Instructor and Director of Pharmacy Performance Based Assessments) and Dr. Christopher Louizos (Director of Practice Innovation and Simulation and Manager of Steele's Apothecary) on a study of polypharmacy rates in long-term care facilities in rural Manitoba. In this case, polypharmacy meant patients taking nine or more medications. It's research that can really make a difference to patients, and it's also the kind of work that gets her away from the bench and into the field. "I don't really love lab work," she admits with a laugh. When she heard she'd be working on site at a care facility with nurses and physicians, that sealed it for her. "I thought it would be a good place to collaborate with different healthcare practitioners."
Classmate Michelle Boyce, who also participated in the summer research program, says the highlight was the opportunity to be mentored by a top-notch professor. "I worked with Dr. Sheryl Zelenitsky—she's basically an idol in the pharmacy world," said Boyce. Zelnitsky is a professor and researcher in the College of Pharmacy, Rady Faculty of Health Sciences. That kind of relationship not only helped her sharpen her research skills, but also pushed her to examine her academic career and consider taking her education even further. "I don't think I would have even gone there if I hadn't had this experience," says Boyce.
Her research, microbial therapy, involved examining different pathogens and resistance rates in both hemodialysis patients and post-op patients. Ultimately, the information will be used to prevent infections. She says the experience was invaluable to her future work as a pharmacist, adding that it was also refreshing to take a wider view on her studies. "I appreciated being able to learn in a different setting than always having to study in a classroom," said Boyce. "And being able to do something a little different that not everybody gets a chance to do."
While they were under the supervision of their professors, both students remarked on the amount of freedom they had to pursue research on their own terms. "We set our own deadlines and got our work done," said Boyce. "It was very independent and we were shown a lot of trust."
Shackel agrees. She says the professor she worked with had clinic work once a week and was allowed to sit in. "By the end of the summer she said, 'It's on you. I'll be in the other room – go for it!' It was such a great experience."