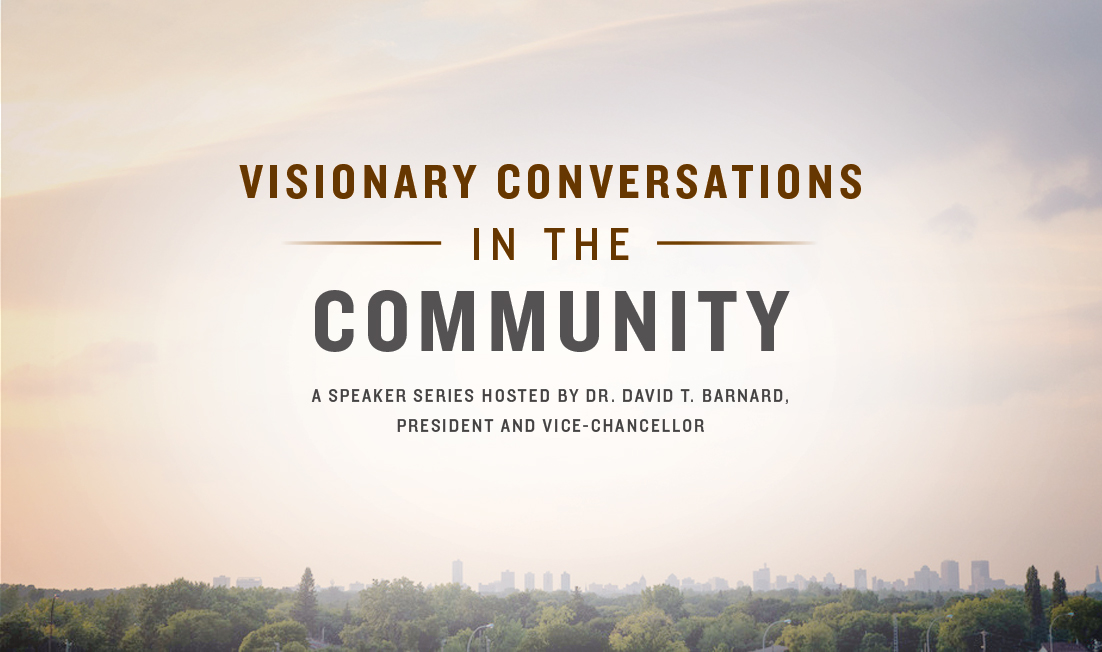 Discuss and debate with the experts
Diverse group of panelists provide unique perspectives to new Visionary Conversations in the Community
October 28, 2015 —
What is more powerful than a conversation that challenges our beliefs, engages our creativity and encourages us to see issues from a whole new angle?
Building on the success of our on-campus series, Visionary Conversations returns this year with a new twist: we're taking the conversation off campus. On November 4, 2015 University of Manitoba experts and community leaders, alongside President and Vice-Chancellor Dr. David T. Barnard, will discuss and debate at the Winnipeg Art Gallery.
Visionary Conversations are open to all community members. Please RSVP to let us know if you are planning to attend the event on November 4.
The first topic explores the tough question: are we becoming a society of liars, cheats, bullies and thieves? The discussion will focus on recent trends including the ongoing scandals and negative advertising in Canadian politics, the popularity of Ashley Madison and the latest doping accusations in sport, and ask if these trends suggest that we are becoming a less civil society.
Panelists for this conversation come with diverse perspectives and experiences. A young digital-savvy entrepreneur, an experienced politician, U of M researchers, a well-known newspaper columnist and political commentator will all approach the topic from different angles.
 Jae Eadie
Former City of Winnipeg Councillor and former President of the Federation of Canadian Municipalities
Jae Eadie's first career was in the insurance business, first as a property insurance underwriter before acquiring a partnership in a general insurance agency. In 1980, Eadie was elected to represent St. James on Winnipeg City Council. He remained in office for the next 26 years. During his time in municipal government Eadie held various positions and developed a strong interest in governance and policy issues. Eadie was active in municipal government activities outside of Winnipeg, serving on the boards of the former Manitoba Association of Urban Municipalities and the Federation of Canadian Municipalities. In 2013 Eadie was awarded the Queen Elizabeth II Diamond Jubilee Medal in recognition of his distinguished service to Canadian municipal government.
Dan Lett
Columnist, Winnipeg Free Press
Born and raised in and around Toronto, Dan Lett came to Winnipeg in 1986. Since his arrival, Lett has worked at the Winnipeg Free Press covering every level of government – from city hall to the national bureau in Ottawa. He is a two-time nominee for a National Newspaper Award, winning in 2003 for investigations. Lett has also been honoured with the B'Nai Brith National Human Rights Award and is a nominee for the Michener Award for Meritorious Public Service in Journalism.
Andrea Rounce
Associate Professor, Department of Political Studies, Faculty of Arts, University of Manitoba and Academic Director, Manitoba Institute for Policy Research
Dr. Andrea Rounce teaches and researches in public administration, working on topics such as public opinion about post-secondary education; government's use of public opinion and consultation in decision-making; public servants and public political activities; elections; and public sector governance and financial reform. She is committed to working with the post-secondary institutions, non-profit organizations, governments, and communities to create opportunities for Manitobans to discuss key public policy issues facing the province and the country.
Sarah Teetzel
Associate Professor and Associate Dean (Undergraduate Education), Faculty of Kinesiology and Recreation Management, University of Manitoba
Dr. Sarah Teetzel's research focuses on applied ethical issues in sport and has worked with the International Olympic Committee and the World Anti-Doping Agency. Within the field of sport ethics, Teetzel's main areas of interest include doping in sport, trans* athlete rights, and gender equity in sport.
Christian Lunny
Co-CEO, Dash Agency 
As co-CEO at Dash Agency, Christian Lunny focuses on emerging technology, social platforms, and changing consumer media habits to develop ideas for clients. As a digital-savvy creative leader, Lunny stimulates transformational thinking and drives collaboration across social and digital disciplines. In 2015 he was named as one of Marketing Magazine's Top 30 Under 30.
Thank you to our partners: Winnipeg Free Press, Business Council of Manitoba