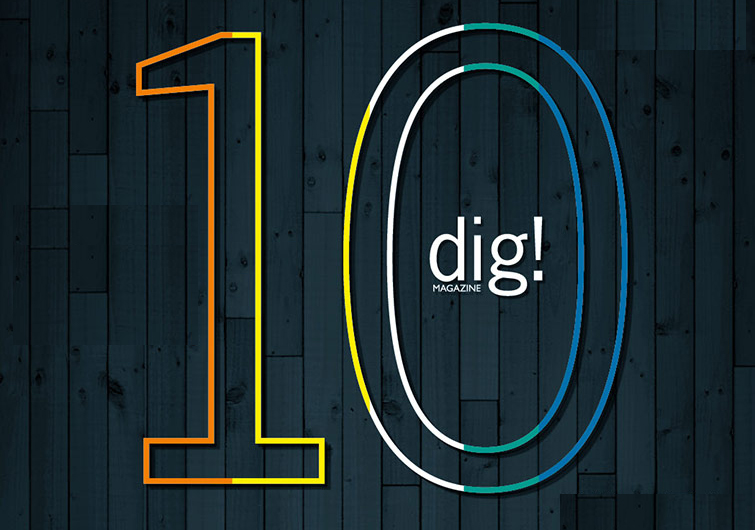 dig! magazine celebrates a decade of jazz in Winnipeg
November 14, 2014 —
dig! magazine is now in its tenth year of sharing jazz news with Winnipeg readers, and to mark the milestone, they're throwing the 5th annual Rent Party on Sunday, Nov. 16, at the Park Theatre.
For magazine founder and editor Steve Kirby, who is director of jazz studies at the Desautels Faculty of Music, dig! magazine is "the eyes, ears, soul and voice of the [jazz] community," and he's committed to keeping it free and readily accessible to the wider public — thus, annual rent parties.
In the November/December 2014 issue, Kirby writes, "I see dig! magazine as an ongoing chronicle of every jazz event that has ever occurred on my radar since 2004, the year after I arrived in Winnipeg. It's a staggering amount! I'm amazed when I think about the number of people who come here to play, to teach, to share music with us, and when I think about the number of people here — young musicians, established pros, audience members, supporters — who've embraced this music with such spirit and enthusiasm."
The independent magazine devoted to promoting an awareness of the jazz culture in Winnipeg is now published by Jazz Winnipeg, with continued support from Desautels Faculty of Music. dig! describes itself as "a clear, convenient and organized bi-monthly publication featuring articles about local, national and international jazz musicians, upcoming performances and workshops, as well as historical context, interviews, reviews, CD and book recommendations and letters to and from the editor."
Of course, events are also a perfect excuse to hear some great jazz, including contributions by many members of the U of M music faculty. Sunday's event will feature live jazz by the U of M Jazz Orchestra and jazz studies faculty — and fantastic prizes, the night's proceeds will go towards funding Winnipeg's one-and-only jazz publication. All revenues above magazine production costs go to the dig! Magazine Bursary Fund, supporting students U of M jazz studies program.
According to Kirby, jazz "has the potential to give voice to the normally unheard. Jazz can turn a room of musicians into a flock of birds, swooping and turning and soaring together in harmony…. It is the convergence of heart, mind and spirit in musical sound."
"Jazz is experiencing a renaissance here in Winnipeg," he says, "and that's partly because we have an interested and informed audience that really appreciates the music."
***
dig! magazine 
RENT PARTY
Sunday, November 16, 6:00 p.m.
Tenth anniversary fundraiser
Park Theatre, 698 Osborne St.
Red carpet and pre-concert fun: 6:00 p.m.
Concert: 7:30 p.m.
Tickets: $30, $25 advance
Info: jazzwinnipeg.com
Featuring:
The University of Manitoba Jazz Orchestra
(Derrick Gardner, bandleader)
The U of M Jazz Faculty
(Will Bonness, Quincy Davis, Derrick Gardner, Jon Gordon. Anna-Lisa Kirby, Steve Kirby and Laurent Roy)