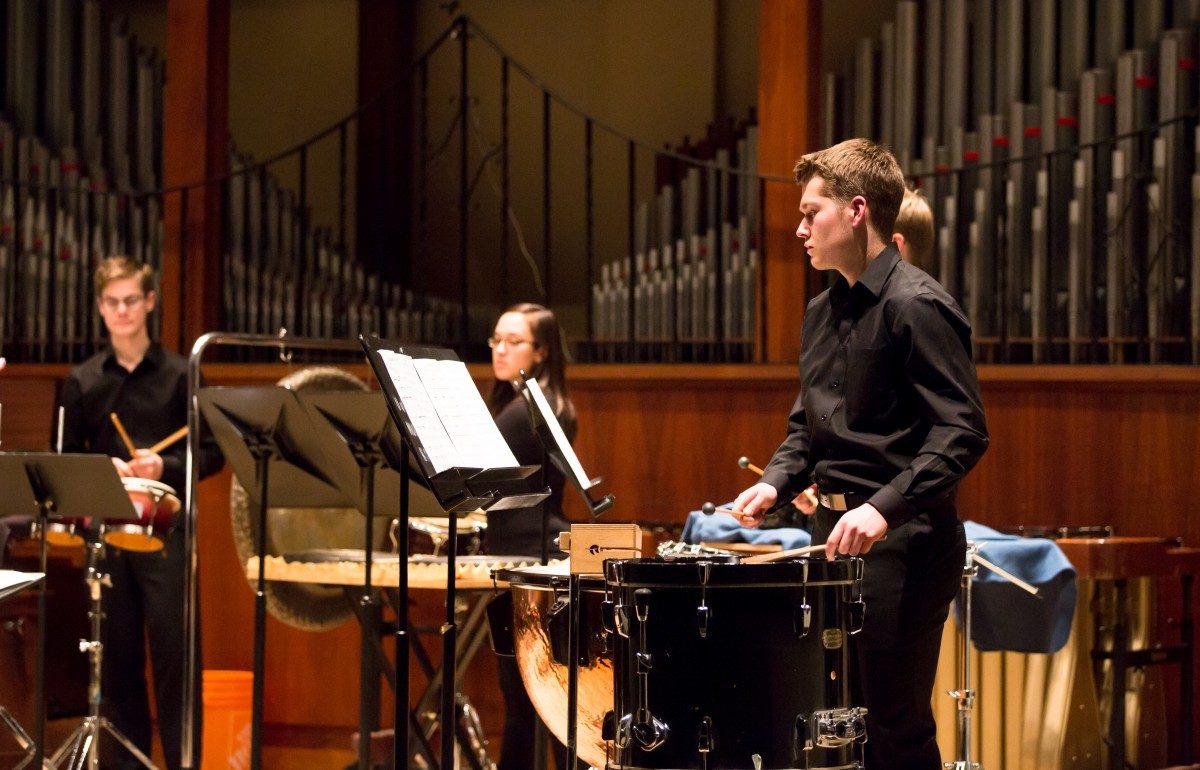 Desautels Faculty of Music: Upcoming performances
January 9, 2018 —
The second half of the 2017-18 concert season begins with performances in the Winnipeg New Music Festival's "In the Community" pop-up concert series.
Percussion Ensemble
Winnipeg New Music Festival In the Community Performance
Sunday, January 28 – 1:00 pm
The Forks Market
Admission: free
About the show: The University of Manitoba Percussion Ensemble is pleased to present three world premiers by three talented Desautels Faculty of Music composition students: 477, by Anatol Rennie; The Absence of Memory, by Chris Love; and Harum Scarum, by Nolan Hildebrand.

Under the direction of Victoria Sparks, the U of M's percussion ensemble performs a diverse and eclectic range of music. The ensemble's repertoire includes the iconic music of Varese, Cage and Harrison, as well as contemporary composers such as Casey Cangelosi, Joan Tower and David Lang. They also enjoy playing tin cans, flower pots, basket balls and bic lighters.
eXperimental Improv Ensemble (XIE)
Winnipeg New Music Festival In the Community Performance
Wednesday, January 31 – 12:00 pm
Engineering Atrium, University of Manitoba
Admission: free
About the show: This performance will draw inspiration from aspects of the Engineering Atrium's exquisite architectural properties. Musicians positioned at different points throughout the space will create an ever-changing ambient soundscape. Audience members are encouraged to walk about during the performance in order to experience it from different sonic and visual perspectives.
The eXperimental Improv Ensemble is an interdisciplinary performance group at the Desautels Faculty of Music. Directed by Gordon Fitzell, the ensemble's activities vary widely, ranging from music for film and dance to telematic concerts and media installations.
Other upcoming performances:
University Symphony Orchestra (UMSO)
Student Spotlight Concert – The UMSO presents an exciting program featuring the premiere of a new work by student composer Tristan Zaba and performances by Concerto Competition co-winners Mollin Balisi (flute) and Sydney Clarke (soprano).
Wednesday, February 7 – 7:30 pm
Westminster United Church, 745 Westminster Ave
$15 adult / $5 student
Mârdi Jazz
Featuring the U of M Student Jazz Ensembles
Tuesday, February 13 – 8:00 pm
Centre Culturel Franco-Manitobain, 340 Provencher Blvd
$5 (at the door only)
Wind Ensemble & Concert Band
Unsung Heroes – Featuring student composer Liam Gibson.
Friday, February 16 – 7:30 pm
Jubilee Place Auditorium, 173 Talbot Ave
$15 adult / $5 student
Opera Theatre Ensemble
Opera Excerpts – Featuring excerpts from popular operas.
Wednesday, February 14 & Friday, February 16 – 7:30 pm
Saturday, February 17 – 2:00 pm
John J. Conklin Theatre at the Gail Asper Performing Arts Hall
$20 adult / $12 student
Unless otherwise noted, tickets for all performances are available in advance at the main music office (319-136 Dafoe Road) or at the door.
For more information about upcoming events, please visit our website: umanitoba.ca/music/