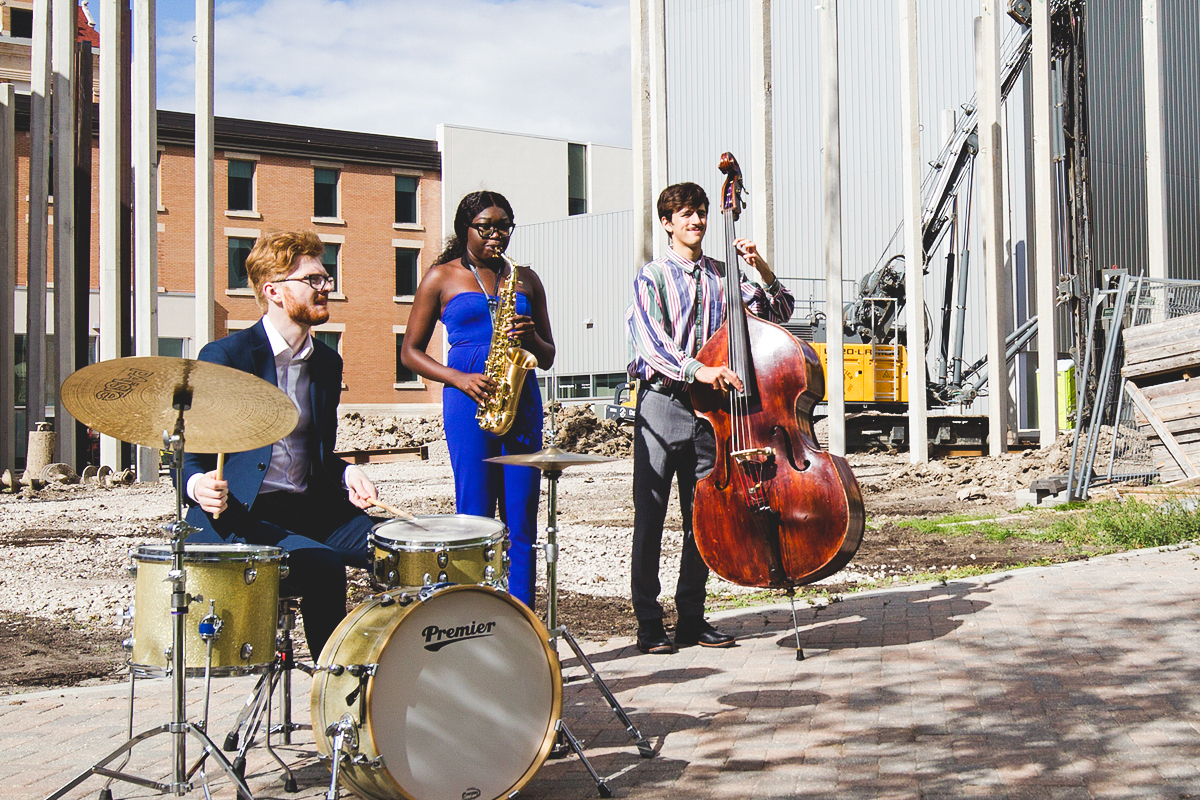 Desautels Concert Hall giving campaign offers chance for lasting tribute
Your seat awaits in stunning new venue
September 27, 2021 —
A giving campaign for the Desautels Concert Hall offers donors a chance to support the much-anticipated venue and leave a lasting legacy.
The concert hall has recently broken ground on the Fort Garry campus and is the grand finale of the Taché Arts Project. Its stunning architecture and versatility will make it the showpiece venue of the Desautels Faculty of Music.
The funds raised through the campaign will help ensure completion of the performance hub, which will showcase some of the finest talent from our UM community and beyond. The venue will give UM students valuable performance experience in a world-class hall, which will be an invaluable part of their training. It will also provide performance opportunities for a wide range of artists in Winnipeg's diverse musical community.
"So many artists will have the opportunity to flourish, as the concert hall bridges the off-stage rehearsal experience to the on-stage practical experience," says Evan Chan, a third-year music history student in the Desautels Faculty of Music. "The venue will also positively impact the local music scene and will be a dream come true for music students like me."
Donors can put their name on a seat in the new hall as part of a giving campaign that launches today. Supporters who make a gift of $1,000 or more will be recognized through a plaque on the seat back. The plaque's inscription can be the donor's name, the name of a loved one, or other tribute. Several seats in the 407-seat venue have already been secured by enthusiastic donors.
"Not only does this concert hall fill a significant need for our faculty, musical community and city, it enhances us nationally and globally as a university that inspires and houses world-class musicians," says Monica Huisman, an instructor in the Faculty and a donor to the concert hall.
The concert hall's inspired design is the work of Winnipeg's Cibinel Architecture and Toronto's Teeple Architects. Both Cibinel partners, George Cibinel (BES/77) and Michael Robertson (BA/98, MArch/04), are UM Faculty of Architecture graduates, as is Tomer Diamant (BEnvD/04) of Teeple.
Funding for the Desautels Concert Hall has come from its benefactor, Marcel Desautels, who previously made a $10 million gift, and through the generosity of many other donors. In December 2019 the university gratefully acknowledged a gift of $2.5 million from Dr. Michael F. B. Nesbitt. More recently, a gift of $2.5 million was also generously given by Gail Asper.
It is anticipated that the hall will open in Fall 2023.