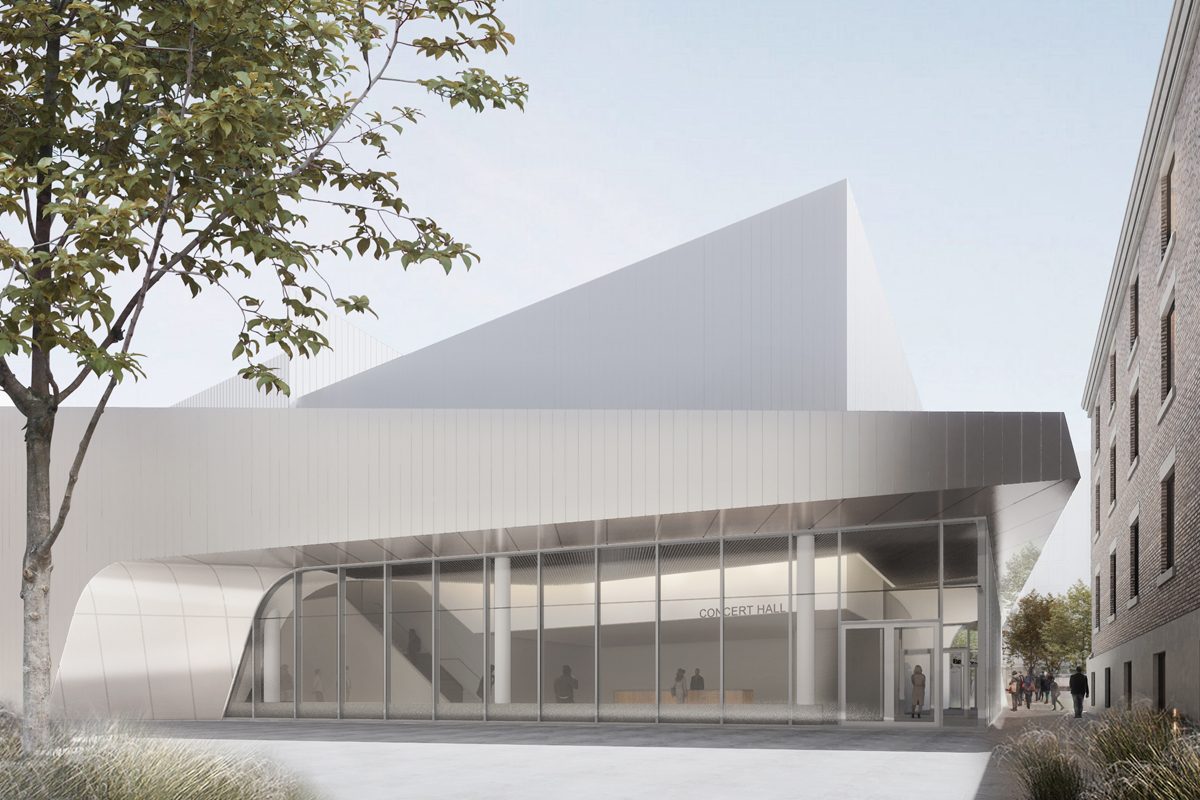 Celebrating $2.5 million gift for construction of new concert hall
A first-rate performing arts venue for the greater community.
December 5, 2019 —
On Thursday, December 5, 2019, the University of Manitoba gratefully acknowledged a generous gift of $2.5 million from Dr. Michael F.B. Nesbitt that will support the construction of a new performing arts venue on the university's Fort Garry campus – the Desautels Concert Hall.
"The Desautels Concert Hall will be the strategic capstone of the Taché Arts Project, the realisation of a longstanding dream that will have a tremendous impact on our faculty, university, and community," says Dr. Edward Jurkowski, dean of the Desautels Faculty of Music.
Dr. Nesbitt's gift will equip the space with an orchestra pit and other acoustic design features that will support opera and musical theatre for the university – and serve as a first-rate performing arts venue for the greater community.
During the event recognizing Dr. Nesbitt's generosity, attendees enjoyed performances by the U of M Jazz Orchestra led by Mr. Derrick Gardner, Director of U of M Jazz Orchestra and Assistant Professor, Babs Asper Professorship in Jazz Performance, and and an operatic performance by student Jennifer Turner (soprano) and Lisa Rumpel (piano), an alumna and collaborative pianist in the faculty.
Mr. Gardner said: "Dr. Nesbitt, you are providing the soul for this concert hall. For that I want to thank you."
"It's important that this concert hall be enjoyed not only by the university but by the entire community," explains Dr. Michael Nesbitt. "I invite everyone to 'take your seat' in the new concert hall by making a gift to support the new venue. There, you will sit among others passionate about what the arts can do for our community."
He added: "It's going to be a marvellous facility, I'm sure."
Dr. Nesbitt has been widely celebrated for his commitment to the arts and to the community, especially at the University of Manitoba. Over his many years of giving, he has contributed to lectureships and graduate scholarships in biological sciences, The Babs Asper Jazz Professorship, the Bridge Jazz Music Outreach program, and Indigenous education, among others.
Dr. David Barnard, president and vice-chancellor, notes: "I am humbled by Dr. Nesbitt's generosity and visionary commitment to our university. This concert hall will be an incredible opportunity to foster a dynamic relationship between people and music throughout our province."
This generous gift from Dr. Nesbitt brings the University of Manitoba closer to its $500-million fundraising goal for the Front and Centre campaign with a new total of $373,011,296.00.