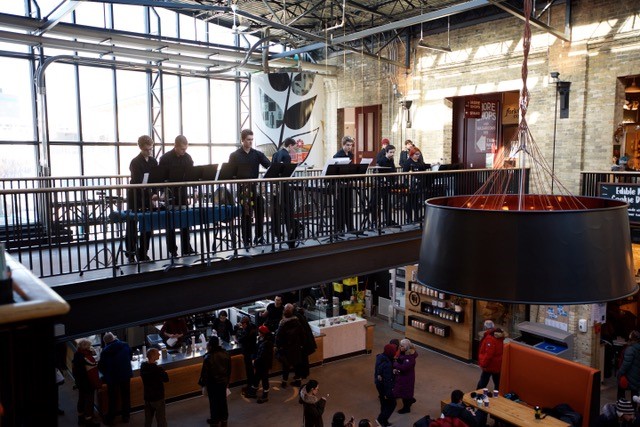 Desautels Faculty of Music ensemble to perform at special concert on frozen Assiniboine River
January 22, 2019 —
The University of Manitoba is delighted to join the 2019 Winnipeg New Music Festival (WNMF) lineup as it opens in Pavilion Sub Zero, a custom-designed ice amphitheatre located in The Forks on the frozen Assiniboine River. In collaboration with architect Peter Hargraves, this newly created space will capture the essence of WNMF as a cultural oasis within the heart of a Winnipeg winter.
Enjoy the Canadian premieres of John Luther Adams' Inuksuit and Terje Isungset's Beauty of Winter at Glacial Time, a special concert at Pavilion Sub Zero in The Forks on Friday, Jan. 25 at 7:30 p.m.
U of M Percussionists create unique musical experience
Percussion instructor Victoria Sparks and WSO resident conductor Julian Pellicano lead the University of Manitoba Percussion Ensemble in Inuksuit, an expansive work by Pulitzer Prize-winning composer John Luther Adams that continues his explorations in merging music, nature and landscape.
"The work is meant to be experienced as a part of the landscape where it is performed," explains Victoria Sparks. "The sounds of the environment, both from nature and from the audience there to experience the piece, are considered to be a part of the work, making the audience and the location where the work is performed as much a part of the piece as the performers."
Percussionists from the U of M music program join Norwegian artist and multi-instrumentalist Terje Isungset to present a suite of his original music, featuring himself and vocalist Maria Skranes. The percussionists will be performing on Isungset's ice instruments, freshly carved for the occasion of this performance.
"It's been a wonderful experience for us to consider not just how to perform this piece, but how to manage the elements," said Sparks. "We have been testing our drums by playing them after leaving them outside for extended periods of time to make sure that we won't damage them and also that we are still able to get good tone quality out of the drums and cymbals when they are very cold! We are looking forward to performing in such a unique environment."
Tickets for this performance and passes for the festival are available from the WSO Box Office. For more information, see Winnipeg New Music Festival – Glacial Time.