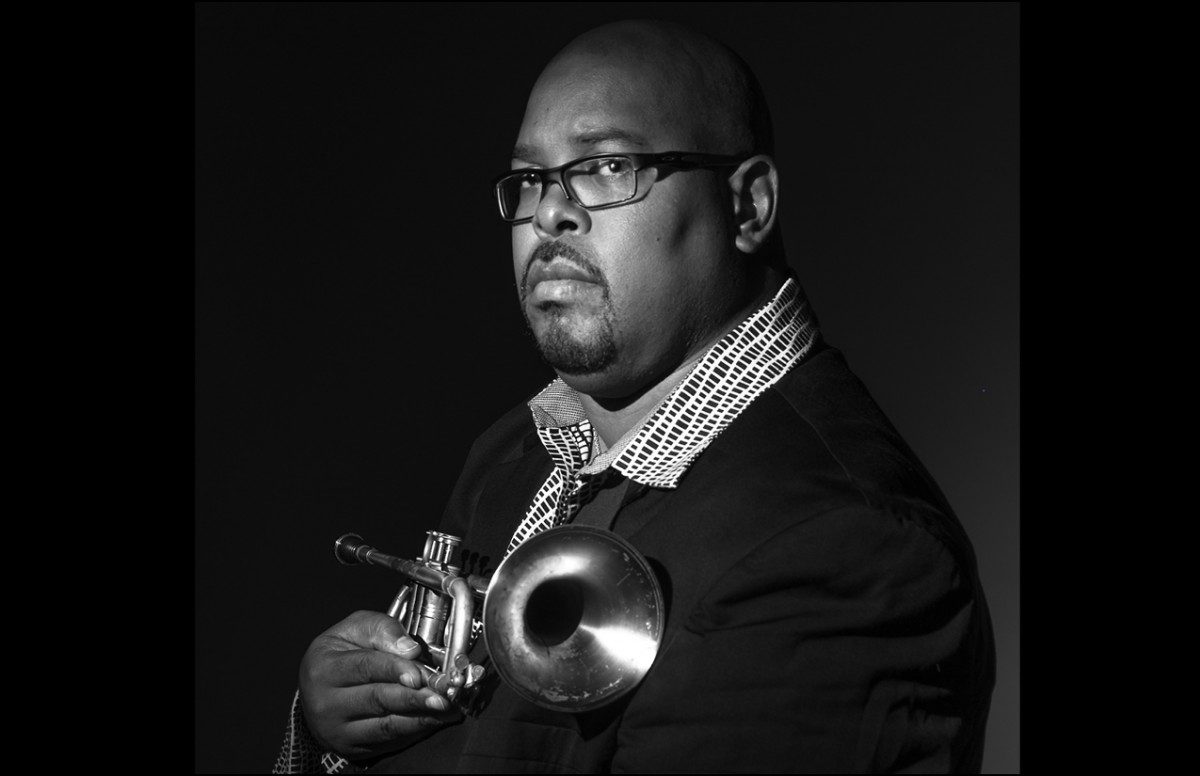 Derrick Gardner Receives the Benny Golson Jazz Masters Award
The Desautels associate professor of jazz trumpet and Babs Asper Professor in Jazz Performance receives notable award at prestigious HBCU
April 16, 2019 —
Derrick Gardner is no stranger to performing.
Gardner, an associate professor of jazz trumpet and Babs Asper Professor in Jazz Performance at the University of Manitoba, has played with just about every jazz legend one can think of: Dizzy Gillespie, George Benson, Frank Foster, Jon Faddis, Nancy Wilson, Tony Bennett, Joe Williams, Rufus Reid, Stefon Harris, Clark Terry, the Count Basie Orchestra, Frank Foster's Loud Minority Band, The Vanguard Jazz Orchestra, The Jazz Heritage Orchestra, to name a few.
Still, he must have felt a few jitters on April 9, 2019 when he got up to perform as the featured artist with the Howard University Jazz Ensemble (HUJE), since part of the night was dedicated to another jazz legend that Howard University wanted to celebrate.
Him.
Benny Golson Jazz Master Award
After performing with HUJE, Gardner was presented with the prestigious Benny Golson Jazz Master Award, which is awarded to jazz giants and supporters of the art form. The HUJE created the award to honor the legacy of Dr. Benny Golson, a pioneering jazz saxophonist, composer and arranger famous for his jazz standards, which include "Blues March," "Whisper Not," "And You Called My Name," "I Remember Clifford," and "Killer Joe." In 1995, Golson received the National Endowment for the Arts Jazz Masters Award, one of the highest awards a jazz musician can receive.
Gardner joins a number of jazz artists who have pioneered, upheld, and taught jazz, keeping it alive and thriving, including his cherished mentors and jazz greats Frank Foster and Fred Irby III.
Howard University is one of the preeminent historically black colleges and universities (HBCUs), and has produced some of the United States' finest African American scholars, leaders, and artists, among them Ta-Nehisi Coates, Sean Combs, Thurgood Marshall, Chadwick Boseman, Toni Morrison, Taraji P. Henson, and Kamala Harris, among many, many others.
HBCUs were established by African American communities and thought leaders to ensure that African American students had the opportunity to attain higher education in the United States, which for centuries held strong segregationist views that prevented talented African Americans from seeking education. HBCUs remain among the most respected institutions of higher learning in the United States, and hotbeds of creativity. Gardner himself received his Bachelor of Music degree from esteemed HBCU Hampton University.
Guardian of the art form
It comes as no surprise that Gardner has been celebrated as a guardian of the art form. Even outside his prolific career as a musician, Gardner has spent more than twenty years, working with jazz faculties at Long Island University, The New School for Social Research, The Ohio State University, Michigan State University, The Julliard School of Music, and now at the University of Manitoba's Desautels Faculty of Music. He also serves as the Director of the University of Manitoba Jazz Orchestra (UMJO).
In recent profiles featuring Desautels Faculty of Music students, it is clear that Gardner's students value his abilities as a teacher and mentor.
Says student Tristan Martinuson, who composed an original piece for the April 11th UMJO concert, "Every step of the way, it felt like I would come across an obstacle [in composing his score]…but with the techniques taught by both Jon [Gordon, Assistant Professor of Jazz Saxophone] and Derrick, I was able to overcome some of those issues."
"Professor Gardner says in his teachings that we can't sacrifice the music that we are hearing for playability," added Martinuson, on Gardner's advice to not water down his composition. "It may be difficult in some moments for players, but it's nothing a bit of practice can't solve."
"Getting a chance to work so closely with masters such as Jon Gordon and Derrick Gardner has been an honour and pleasure," Says Jared Beckstead, one of Gardner's UMJO musicians and students. I wouldn't be half the musician I am today without their guidance, and the example of humility and reverence towards the music that they set."
Of an arrangement that he completed for the UMJO concert, Beckstead said, "Derrick Gardner gave me a lot of direction with this one. His experience, not only as a member of the Count Basie orchestra, but also as a protege of the great composer and arranger Frank Foster, is unparalleled, and having the opportunity to ask him questions and get his feedback was not only great for my arrangement, but was a great learning experience."
Congratulations to Derrick Gardner! We are privileged to have you as a Desautels professor!