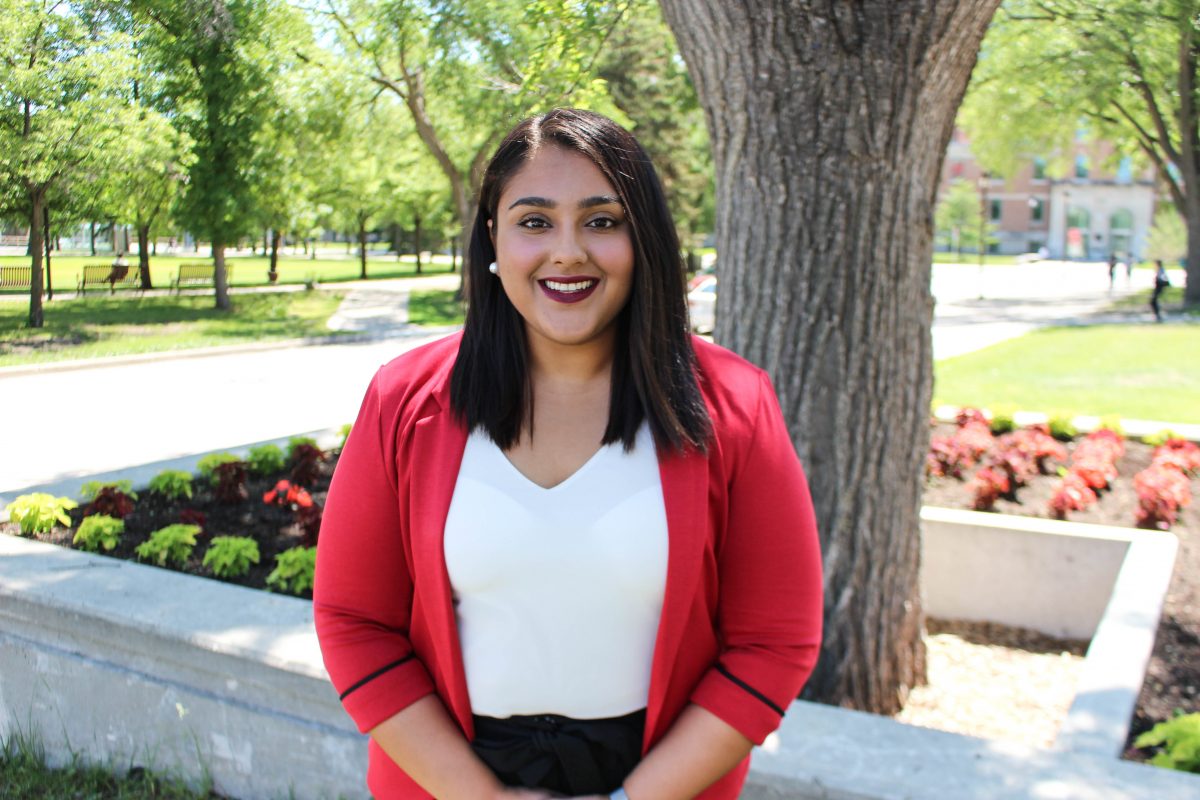 Dedicated leader does her part to help rescue U-Pass
April 6, 2020 —
Asper MBA student and community leader Tanjit Nagra revisits her UMSU role to help save the U-Pass.
People often take an MBA to develop their leadership skills, but when Tanjit Nagra [BA/18] began the Asper MBA program two years ago she was already an established leader. As an elected representative on the University of Manitoba Students Union (UMSU), including two years as President, Nagra had experience serving as spokesperson for over 20,000 students and a background in advancing wide-reaching student initiatives.
One memorable and controversial student initiative passed during Nagra's time on the UMSU board was the 2016 implementation of the U-Pass, a universal transit pass providing unlimited access to Winnipeg Transit services for full-time students in exchange for a mandatory fee.
"It was a very controversial issue especially for students that drove to campus and paid for parking. When U-Pass was first implemented, the cost of parking was over $500 a year," says Nagra. "I remember I was one of the people that voted no initially because I paid for parking."
According to Nagra, in the second year after U-Pass was implemented it became much more successful; in her second year as UMSU President more than 17,000 U of M students activated their U-Passes.
"It's a very successful program and is one of UMSU's most heavily used services along with the health and dental program," noted Nagra. "Part of it has also resulted in a mode-shift. Twenty-five per cent of people that used to drive to campus now use the bus instead as they were already paying for the service. It took about 7,000 cars off the road."
—
Fast-forward to 2020 and Nagra is a part-time Asper MBA student while also balancing a full-time job as Manager of Grants Administration and Grantee Supports at TakingITGlobal. She also ran for the Manitoba Liberal Party in the Fort Richmond Riding in the 2019 Manitoba Provincial Election, where — at only 23 years old — Nagra was looking to make history as the province's youngest MLA. When the ballots were counted, Nagra lost, but was shy only about 880 votes, tripling the number of Liberal votes the riding received in 2016.
Balancing school, volunteering, a career and political aspirations, Nagra's involvement with the UMSU board and the U-Pass recently resurfaced.
Nagra explains her recent involvement in the U-Pass dispute.
In November, City Council unanimously approved continuing the U-Pass program at an increased rate of approximately $24.50 per term. UMSU ran a referendum with a preferential ballot and the 9,000 students that voted gave this increase a 78% approval.
In early March we discovered that the U-Pass had been removed from the city budget and there was a low-income bus pass program being posed to replace it, however we knew that many students would not be considered as low-income.
We were concerned how this would impact students and our environment.
We worked really closely with City Councillor Janice Lukes who helped us gain access to the financials. I credit UMSU president Jakob Sanderson because he found that there was a significant miscalculation in the budget based on the information we were given, and as a result the U-Pass program did not need to be cut.
"The city acknowledged that there was $4.3 million extra in the budget. And that's a big deal. They gave credit to the students for this."