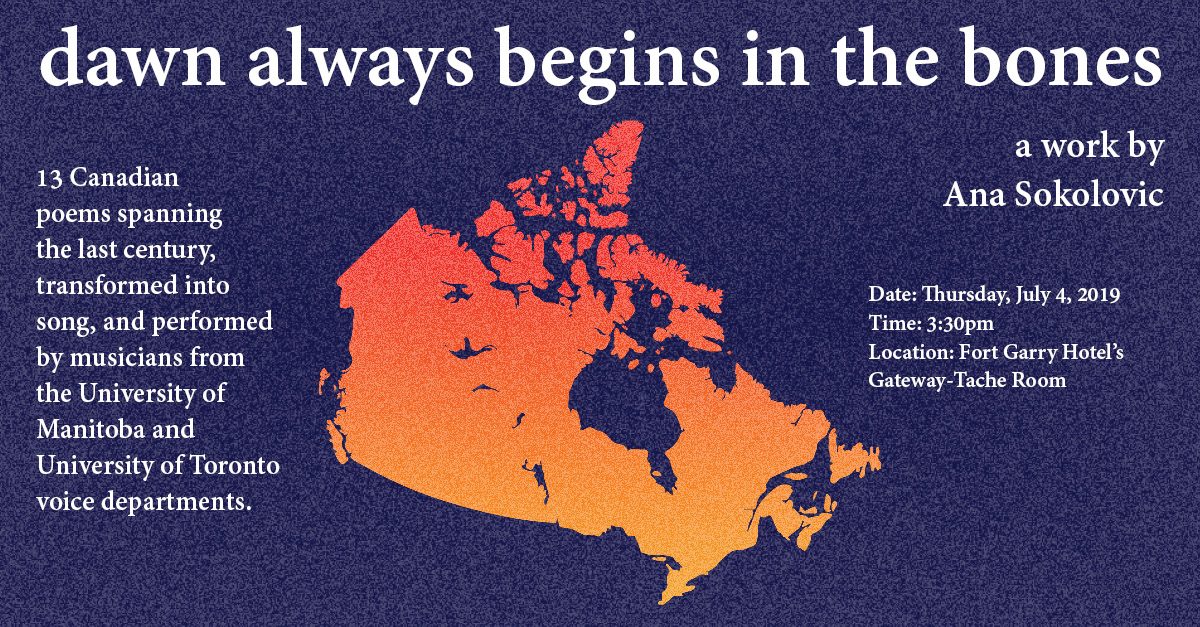 Dawn might break at different times in Toronto and Winnipeg, but it always begins in the bones
June 28, 2019 —
dawn always begins in the bones
in an innovative collaboration of two groups who are usually over 2,000 kilometres apart!
The Desautels Faculty of Music and the University of Toronto Faculty of Music are teaming up to perform the piece at the Canadian Federation of Music Teachers' Associations' national conference. This year's conference, titled A Century of Sound Connections, is being held in Winnipeg to celebrate the 100th anniversary of the establishment of the Manitoba Registered Music Teachers' Association (MRMTA), which is the oldest of its kind in Canada.
A new dawn
Montreal-based Ana Sokolović's Canada-spanning composition dawn always begins in the bones was commissioned for Canada's sesquicentennial celebration by the Canadian Art Song Project (CASP). In a country with a history filled with stories of immigrants seeking a better life, Sokolović was the perfect choice of composer for an historic celebration of Canada. Sokolović left her war-torn homeland of Serbia in the 1990s and moved to Canada. Before leaving Serbia, she completed her undergraduate degree in composition, working with esteemed composers Dušan Radić, a student of Olivier Messiaen, and Zoran Erić. Upon arriving in Canada, Sokolović enrolled at the Université de Montréal, where she completed her master's degree in composition under the supervision of José Evangelista. She has embraced her new life on Canadian soil, and feels optimistic about Canada's future.
"For anyone who is concerned about this country as a place of tolerance and hope, a half-hour chat with Ana Sokolović will be a balm for your patriotic soul," said Ottawa Citizen reporter Peter Robb in his interview with Sokolović in 2015.
"She has found the freedom and the multicultural makeup of her adopted country a blessing for her art and her life," he added.
With dawn always begins in the bones, Sokolović wanted to create a piece that represented the Canadian experience across a broad range of geographical, historical, and cultural perspectives. The resulting score uses 13 poems from the last 100 years and all corners of Canada to tell a story about the country's history. The resulting premiere of the cycle, which was first performed on May 17, 2017 in the Richard Bradshaw Amphitheatre at the Four Seasons Centre for the Performing Arts in Toronto, impressed audiences.
"Sokolović's work brims over with imagination of sound," said Schmopera writer Jenna Simeonov in her review of the Canada 150 premiere of dawn always begins in the bones.
"In setting the human voice, she never seems to run out of ideas, and with this new cycle, she brought out audible reactions of delight from the audience," added Simeonov.
Infinite ways of interpreting Canada's history
"In this vocal cycle, I was inspired by the wonderful poetry coming from all over Canada, and the research to find these texts was long and astonishing," says Sokolović in her description of the piece on her website.
"This project allowed me to discover unexpected, varied and inspiring poetic worlds: some more than 100 years old, some very new, some traditional, some experimental, some funny, some Zen, some short and some already cycles in themselves," she continued.
Canada's history looks decidedly different depending on each poet's perspective, and each musical group's interpretation and arrangement of the song cycle, so Sokolović specifically designed the individual songs to be performed in any order that the performers wished to use.
"I did not pre-establish an order; different orders could incite different dramatic directions for the cycle," she wrote.
Sokolović was working with different poet voices that spanned a century, and, as a result, she was inspired to write each song in the cycle in distinctly different styles and voices.
"Some texts inspired several versions. The piano itself is treated in different ways, using both familiar accompaniment and extended techniques," Sokolović explained.
The perfect piece for collaborators separated by geography
Because Sokolović's composition departs from the tradition of employing a single poet, and because she encourages musicians to shift the order of the individual songs to create different interpretations of the piece as a whole, the voice departments at the University of Manitoba's Desautels Faculty of Music and University of Toronto Faculty of Music knew that its fluid nature would make it ripe for collaboration and inspired performance between the two faculties.
"While the piece was originally written for a cast of 5 performers – 1 pianist and 4 singers – Sokolović has been very clear in her indications that many of the songs could be enhanced by multiple voices per part. This single indication has been the permissive inspiration for our project," say project co-coordinator Laura Loewen. "Through the rehearsal process, the performers will decide how many voices will perform in each song, increasing the textural and dramatic possibilities from solo voice to a chorale of 8."
"There is a long history of information sharing between these two voice departments, and this initiative is built on the mutual trust that has developed between us," says Loewen. "Faculty at both universities champion new music through commissions and special projects and encourage their students to find innovative ways to present and perform vocal music."
Case in point: Loewen, an associate professor in Desautels Faculty of Music who teaches collaborative piano, diction, and vocal coaching, has long campaigned for effective and innovative collaboration between musicians, and encourages musical risk-taking in her students. Most recently, she and Desautels associate professor Mel Braun recently had their song interpretation class to interpret and perform Pierrot lunaire, Arnold Schoenbuerg's delightfully weird opus, which encourages musicians to explore free atonality in music.
Meanwhile, Steven Philcox, an associate professor teaching keyboard and voice studies in the University of Toronto's Faculty of Music and Laura's project co-coordinator, is also the co-artistic director of CASP, and was part of the team responsible for commissioning Sokolović's innovative dawn always begins in the bones for the Canada 150 celebration.
"This project puts together an artistic team made up of music directors, theatrical directors, and pianist/coaches from two different universities," explains Loewen.
"We will have to find innovative ways of working together to bring our different visions of the piece and our rehearsing processes together," she added. "The discussions and compromises required by this working method will lead us to find new ways of working and listening, increasing the creativity of the rehearsing process."
From across Canada, the musicians gather to rehearse
This week, the University of Toronto and University of Manitoba students will meet in Manitoba to rehearse the two groups' combined interpretation of dawn always begins in the bones for the first time face-to-face. They will be meeting at the Krahn Barn in Neubergthal, MB, one and a half hours south of Winnipeg. The Krahn Barn is owned by Paul and Margruite Krahn, who have transformed it into an artist retreat where artists are invited to come for short residences. The Krahns provide living quarters, rehearsal space, and a performance venue, all in Manitoba's beautiful rural prairies.
"Neubergthal's relative isolation will also take the participants out of their home locations," says Loewen. "Living together in this setting will encourage the participants to get to know each other as people and performers, which will enhance the strength of the ensemble and allow them to create a common bond around this new experience."
The students who will be performing in the Manitoba premiere of dawn always begins in the bones are McKenzie Warriner and Maeve Palmer (sopranos), Victoria Marshall and Alexandra Hetherington (mezzo-sopranos), Chris Donlevy and Ryan Downey (tenors), and Nicholas Niebuhr and Nicholas Higgs (baritones).

The students will be working with music directors Mel Braun (University of Manitoba) and Lawrence Wiliford (University of Toronto); theatrical directors Katherine Twaddle (University of Manitoba) and Anna Theodosakis (University of Toronto); and will be coached by Laura Loewen and Steven Philcox.
"The goal of this project is to explore new ways of making music together. By combining the students and faculty from two universities for a short, intense rehearsal process, we are creating a need for them to take in and respond to new information and rehearsal methods," says Loewen.
"In working together as teams, the artistic directors, theatrical directors, and pianist/coaches will influence and sometimes challenge each other, creating a fluid and necessary give-and-take in the rehearsal process, something very much demanded by the nature of this piece," she adds.
"Sokolović's song cycle reflects the diversity and tensions created by living in a country like 21st century Canada, and our learning processes will also reflect this diversity," says Loewen.
July 4th: The Manitoba premiere of dawn always begins in the bones
The polished performance of dawn always begins in the bones, which will also serve as the Manitoba premiere of the piece, will take place on July 4, 2019 at 3:30pm in the Gateway-Tache of the Fort Garry Hotel. Tickets are $25.00 at the door, and the audience will have the opportunity to meet with the musicians after the performance. You won't want to miss this unique experience!