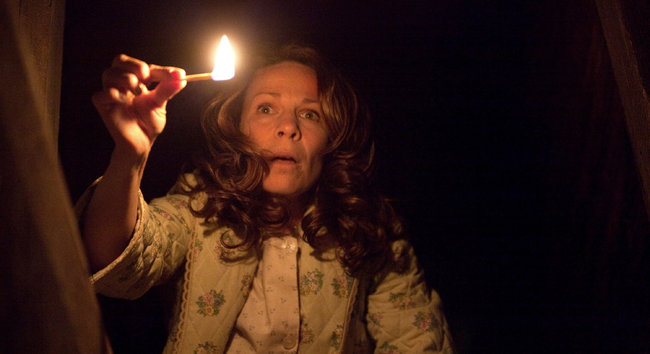 David Annandale's Top Five Genre Films of 2013
December 20, 2013 —
Senior instructor in the department of English, film and theatre David Annandale's specialization is in horror, SF and fantasy, and that's what he focuses on here. Whether it's irony-inflected horror or pure, adrenalized thrills you're seeking, Annandale found enough of it in 2013. In alphabetical order, here is his Top 5 list.
1. The Conjuring
David Annandale: Not only was this set in the 70s, it felt like a 1970s horror film. The Conjuring sets out to frighten its audience, and does so with assurance. After a long drought without a decent horror film on the big screen, this was most refreshing.
Fun Facts: Based on the true story of paranormal experts Ed and Lorraine Warren, who became (in)famous during the mid-seventies for their Amityville haunted-house investigations, The Conjuring captured critics' acclaim when it opened in summer of 2013. It's directed by James Wan, whose earlier work includes Saw and Insidious and stars Vera Farmiga as Lorraine and Patrick Wilson as Ed. Lili Taylor and Ron Livingston play Carolyn and Roger Perron, the everyday couple moving into their Rhode Island home that's the subject of the Warrens' early interest.
2. Gravity
David Annandale: Though I have some reservations about the handling of Sandra Bullock's character (some script choices undermine her strength), I remain in awe of the visceral power of this film. I discovered that one can, in fact, hold one's breath for 90 minutes.
Fun Facts:  Gravity's director, the Mexican-born Alfonso Cuarón, always "wanted to be a director and also an astronaut" — and somehow managed to make a thriller about people floating in space. Critics called it "visually amazing" (understandable, given all its special effects) and "incredibly exciting." Starring Sandra Bullock and George Clooney, Gravity got a lot of attention on its release and continues to be a DVD/streaming favourite for both general audiences and for those who like their Sci-Fi with a side of suspense. Cuaron is known for previous films such as 2001's Y Tu Mamá También and 2006's Children of Men (which starred Clive Owen and Julianne Moore).
The Guardian said, "The movie draws, broadly, on the style, if not the substance, of that dystopian tradition stretching from Kubrick's 2001 (1968): it is comparable to Alien (1979) or Dark Star (1974) or Silent Running (1972), in that it adopts something of their downbeat, quasi-realist behaviour, applied to something notionally real; it has some of their flashes of humour and horror and tension, but it is without cynicism or satire, without monsters or talking computers."
3. Pacific Rim
David Annandale: Giant monsters versus giant robots. My ten-year-old self could not have asked for more. The same can be said for my much-older self. The work of a director with a deep love of the material, and a deep understanding of how to treat it.
Fun Facts: "Today we are cancelling the Apocalypse." Not so fast. Pan's Labrynth director Guillermo del Toro gives us monsters vs. robots! The Globe & Mail loved it, both for its imaginative visuals and for its heart, calling it a "beautiful departure from the din of other summer action flicks," "a heart-warming team-building exercise."
G&M:  "You may find the robot-vs-monster battles too frantic and dark and three-dimensionally confusing to know who is doing what to whom, but, somehow it works: Usually shot at night, against the backdrop of glowing city harbours, they involve a lot of violent, beautiful thrashing. What distinguishes Pacific Rim from the rest of the summer fare is that is del Toro (Pan's Labrynth, Hellboy), a visual artist, creates living fantasy paintings more than just engineering slow-motion explosions. The design throughout is constantly imaginative, and even at two and a half hours, it moves like a fast drum roll, punctuated with "a-has" of familiar moments."
4. The World's End
David Annandale: Though I have not immediately fallen in love with The World's End as I did with Shaun of the Dead and Hot Fuzz, I still had great fun, and there were some brave choices made here. I've included the film here because I strongly suspect this is going to grow on me upon subsequent viewings, revealing some of the same thematic density as its predecessors.
Fun Facts: And now for some comedy. This third installment of director Edgar Wright's popular trilogy has the five childhood friends reuniting for an epic pub crawl that turns into a fight to save the world. Turns out, their hometown Newton Haven has been taken over by robots and the good townspeople have been replaced. The film was co-written by Simon Pegg (he also stars in the movie), who said,  "The notion of alienation from your hometown taken to its literal conclusion was how we got to science fiction."
5. You're Next
David Annandale: A high-energy mix of slasher film and Old Dark House mystery, combining brutal violence and clever wit. The moment where the heroine demolishes one of the villains for the first time is as galvanizing to audiences as the freighter-baseball-bat scene in Pacific Rim.
Fun Facts: If it's black humour you're after, look no further. It's pitch black, though, and you need a strong stomach, since it's also gory.
Slate magazine wrote, "The way in which [director Adam] Wingard is able to balance You're Next's tonal irony is a towering triumph all its own, the film's precarious blend of real terror, situational comedy, abrupt shocks, and perfectly lousy deadpanning besting that of Scream and virtually anything similar that's come since (including The Cabin in the Woods). Working from a script by frequent collaborator Simon Barrett, Wingard quickly establishes his conceit, brazenly merging the home-invasion thriller with the dysfunctional family dramedy. The approach feels novel, giving the potential victims a whole new layer of shared, messy history, and regardless of the level of humor suffusing a given scene, it keeps the stakes sky-high, as a character seeing his mother stabbed in the face with a machete is a lot different than one seeing his high school friend gutted."

Thanks to David Annandale for this list!
See all "Top Five" lists here.
David Annandale is senior instructor in the department of English, film and theatre, Faculty of Arts. He writes horror, thrillers and Warhammer 40,000 fiction. His most recent novels include Gethsemane Hall and The Death of Antagonis.