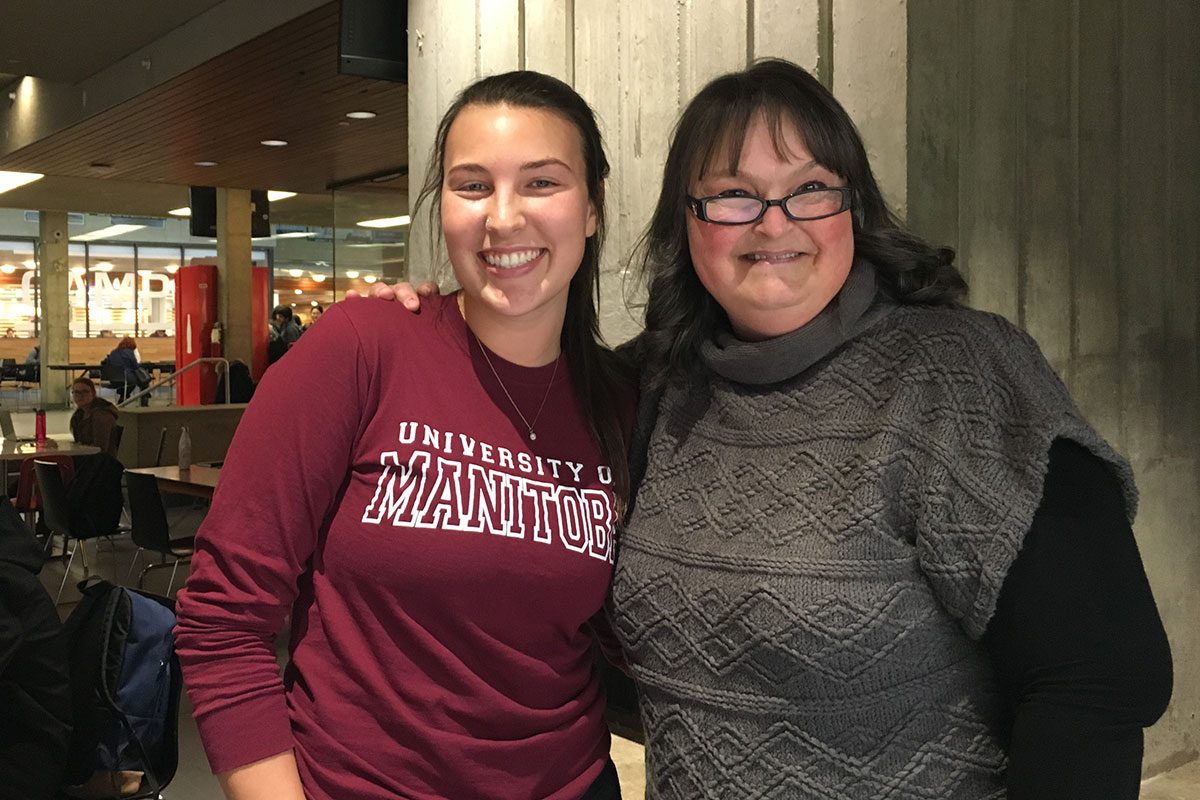 Date with a Donor: When Carol met Kaileigh
November 6, 2017 —
Would you shave your head for $500? How about $1,400?
That hair-raising prospect is what first inspired Carol Schlamb to begin donating to the U of M. In 2011, she participated in a fundraiser put on by one of the faculties' student associations.
"It was a head shave and shine, so you could either dye your hair or shave it off," explains Schlamb. "I decided if I could raise $500 I'd shave my head. I ended up raising $1,400, so I had to go ahead and do it!"
What's even more impressive is the fact that Schlamb did it during one of our classically cold Winnipeg winters.
"It was December, and I was bald for many months after that," she admits with a laugh. "I got to wear all those cute Santa hats with the long white braids."
Schlamb is serious about donating. This much is clear – baldly clear.
So when the U of M launched its Front and Centre campaign in 2015, Schlamb was one of the first donors to sign up.
For the past three years, the customer service rep from Financial Systems has been donating by payroll deduction through the Faculty, Staff and Retirees Campaign.
One of the areas she gives to is experiential learning, which helps students like Kaileigh Tod take advantage of hands-on learning opportunities outside the classroom.
Tod, a second-year kinesiology and recreation management student, recently attended KIN Games thanks to support from donors like Schlamb.
The two of them recently met up at UMSU University Centre to talk about the benefits of supporting students.
KAILEIGH: YOU SAID YOU'VE BEEN WORKING AT U OF M FOR 10 YEARS. WHY IS IT IMPORTANT FOR YOU TO HELP STUDENTS LIKE ME?
Carol: I was not financially able to go to university when I graduated from high school and now that I work here, I see the impact it's having on the new generation. Now that I'm able to give back, I want to encourage students like you to go for their dreams and not let financial issues stop you. There is funding to help with that and I'm glad to be part of the giving side.
KAILEIGH: WHAT MADE YOU START DONATING TO THE U OF M?
Carol: The Front and Centre campaign inspired me with all the options for where my donations would be of most help. I chose the Experiential Learning fund and Indigenous Success fund to give to. I know from my own blended Métis, Cree, European and West African family how hard it is to have the financial support to even think about going to university, so this was my way of helping all students and our future Indigenous leaders of tomorrow know there is a way to achieve your hopes and dreams. There are people giving support and encouragement so they can get the best education they can.
KAILEIGH: BEING ABLE TO DO THINGS OUTSIDE OF CLASS, LIKE KIN GAMES, HAS BEEN REALLY VALUABLE TO ME – ACADEMICALLY AND PERSONALLY. WHAT MADE YOU PICK EXPERIENTIAL LEARNING SPECIFICALLY TO DONATE TO?
Carol: Because it's part of the learning experience to be able to go to conferences and seminars. You can get the full impact of networking with other universities and students, which allows you to get a wider view of life and the differences that make up the exciting world we live in.
CAROL: I'M SO GLAD YOU'VE BEEN ABLE TO HAVE THESE EXPERIENCES AND GO TO KIN GAMES. WHAT DID YOU DO THERE?
Kaileigh: KIN Games is a conference for undergraduate kinesiology students. Almost 30 universities across Canada all come together for one weekend in March. There are four components: spirit, academics, sports, and a big dance competition which is pretty intense.
The academic portion was kind of like the Amazing Race. We had to run around downtown and answer questions on things like physiology, human growth and biomechanics. There was one part where you had to make up a song about a certain portion of anatomy. For the last two years, TOBA has won first in academics. We're trying to go for a three-peat this year!
Another big part of it is spirit. It really builds a whole community. Everyone loves their school and I found I came back from KIN Games loving U of M even more.
CAROL: IT SOUNDS LIKE IT WAS A LOT OF FUN! DID YOU FEEL IT ADDED VALUE TO YOUR STUDIES?
Kaileigh: One of the best things about KIN Games is you get to meet so many people from all across Canada. I think there are 800 people at KIN Games this year. It's a really great networking opportunity where you get to meet people that inspire you or get you to look at things with a different perspective.
I feel like I know so much more about life – beyond academics. I wish every department had something similar to KIN Games because it's such a good experience!
CAROL: HOW DID HAVING FINANCIAL SUPPORT CHANGE THINGS FOR YOU?
Kaileigh: KIN Games can get expensive. Last year it was $500 plus flights, and team clothing (a big thing is swapping clothes between universities). It's really important to have that support because we're all students so trying to find the money for that can be tough.
The Faculty, Staff, and Retirees Campaign is a year-round initiative which supports all areas of the university, including Indigenous achievement, graduate student support, and research excellence.
Join your colleagues and take your place, front and centre, by supporting our university. Learn more about how you can make an impact.