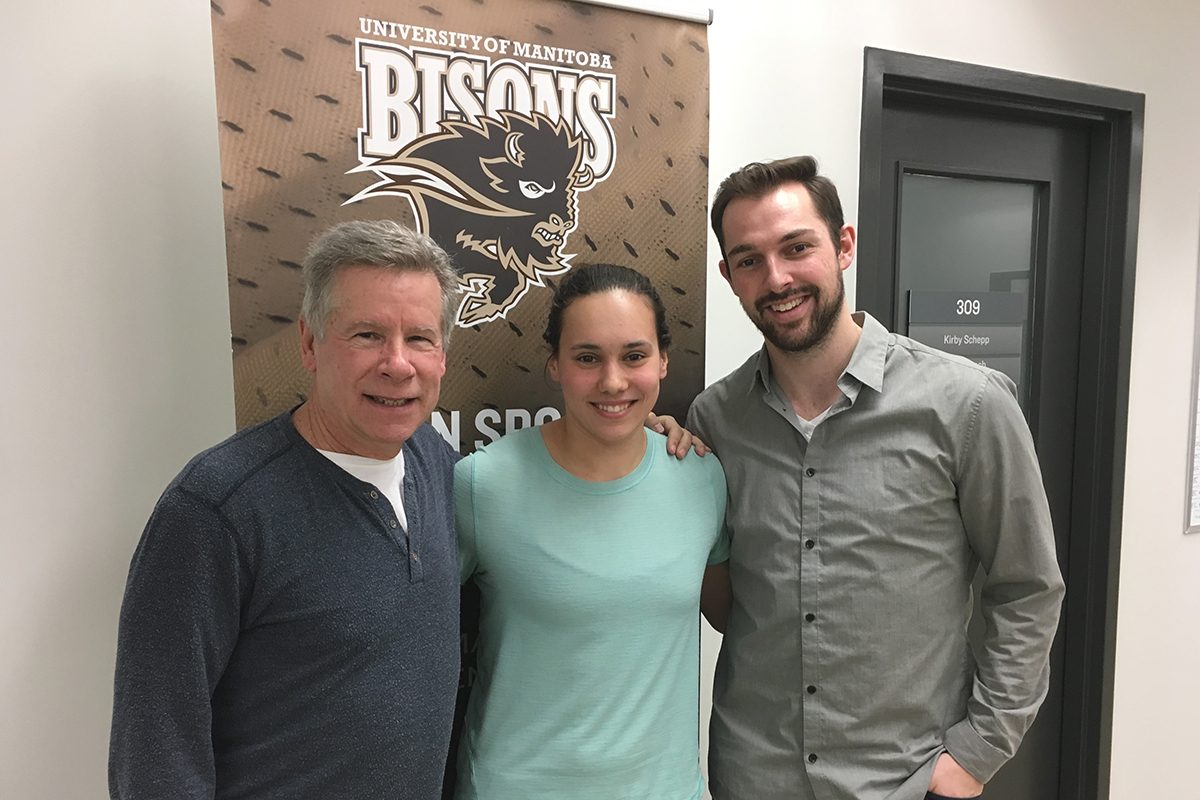 Date with a Donor: Running with the herd
April 9, 2019 —
Brian Dobie, the head coach of Bison Football, is known for being a passionate, vocal advocate of Bison athletes both on and off the field.
Yet there's a side to Dobie that he – like many other university staff and faculty – humbly keeps quiet: Dobie [BPE/74, CertEd/75] is a donor to the U of M's Faculty, Staff and Retirees Giving Campaign. For nearly 30 years, he has been giving to scholarships that support student-athletes in all areas of Bison Sports. This year, he also led the charge as one of the campaign's three co-chairs.
Kelsey Wog and Brett Stovin are two students who have benefitted from the generosity of donors like Dobie. Wog, a third-year agriculture & food sciences student, is an Olympic-level breaststroke swimmer with the Bisons. Stovin is captain of the Bison men's hockey team, as well as a fourth-year student in kinesiology and recreation management.
Recently, they sat down with Dobie to talk about life as student-athletes and the benefits of supporting students.
WOG: YOU WERE ALSO A STUDENT-ATHLETE, LIKE ME AND BRETT. WHAT WAS YOUR EXPERIENCE LIKE?
DOBIE: When I went through university it was tough financially to try to get it all done. That was a hundred years ago and there were no scholarships then for us. My mom didn't have money to give me to go to university so I worked and applied for Canada Student Loans.
STOVIN: IS THAT WHY IT WAS IMPORTANT FOR YOU TO HELP STUDENT-ATHLETES LIKE US?
DOBIE: Unless you are or were a student-athlete, there's no way someone can know what you guys go through and the pressure you're under. But I had that experience, and I know the demands you're experiencing, so I give some money every year. It's a pay it forward thing. I've got several reasons why I give, but a big part of it is because it shows that I care. It shows that I see what you guys go through and it shows the values that we try to teach in our programs: of giving and caring and responsibility. I think if you can set those examples and help students move through that kind of a path then it's the right thing to give to them.
STOVIN: PERSONALLY, I WOULD NOT BE HERE WITHOUT THE SUPPORT OF SCHOLARSHIPS. HOW DO YOU FEEL WHEN YOU SEE AN ATHLETE EXCELLING, KNOWING THAT YOU'VE DIRECTLY IMPACTED SOMEONE'S LIFE?
DOBIE: I think I'm speaking for everybody on this campus when I say that we take pride in the students and their successes, overcoming their personal battles and their wellbeing. The staff are the constant. We stay here and you guys enter, you go through your path, and you leave. But we all see you as part of what we feel is good and right in what we do here on this campus. It sounds very altruistic when you put it that way but I think that everybody feels a part of your successes. I really believe that.
DOBIE: BRETT, YOU SAID THAT YOU WOULDN'T HAVE BEEN HERE WITHOUT SUPPORT. WHAT DOES IT MEAN FOR YOU AND KELSEY TO HAVE RECEIVED SCHOLARSHIPS?
STOVIN: I simply would not be going to university. Playing hockey while going to school without a scholarship would not have been an option. I did not have access to resources that would have assisted me with paying for school and living expenses so I would have had to choose between getting an education or playing hockey. And if I'd have chosen to turn professional right out of junior hockey it would have been a huge risk.
WOG: Scholarships help me follow my academic and athletic pursuits at the same time. It means a lot to me because not everyone gets the opportunity to compete for a varsity team and I consider myself really fortunate to have the opportunity to represent the university. It also helps me realize that I am good at what I do; I kind of get recognized for being able to balance school and athletics at the same time.
STOVIN: I think the recognition, like Kelsey said, is another important piece. I received the Fleming Family Scholarship two years ago which recognizes athletes who are leaders in the dressing room, gym, on the ice, in the classroom and in the community. Since becoming a Bison I have identified issues in our community and found ways to address them. I truly enjoy bringing my peers together to enhance everyone's experience as a Bison Athlete and encourage everyone to get involved in the community by leading by example.
WOG: And it's nice to know that the staff and coaches want to support and help student athletes in more ways than just one. They see and understand that we work really hard and sometimes need help along the way. That gives me motivation to do my best and excel in addition to having less of a burden of paying for school.
DOBIE: YOU NOW HAVE THIS PLATFORM TO TELL PEOPLE WHAT IT MEANS TO BE SUPPORTED. IF THERE WAS SOMEONE OUT THERE WHO WAS THINKING OF DONATING TO THE U OF M, WHAT WOULD YOU SAY TO THEM?
STOVIN: I would say that if everyone donated even a very small amount, this could quickly compile into enough to make a significant difference in students' lives. Someone with the potential to be a doctor, lawyer, engineer, environmentalist or even prime minister may be missing out because they do not have the resources to access a university education. Our athletes take pride in being community leaders. Our athletes also work extremely hard to reach the standards required to stay academically eligible. Supporting a student-athlete or any student with a donation may be the one thing needed to allow a young adult reach their full potential.
The Faculty, Staff and Retirees Giving Campaign is a year-round initiative which supports all areas of the university, including Indigenous achievement, graduate student support and research excellence.
Join your colleagues and take your place, front and centre, by supporting our university. Learn more about how you can make an impact.