Cooperative Education / Integrated Work Program 2020 Report
September 15, 2020 —
Summer 2020 was challenging for all employers and students. The global pandemic was declared on March 11, just as students were honing skills and setting sights on potential summer jobs. While government-supported subsidies eventually provided some relief, many anticipated positions were halted as everyone adapted to uncertain situations. Nevertheless, we were pleased that some outstanding opportunities were offered and seized by Faculty of Architecture students.
Remote work terms in summer 2020 included placements in landscaping design, project management, industry support, communications and graphics, housing research, planning analysis and community engagement.
In one case, a summer 2020 Co-op position provided a unique opportunity to combine planning and filmmaking skills. Read more about Hillary Beattie's work with Narratives here.
For another student, summer 2020 was the exciting culmination of a year-long adventure working in the Northwest Territories, at the Yellowknife location of Stantec. To learn more about Fatima's Naeem's experience designing long-term care facilities with diverse consultants in the north, see the UMToday story here.
Career Development
While 2020 did not see an increase in the number of work placements, all 79 students who enrolled in the program benefited from participating in career-development workshops offered in January 2020. These sessions covered interview skills, networking and professional communications, as well as resumé composition and cover letter writing.
On January 29, 2020 we hosted our second-annual portfolio workshop, involving fifty Co-op students and nine professionals, who mentored students via personal feedback, candid counsel and inspiring example.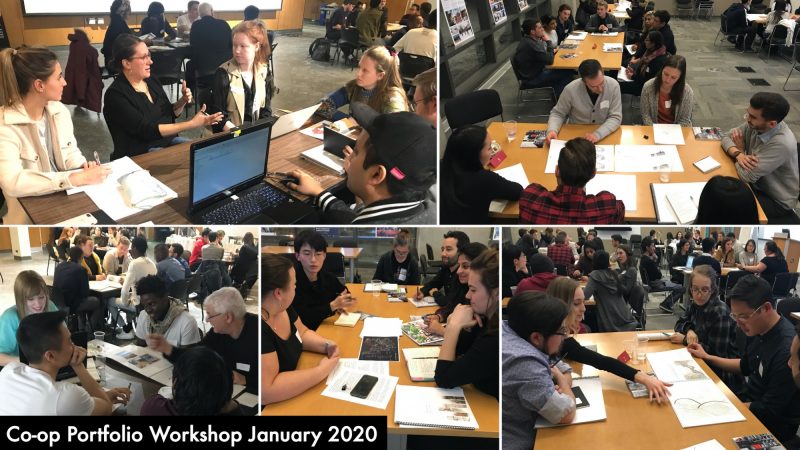 We are especially grateful to landscape architect Monica Giesbrecht and architect Karen Shanski for providing detailed comments to all the students on what they look for when interviewing applicants. We also extend our sincere thanks to the participating professionals who joined the table discussions from Architecture49, BLDG Architecture Office Inc; ft3 Architecture Landscape Interior Design; HTFC Planning & Design; Number TEN Architectural Group; Pico Architecture Inc; Rodych Integrated Design; and Thom Fougere Studio.
Experiential Learning for all Disciplines
Launched in 2018, the Faculty of Architecture's Cooperative Education / Integrated Work Program option is designed to complement academic study with experiential learning. Work terms help students sharpen skills, broaden perspectives and consider future career specialization.
Co-op is open to undergraduate students in their third or fourth year of study in any Bachelor of Environmental Design stream (Architecture, Interior Environments, and Landscape + Urbanism); as well as students in the Architecture Master Preparation program; and graduate students in any professional Master's program (Architecture, City Planning, Interior Design, and Landscape Architecture).
Hire a student
If you want to diversify your team with skilled student assistance and help mentor the next generation of design and planning professionals, please consider posting a work term opportunity with us. Our Cooperative Education / Integrated Work program meets the province of Manitoba's definition of Co-op, making employers eligible for the Manitoba Paid Work Experience Tax Credits.
To find out more, visit the Faculty of Architecture Co-op website or email the Co-op/I Coordinator, Corrine Klekta, at faumcoop [at] umanitoba [dot] ca
Thank you to the 2019-2020 participating employers:
Brown and Sons Construction, Selkirk
Narratives Inc., Winnipeg
Silex Fiberglass Windows and Doors, Winnipeg
Stantec, Yellowknife, North West Territories
University of Manitoba, Winnipeg
West Broadway Community Organization, Winnipeg