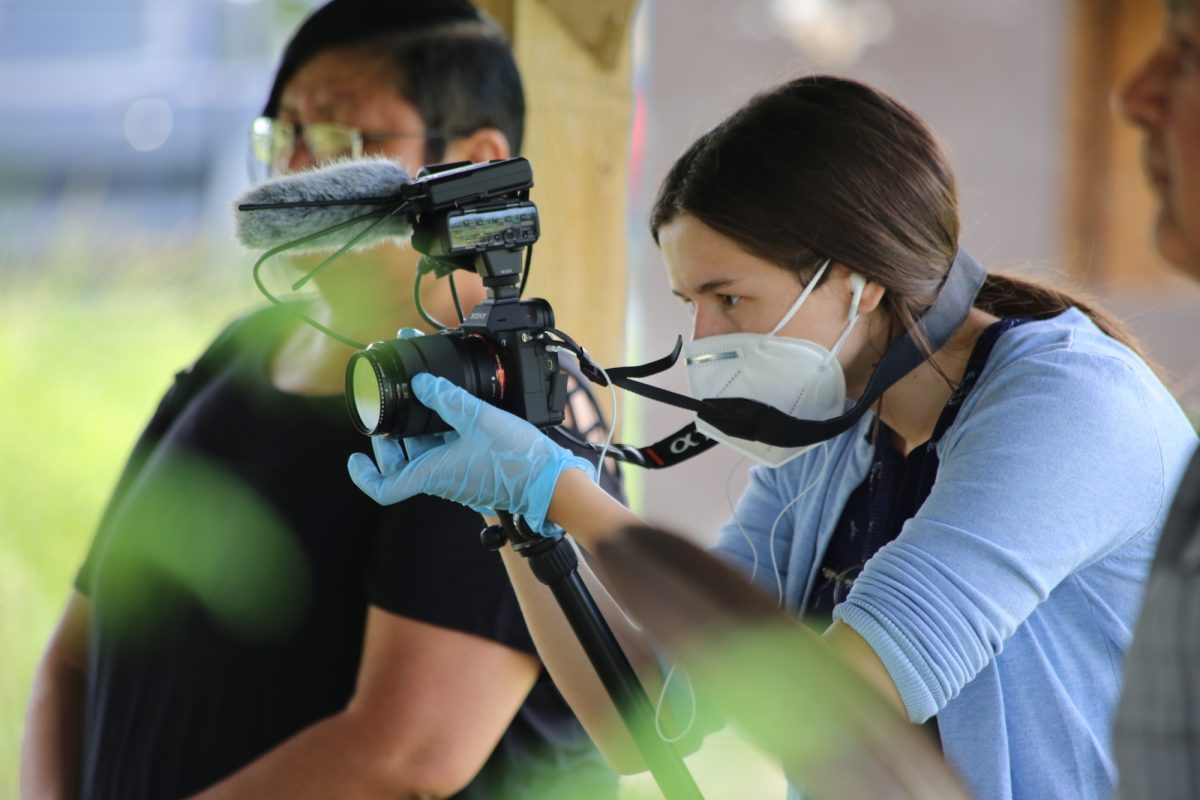 Unplanned Planning Co-op in Filmmaking and Community Engagement
August 26, 2020 —
During summer 2020, Master of City Planning student Hillary Beattie worked with the Winnipeg-based consulting firm Narratives Inc., which specializes in environmental planning, Indigenous engagement and conflict transformation. The position was part of the Faculty of Architecture's Cooperative Education / Integrated Work Program.
In August, Lisa Landrum, Associate Dean Research and Academic Liaison for the Co-op/I Program, reached out to Hillary to ask about her experience. As it turned out, the COVID-19 situation, though difficult, led to opportunities to exercise a variety of skills and passions.

Tell us what you're doing with Narratives.
Narratives is working with a partnership of four First Nations communities on the twinning of Highway 17, doubling the number of lanes from two to four, between the Manitoba border and Kenora. The partnership is called Niiwin Wendaanimok, which means 'Four Winds' in Anishinaabemowin. Narratives is working with the communities on a Harmonized Impact Assessment, which brings together scientific and Indigenous knowledge about how the twinning project will impact the four communities.
As part of this project, I've had the opportunity to help out with mapping as well as report and proposal writing. I've also planned, filmed, and edited some short videos of the communities. This was particularly exciting for me as I used to work on documentary films prior to starting my city planning degree but did not think I would have the opportunity to combine filming and planning work together.
I've also had the opportunity to learn about and help with other planning projects including a subdivision proposal and a social impact assessment.

What's the most exciting part of the job?
There have been a lot of exciting opportunities, but I think my favourite was visiting First Nations communities. In mid-July, my coworkers and I visited the four communities that make up the Niiwin Wendaanimok Partnership. Due to the pandemic, we primarily met outside and were very careful to always wear personal protective equipment. During this visit, I was able to meet community members, talk with them about their hopes and concerns for the twinning project, and learn more about their cultural teachings. This was also when I had the chance to do some filmmaking. It was an exciting project and I really enjoyed being a part of it.

What are the challenges?
One of the biggest challenges was starting the position during the pandemic. For the first two months, everyone in my office was working remotely so I didn't have the chance to meet my coworkers in person until halfway through the internship. While working remotely, we had meetings every day through Zoom and the team was very welcoming, but it was still not the same as working together in person. Overall, we made it work despite the challenging circumstances.

You hold previous degrees in Arts and Environment. How's that background supporting your work in City Planning?
Yeah, I have a Bachelor of Arts in Human Geography from the University of Winnipeg and a Master of Environment from the University of Manitoba. Both degrees provided me with a solid understanding of many of the complex challenges that planners try to address in their work. In my BA, I learned a lot about issues like climate change and environmental sustainability in cities. During my MEnv, I worked on a collaborative documentary film project with the Heiltsuk Nation of Bella Bella, British Columbia. (You can watch the trailer for film here.) I had the opportunity to learn about the intergenerational impacts of Residential Schools on Indigenous communities. I also witnessed the resilience of the Heiltsuk Nation and learned about the many ways that Indigenous communities are working to revitalize their cultural traditions. Overall, my previous education prepared me for this program, and for working on the many complex social, environmental, and political challenges that planners seek to address.

How is your Co-op experience with Narratives influencing your ideas for future studies and/or career goals?
My Co-op with Narratives has really demonstrated the importance of community engagement and involvement in planning processes. My colleagues at Narratives have strong working relationships with community members, coordinators, and leaders from the four communities in the Niiwin Wendaanimok Partnership. I've witnessed how important this is when it comes to developing plans and negotiating outcomes that really work for the communities involved. I hope to be able to continue this type of community-based work throughout my planning career.

Is there anything else you would like to add?
I think the Co-op program is a really great way for students to gain practical experience in the planning and design fields. I'd encourage all students in the Faculty of Architecture to apply for it!
_
Find out more about the Faculty of Architecture's Co-op/I program on the Co-op/I Employer page.