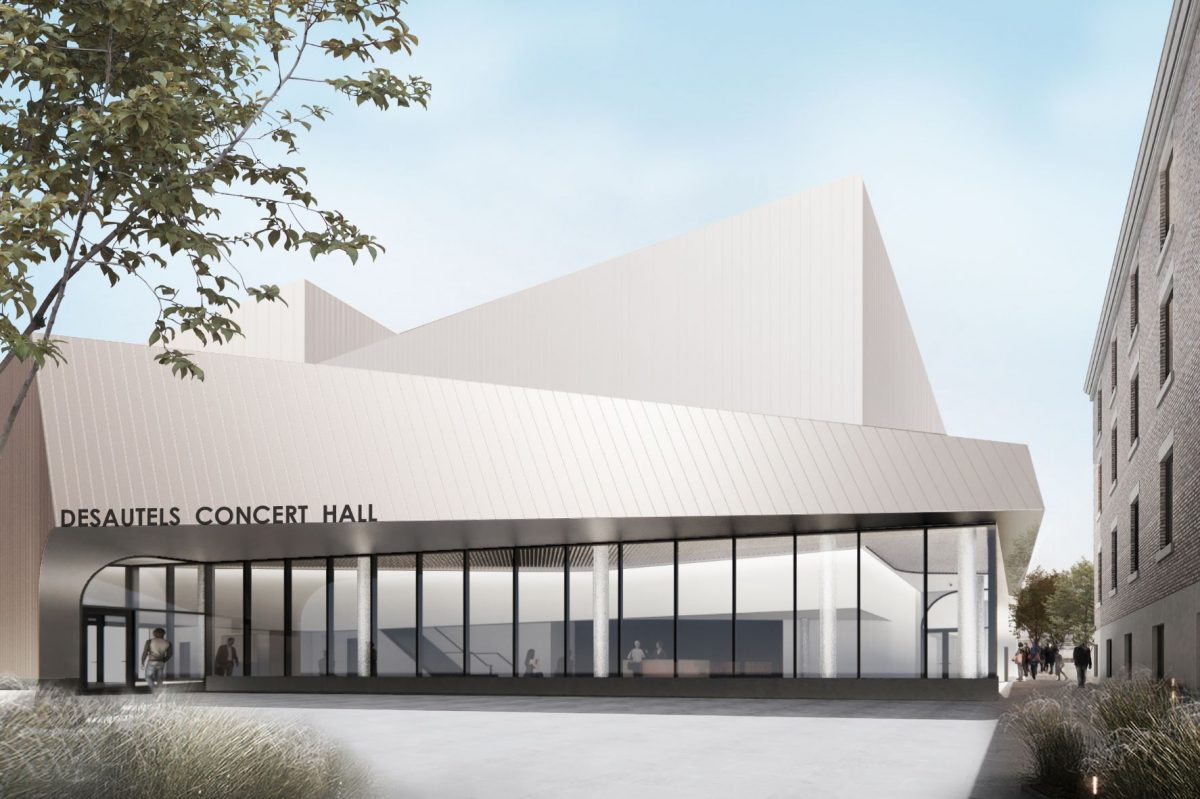 Construction begins on Desautels Concert Hall
September 23, 2021 —
Construction of the stunning new Desautels Concert Hall, an innovative and unique performance venue for Winnipeg, was officially announced last night at a UM Homecoming event.
The concert hall is the grand finale of the multi-year Taché Arts project. With its striking architecture, superior acoustics, optimal sightlines and a configurable stage for a variety of performances, the hall is set to transform UM's facilities for the performing arts and will be the Desautels Faculty of Music's showpiece venue.
"I am excited about this new space, which will be unlike any other in Winnipeg," says Michael Benarroch, President and Vice-Chancellor at UM. "It will enable opportunities for new performances to move and inspire us, fostering connections between communities in ways only performance pieces allow. And such a transformative space would not be possible without the generosity and vision of Marcel Desautels, Gail Asper and Michael Nesbitt. Their support made this possible, and on behalf of Manitobans, I thank them."
The 407-seat hall will be unique among Winnipeg venues and is designed for a broad range of university and community events. It can be configured three ways to create an optimal acoustic and viewing experience. These variations are possible through a system of moveable towers, panels, sound-absorbing curtains and ceiling reflectors.
"With state-of-the-art acoustics, adjustable proscenium, and orchestral pit, the concert hall will provide an outstanding performance experience for our students, faculty, and community musicians. It is flexible enough to accommodate a range of musical activities, from the solo performer, to our various small ensembles, to large ensembles such as our opera productions and University of Manitoba Jazz Orchestra. The concert hall will be not just an important feature of the Desautels Faculty of Music and the University of Manitoba, but also a vital contribution to Winnipeg's musical life," says Edward Jurkowski, Dean of the Desautels Faculty of Music.
A well-planned benefit of the hall is its connection to bright, new rehearsal spaces where performers can warm up and rehearse before and during events.
The concert hall's inspired design is the work of Winnipeg's Cibinel Architecture and Toronto's Teeple Architects. Both Cibinel partners, George Cibinel (BES/77) and Michael Robertson (BA/98, MArch/04), are UM graduates, as is Tomer Diamant (BEnvD/04) of Teeple.
Dr. Marcel Desautels, benefactor and name-sake for the faculty, played a leading role in making this project a reality when he made a generous $20 million gift to the faculty, designating $10 million specifically for a new concert hall. Other generous donors followed his lead. In December 2019, the university gratefully acknowledged a gift of $2.5 million from Dr. Michael F. B. Nesbitt. More recently, a gift of $2.5 million was also generously given by Gail Asper.
"I am delighted to be part of this exciting project and I can't wait to see our talented musicians shine on this first-class stage, says Gail Asper. "I hope that donors will consider joining me in contributing to this new venue that will help to nurture the fine talent our province is so famous for."
A 'Your Seat Awaits' giving campaign also launches today offering the chance for the community to be part of this legacy project. Donors who make a gift of $1,000 or more will have the opportunity to name a seat in the hall.
Whether you are supporting health as a human right, advancing reconciliation and promoting Indigenous achievement, climate change research, or transforming the learning experience, you are making the world a better place.
Read more in our Gratitude Report