Congratulations Jitendra Paliwal
January 2, 2020 —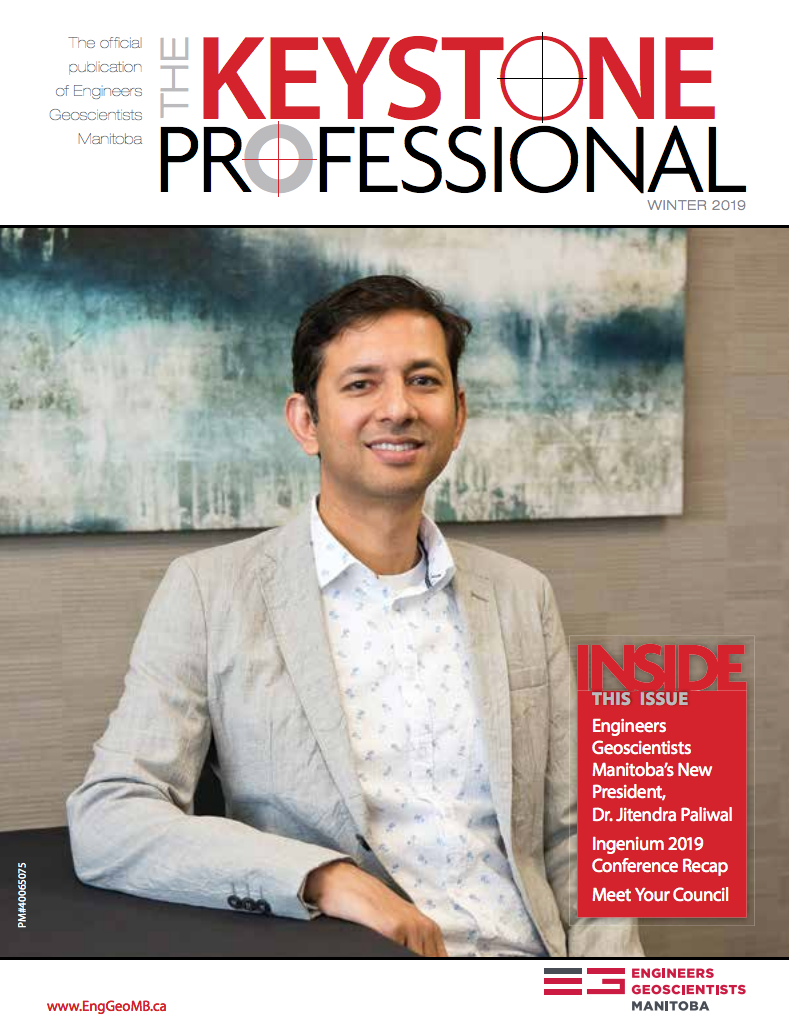 Jitendra Paliwal is the new president of Engineers Geoscientists Manitoba, the professional regulating body. The biosystems engineer grew up in India and arrived as a graduate student to UM in 1995, continuing as faculty upon completing his PhD in 2002. His research is geared towards providing an abundant supply of safe and healthy food to human beings and livestock while keeping the carbon footprint to a minimum.
As the new president of Engineers Geoscientists Manitoba, he penned a letter for the associations's magazine. UM Today republishes it here:
As I sit down at my makeshift office at the Toronto Pearson Airport Starbucks to write my first President's Message for The Keystone Professional, I can't help but marvel how technology has transformed the way we live and work. In the last hour between my flights, I have already attended a video conference call, responded to several emails, scheduled my taxi pickup upon landing, and committed to attending my son's basketball game. It wasn't long ago when my only companions, while waiting in airports were my Walkman (with a few cassette tapes) and a book, which is all I could fi t in my carry-on bag. The pace at which the world has changed around us is mind-boggling, to say the least. The credit of this change largely goes to the profession I'm a proud member of – engineering.
To me, engineering embodies the human desire to bring about a change – for the better. Even when there was no concept of engineers, human beings decided to engineer things. Be it through the invention of a wheel to move objects more efficiently, or the creation of machines to accomplish tasks that couldn't be done manually. Most design or process improvements happened by learning lessons the hard way. With time, the enormity, as well as the complexity, of our products grew bigger and there was felt a need to regulate the profession. In most jurisdictions in Canada, regulatory oversight was brought in about a century ago. And what better way to regulate our profession than to self-regulate ourselves? It is an ultimate privilege that should not be taken lightly.
Another aspect of our profession I have always marvelled about is our ability to come up with solutions under constantly changing conditions. We assess, we adapt, we evolve, and finally, we solve. In the last century, the focus of engineering had mainly been on building – be it buildings, machinery, computers, etc. But the writing is on the wall that the next 100 years are going to bring a new set of challenges and opportunities. With technological advancements, the focus will be more on artificial intelligence, autonomous vehicles, drug delivery using nanoparticles, space mining, and bio-hacking. And this time around, we have far evolved to learn from our mistakes. As professional regulators, we need to proactively position ourselves and start working on creating a framework to regulate these new frontiers. The stakes are way too high to not do so.
As we move forward, we also need to learn from our own shortcomings of the past. We do not want to be a self-serving profession that caters to, and is controlled by only a handful of people. We need to be more inclusive, diverse, and responsible – in our actions and our creations. Our profession has to be reflective of the demographics it exists to serve. I'm honoured to be joining this exciting endeavour at a time when our professions of engineering and geoscience are cautiously striving to bring these changes. Our Council is more diverse than it has ever been; a foreign-trained immigrant engineer writing this inaugural piece as your 100th President is a testament to the winds of change. I am humbled, honoured, and committed to serve you and this wonderful profession. I would like to conclude with a quote from Theodore Roosevelt:
"Much has been given to us, and much will rightfully be expected from us. We have duties to others and duties to ourselves; and we can shirk neither."