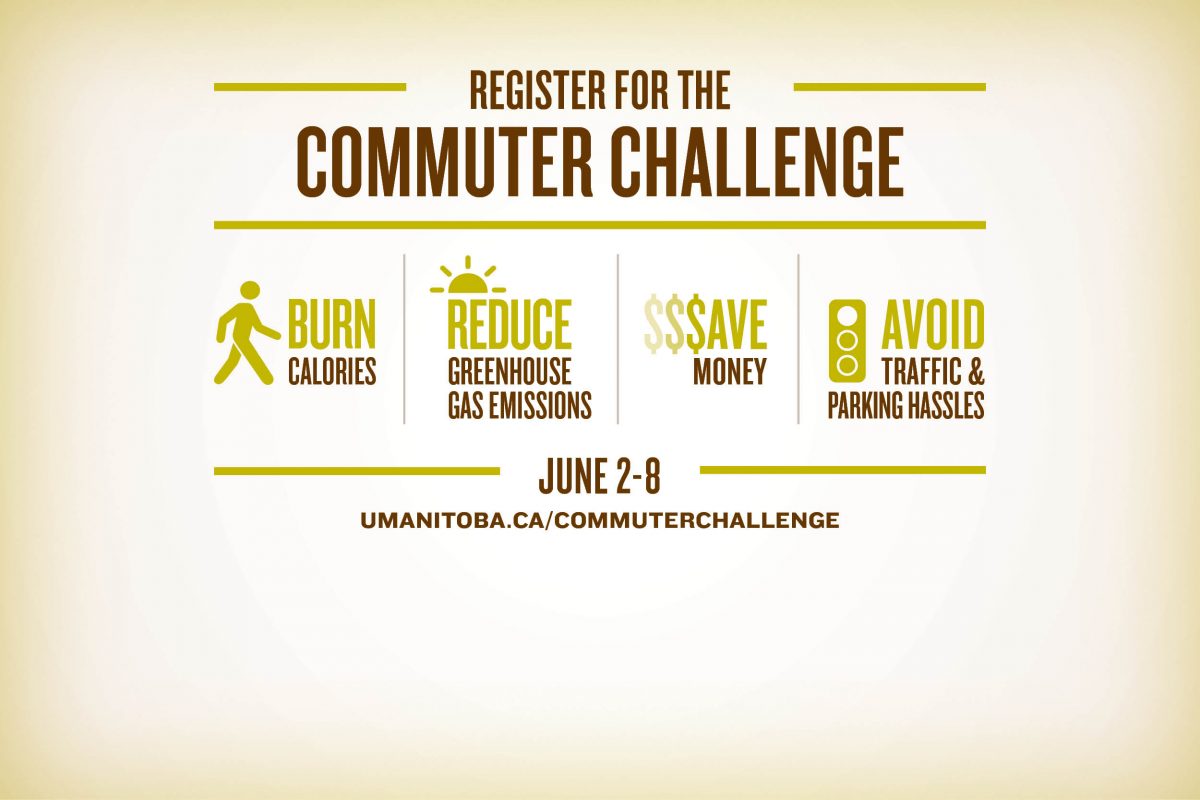 Commuter Challenge 2019
May 31, 2019 —
The University of Manitoba is preparing to get active this June 2-8 for another year of Commuter Challenge – a friendly week-long competition that challenges participants to walk, cycle, carpool or bus to school or work.
If you are staff, faculty or a student, signing up for the Commuter Challenge is easy. Follow these simple steps:
Simply register as staff member or register as a student on the Commuter Challenge website. Both? No problem, just choose whichever option you find most suits you.
Log your commute. During the week of June 2-8, choose to bike, walk, bus, or carpool and log those kilometers on the Commuter Challenge website.

For bonus entries:

Sign up for GoManitoba (be sure to complete your registration to be eligible – check your junk email folder)
Log your commute in GoManitoba

Click on the 'Commuter Calendar' on your dashboard
Drag the commute icon to the correct month
Repeat until June 9

Post on social media using the hashtag #CommuterChallengeMB
Win sweet prizes!
Thanks to Green Action Centre, registrants who log their commute during Commuter Challenge are automatically entered for a chance to win the following prizes:
Winnipeg Transit annual pass | a value of $1,000
2 Full Weekend Passes to Winnipeg Folk Festival, July 11-14 | a value of $500
2 VISA passes to Folklorama | a value of $550
2 FREE tickets to a concert at the Winnipeg Symphony Orchestra | a value up to $220
FREE donuts for a year, courtesy of Oh! Doughnuts | a value of $360
Raleigh City Cruiser from The Wrench ($175 value)
FREE night stay for two at any Alt Hotel across Canada | a value of $200
FREE night's stay at the Fairmont Hotel Winnipeg
FREE 90 minute float session at Float Calm
7 $25 gift certificates to Betula Lake Resort
$100 Gift Certificate to Natural Collective CSA
$500 off Clipper Ultralight/Kevlar or $250 off Clipper Fibreglass Canoes from WinnipegCanoeRentals.com
2 for 1 Archery Lessons (1 hr/week for 8 weeks!) from WinnipegCanoeRentals.com
4 FREE single tubes for 2 days from WinnipegCanoeRentals.com
The Zen Prize Package
Family Adventure Prize Package
The Explorer Prize Package
Walking Warrior Prize
Cycling Superstar Prize
Transit Trooper Prize
Social Media Mogul Prize
Thanks to GoManitoba, registrants are eligible to win the following prizes:
2 Full Weekend Passes to Winnipeg Folk Festival, July 11-14 | a value of $500
A carpooling-themed package (must log carpool trips on GoManitoba)
10 coffee gift certificates and reusable car fresheners from Fresh Emblem (must log carpool trips on GoManitoba)
More prizes are added to the Green Action Centre website daily!
As well, the University of Manitoba will be offering several prizes to staff and students who sign up:
4 Bison season passes | Bison Sports & Recreation
University of Manitoba t-shirt & mug | Fort Garry Bookstore
Sustainability swag | Office of Sustainability
LED accessories for cycling, walking and jogging | University Centre Pharmacy
2 FREE bike tune up coupons | UMCycle
$50 Foodbucks for UManitoba Dining Services locations & a Starbucks package | Dining Services
Keep checking back for more University of Manitoba prizes!
In 2018, Manitoba had over 400 organizations and over 6,000 individuals participate in the Commuter Challenge, collectively avoiding 10,000 kg of CO2 emissions by choosing sustainable transportation options. Manitoba has been named the top province for the past 15 years based on participation percentages. This year, the University is looking for as many individuals of our campus communities to register and choose to bike, walk, cycle, carpool or bus this June 2-8!
Find your ideal commute
Explore your transportation options to U of M campuses. Learn how and where to lock your bike, find convenient park & ride locations and discover carpool only parking spaces on campus.