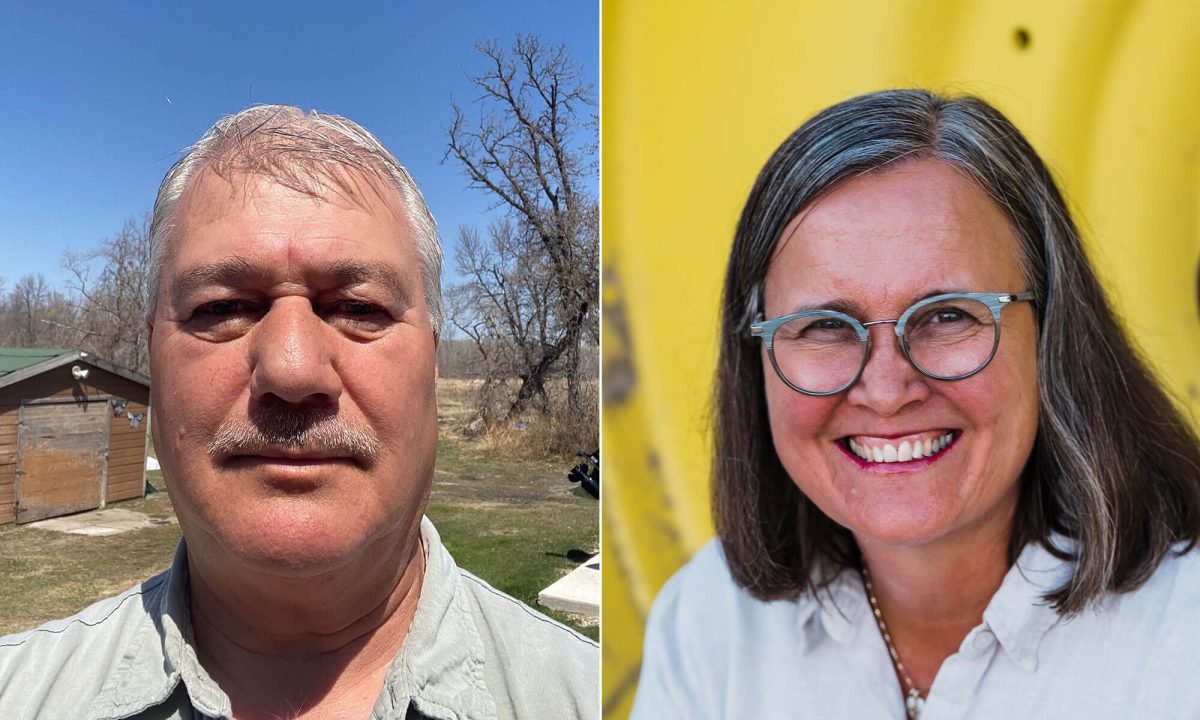 Community contributions recognized with Certificate of Merit
May 31, 2021 —
The University of Manitoba's Faculty of Agricultural and Food Sciences honoured four alumni at a recent virtual celebration for their outstanding professional contributions and public service.
The event on May 27 celebrated the 2020 and 2021 recipients of the Certificate of Merit from the Faculty of Agricultural and Food Sciences. This award is presented in recognition of leadership with agricultural organizations and outstanding service to the community at large.
The previously announced 2020 recipients included JoAnne Buth and Marcel Hacault.
The 2021 recipients of the Certificate of Merit are Robert Maytwayashing and Elaine Froese.
Robert Maytwayashing is Anishinaabe from Lake Manitoba First Nation located in the Treaty 2 or Interlake region. He graduated with a Diploma in Agriculture in the business/financial management stream from the University of Manitoba in 1990.
Robert owned and operated a cow/calf operation for 10 years. He also served as an economic development officer, a health director in two First Nations communities and a senior health policy analyst for the Assembly of Manitoba Chiefs, a role in which he participated as the Manitoba representative on many intergovernmental committees, focus groups, and caucuses as a chair and/or sitting member.
Robert has been engaged in his community's government for many years. He was first elected band councillor for Lake Manitoba First Nation in 1992, and served for three terms from 1992-1994, 1996-98 and 2000-2002. He was elected Chief for Lake Manitoba First Nation from 2004-2006 where he was engaged in all aspects of First Nations governance, including leadership, financial reporting, infrastructure planning, personnel management and administration.
Since 2009, Robert has been the Indigenous Human Resources Development Officer for the Interlake – Eastern Regional Health Authority, where he promotes health careers and recruits candidates in local Metis and First Nations communities. In his role, he has successfully built relationships with educational institutions and communities throughout the region to attract Indigenous students into a career in health care, dramatically increasing the Health Authority's representative workforce. He is also responsible for delivering cultural awareness training to over 3200 new and existing staff with the organization.
Robert has also worked with board and senior leadership to develop an Indigenous Subcommittee to the Board, comprised of a First Nation Director, Elder, Community Member, Youth and a representative from a Metis community. This committee, which includes Robert, is working towards the development of an Indigenous Strategic Plan as well as providing oversight for the development of inclusiveness and anti-discrimination policies.
Robert also serves his community as Knowledge Keeper with the internationally renowned Turtle Lodge in Sagkeeng First Nation. As Knowledge Keeper he is responsible along with other elders from across the world for preserving and promoting Indigenous languages, cultures and ceremonies. Robert's strengths lie in his extensive traditional knowledge and experience being on the land, and his ability to build bridges between Indigenous and non-Indigenous communities. Robert willingly dedicates his time to share the knowledge and teachings that reflect his Anishinaabe identity with people from all cultures. He expertly articulates First Nation worldviews, the impact of colonization on First Nation peoples, and the self-determination movement.
Robert is also an avid outdoorsman, spending significant time as a hunter and fisherman using traditional hunting methods.
Elaine Froese grew up on a mixed farm near Dugald, Manitoba, close to the city of Winnipeg. Her parents Norman and Lois Edie were leaders in agriculture, including policy development, and in 1974 won the Red River Ex Farm Family of the Year award.
Active in their industry and community, Norman held a University of Manitoba Diploma in Agriculture (1945); Lois was a Registered Nurse and former Manitoba Women's Institute president, as well as a Western Canadian Wheat Grower Lifetime Director.
During her teens, Elaine's participation in the Dugald Home Economics 4-H Club helped shape her vision for extension work. Elaine graduated from the University of Manitoba with a comprehensive Home Economics Degree in 1978. That same year, Jim Downey, Minister of Agriculture asked her to serve the Department of Agriculture in Boissevain. There she met Wes Froese, a University of Manitoba plant science graduate, who would become her husband.
Wes and Elaine have farmed their certified seed farm for 40 years. Their son Ian, a Diploma Ag grad and daughter-in-law Kendra (University of Manitoba Nursing grad) farm alongside them, while raising Penny, Ruby and Read. Elaine and Wes's daughter Erica lives in Brandon. In 2019, BMO awarded Froese Family Farms their award for outstanding farm family.
Elaine's passion for farm families to find harmony through understanding has crystallized into a multi-decade career and journey of speaking, coaching and writing. Author of five books, she has been a columnist for Grainews for 26 years, as well as a certified coach and conflict resolution specialist since 2003. Elaine's messages reach audiences across North America as a CSP or certified speaking professional. Fewer than 1300 people in the world hold this designation. She has also spoken in Mexico and Australia.
Elaine has been recognized with accolades including Farm Management Canada's 2018 Wilson Loree Excellence in Farm Management award for her coaching work with over 1000 farm families, and 4-H Canada's inaugural Most Distinguished Alumni Award in 2018 from a pool of 350,000 alumni. In another poignant honour, Elaine and her late mother Lois share the 2020 Manitoba 150 Women Trailblazer award in recognition of their leadership for agricultural families.
Locally, Elaine has also served her faith community as a director of Vacation Bible School, adult education teacher, girls club leader, worship leader, and Sunday School leader.
Elaine's mission continues to create a stronger culture in agriculture where families believe, behave and decide in healthy ways to create harmony through understanding and smooth transitions. Currently, she is mentoring a group of trained coaches to continue her legacy.