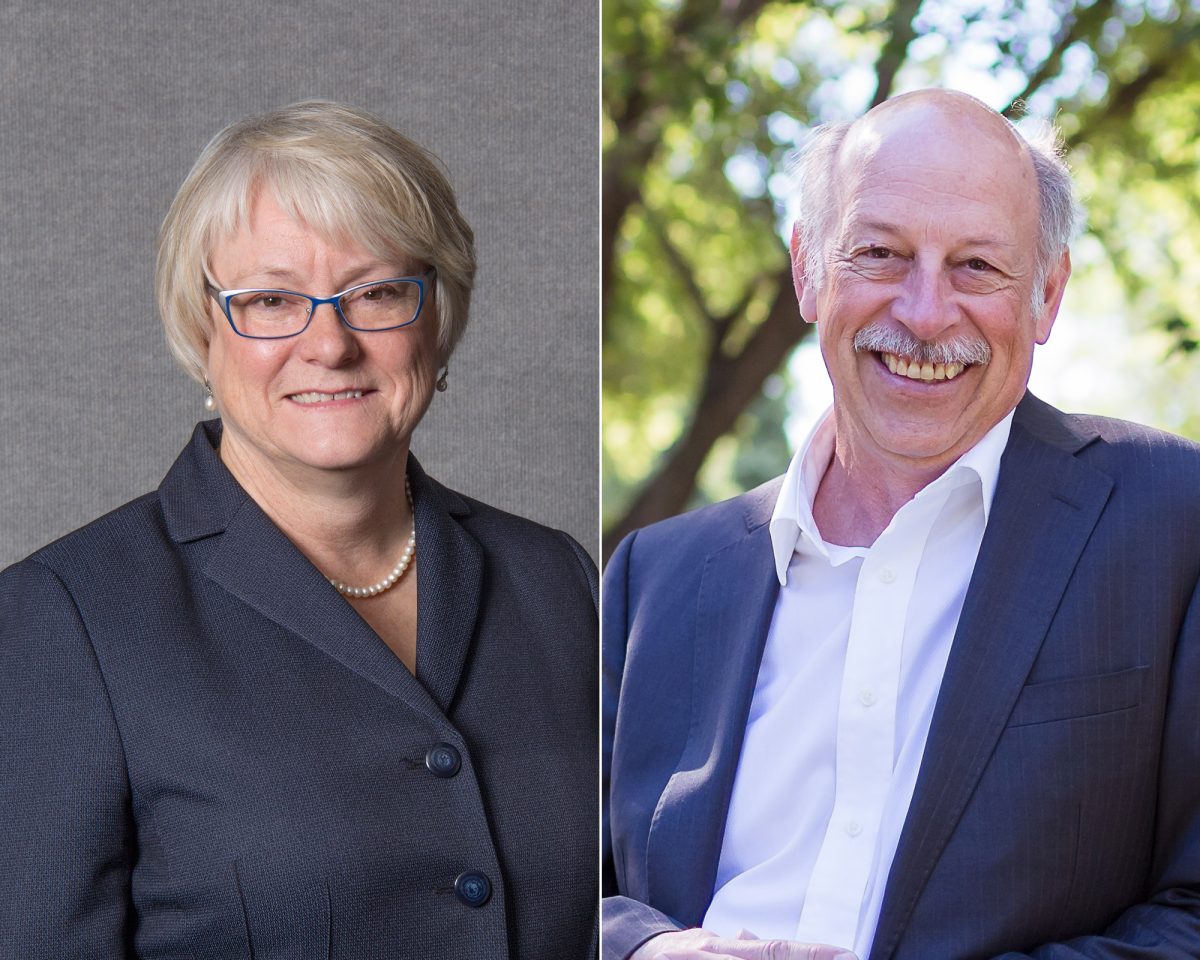 Agricultural and Food Sciences alumni honoured for their contributions
June 24, 2020 —
Two alumni of the University of Manitoba's Faculty of Agricultural and Food Sciences have been honoured for their outstanding contributions to Manitoba's agricultural community.
JoAnne Buth and Marcel Hacault are this year's recipients of the Certificate of Merit from the Faculty of Agricultural and Food Sciences in recognition of their leadership with agricultural organizations and outstanding service to the community at large.
The honour is usually bestowed at the School of Agriculture convocation but due to COVID-19 restrictions, the presentation will be made at the 2021 event.
JoAnne Buth graduated with a Bachelor of Science from the University of Winnipeg, and following a job with the City of Winnipeg insect control branch, went on to receive her Master of Science in Entomology in 1982 from the University of Manitoba.
After graduation, she worked for Agriculture and Agri-Food Canada's Winnipeg Research Station as its first information officer. She later joined Dow Elanco where she served as a research and development manager, and then served as weed specialist and manager for eight years with Manitoba Agriculture.
In 1999, JoAnne became the vice-president of crop production and biotechnology at the Canola Council of Canada. She served as its president from 2007-2012, where she brought her vision and insight into the entire value chain to see unprecedented growth for Canadian grains and oilseeds. She played a prominent role in maintaining canola exports to China despite concerns about blackleg disease in 2009.
In recognition of her expertise in the agriculture sector and her service to the community, Prime Minister Stephen Harper appointed JoAnne to the Canadian Senate, where she served for two years as Manitoba's representative, and sat on the Senate Agriculture and Forestry Committee and the Senate Finance Committee.
JoAnne then became the CEO for the Canadian International Grains Institute (Cigi) where she guided the organization through a priority-setting process and into a new structure and funding model. Using a collaborative approach and her extensive connections in the agri-food industry, JoAnne helped elevate Cigi to a respected leader in technical training for the use of Canadian grains. She retired in 2019.
JoAnne has generously contributed to her community in a wide variety of other ways. She has served with the Golden Prairie Arts Council (a non-profit organization that provides educational programs to the southern rural Manitoba arts community), the Entomological Society of Manitoba, the Canada Grains Council, and as chair to the Manitoba Agriculture Research and Innovation Committee.
In recognition of her many accomplishments, JoAnne was presented with a Motivator of the Year Award by Manitoba Agriculture and the Distinguished Alumni Award by the University of Winnipeg, and was recently inducted into the Canadian Agricultural Hall of Fame.
JoAnne now spends her time with her husband Grant on road trips exploring Canada. When at home, she can be found gardening, weaving, silk painting and reading or spending time with her nine grandchildren.
Marcel Hacault graduated from the University of Manitoba with a Bachelor of Science in Agriculture in 1983. Shortly after, Marcel and his wife Georgina purchased a farrow-to-finish hog operation in the Niverville area. Daughters Anaïs and Anastasie both completed Masters in Agribusiness, and his son Yves works in the social services. Marcel also completed his Master in Business Administration from the U of M in 2011.
Marcel was elected a Manitoba Pork Council delegate in 1992, and a director of the board in 1996. He was subsequently chosen by the board to be its chair each year from 1999 to 2003. He led the MPC board through a period of economic change and encouraged the development of innovative programming on sustainable agriculture, which included improved public relations, worker safety and outreach efforts. He also encouraged support for new national programs for on-farm food safety and continued efforts to increase pork processing in Manitoba.
Marcel also served as vice-president of Keystone Agricultural Producers from 1997-99, where he established and implemented the Manitoba Farm Relief Fund. He chaired the trade, finance and sustainable development committees, and represented Manitoba on the Canadian Federation of Agriculture board.
Marcel became the executive director of the Canadian Agricultural Safety Association in 2004, where he has led and inspired a broad range of Canadian agricultural safety specialists and industry stakeholders to actively engage in promoting safe practices on Canadian farms and service providers. He has served as a national ambassador for farm safety, and his leadership has resulted in the establishment of many organizations that provide resources and programs to support farmers in managing safety on their farms. His influence can be seen in initiatives such as BeGrainSafe, Canadian Agricultural Safety Week Campaign, and a Canadian adoption of Progressive Agriculture Safety Days aimed at Canadian youth.
Coming full circle back to the University of Manitoba, Marcel has provided guidance and mentorship to the School of Agriculture in incorporating farm safety content in its Diploma curriculum and developing short courses and workshops aimed at Manitoba farmers.
In other service, Marcel served on on the Board of the Manitoba Institute of Agrologists and is a past president of the International Society for Agricultural Safety & Health. He is also ex-officio for the Progressive Ag Foundation, and currently sit as the secretary/treasurer for the Farm Safe Foundation. He also continues to act as the secretary/treasurer for the family farm corporation.
A strong leader in his community, Marcel helped start up Les Boutons d'Or, a French pre-school in Iles des Chênes in 1988, which is now the Garderie Les Boutons d'Or. He also helped organize (and accompanied) "Boîte à Chanson" at the École Communautaire Réal-Bérard in St. Pierre and community theatre in Iles des Chênes.
In his spare time today, you can find Marcel driving around in his restored '68 Firebird convertible, wood working, tiling or installing pavers. Or if he is not too tired, spending time with his four grandchildren.