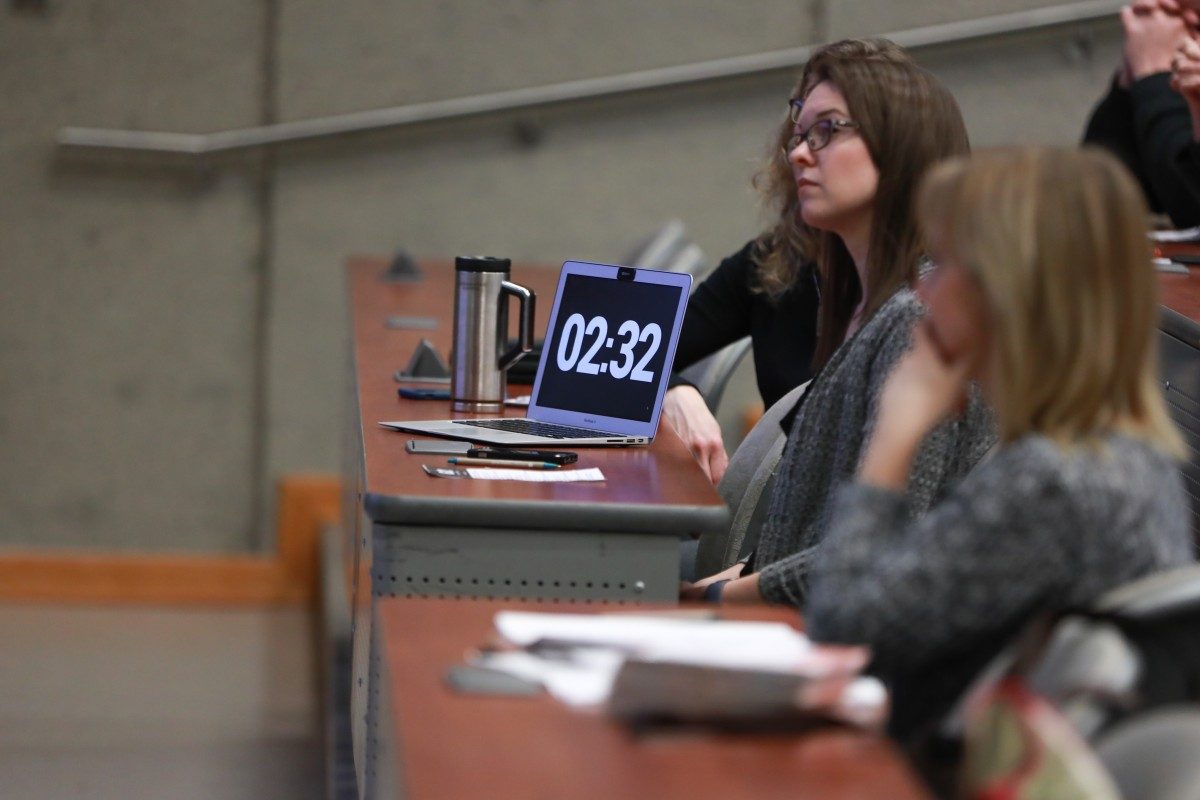 Come cheer on this year's 3MT finalists on March 18
March 6, 2019 —
From health to the humanities, the finalists for this year's 3MT competition are demonstrating how graduate student research at the University of Manitoba benefits our greater community.
Seventy-three students applied, 36 competed in three heats, and the judges narrowed it down to 14. Those finalists – both masters and doctoral students – are now gearing up for the competition final, which will be held on Monday, March 18, at the Robert B. Schultz Lecture Theatre in St. John's College from 7-9pm.
Three Minute Thesis (3MT®) is an annual competition where challengers have just three minutes to explain their research and its importance during a straightforward presentation in plain language, using only a single slide to illustrate their topic.
The competitors are judged on comprehension, engagement and ease of communication. At the final, three judges will choose the winners, and the audience will vote for People's Choice.
Students will compete for the Dr. Archie McNicol Prize for First Place ($2,500), the UM Retirees Prize for Second Place ($1,250), Third Place ($750), and the People's Choice award.
The competition winner will advance to regionals and then hopefully represent the U of M at the 3MT national competition.
Everyone is welcome to attend this exciting event and cheer on the finalists.
The 14 finalists are:
Chantal Van Landeghem, Psychology (Master's)
Exercise addiction: It's a real thing
Advisor: Dr. Lorna Jakobson and Dr. Adrienne Leslie-Toogood
"Risk of Exercise Addiction in University Students: A Subtyping Study Utilizing Latent Profile Analysis"
Beyond her outstanding graduate work, Chantal is an Olympic medalist from 2016 in Rio and was nominated for NCAA Woman of the Year. Her athletic background and training give her particular insight into exercise psychology. She feels a purpose and calling to end the stigma surrounding mental health in sport, and is determined to promote athletes' success and well-being.
Lucy Wang, Biosystems Engineering (Master's)
This little piggy had diarrhea
Advisor: Dr. Song Liu
"Diarrhea afflicts piglets: Zinc oxide protected in food-based materials help with relief"
Lucy started out as a biochemist, but soon found she could apply her training in a different field, namely engineering. Her desire to apply herself in different fields of study allows her to excel and understand the underlying similarity between seemingly disparate research. Her work combines science and engineering by seeking to ease suffering of young piglets through nanoparticle medicinal supplements.
Chantal Asselin, Physiology and Pathophysiology (Master's)
Adding flaxseed to your diet for your heart's sake
Advisor: Dr. Davinder Jassal
"Flaxseed in the prevention of chemotherapy mediated cardiotoxicity"
Raised in Winnipeg but a graduate of Rutgers University, Chantal is studying cardiovascular physiology and pathophysiology, and is researching how the human heart functions in a diseased state. A former competitive swimmer, Chantal has a keen interest in the human heart. Her work involves studying how flaxseed can prevent the development of heart failure that can be caused by chemotherapy for the treatment of breast cancer.
Kevin Boreskie, Applied Health Sciences (Doctoral)
Improving quality of life through exercise
Advisor: Dr. Todd Duhamel
"Exaggerated blood pressure response to exercise: A simple solution"
A recipient of a U of M graduate fellowship and scholarships in kinesiology, Kevin has always been interested in physical activity and how it relates to chronic disease. He volunteers at the Reh-Fit Centre and coordinated a charity pickle ball tournament for CancerCare. He hopes his research will lead to the implementation of exercise as part of preventative medicine programs.
Wolfgang Klassen, Physics and Astronomy (Master's)
Where did all the antimatter go?
Advisor: Dr. Jeff Martin
"Precision optical magnetometry for the TUCAN nEDM experiment"
Wolfgang says he always wanted to know how things work, and for him, physics was the obvious choice for where to find understanding. His fascination with elegance in nature has led him to become a talented musician as well as a physicist. His research involves developing precision measurement tools to help in the search for physics beyond the standard model.
Samira Seif, Physiology and Pathophysiology (Master's)
New ways to mend a broken heart
Advisor: Dr. Richard Keijzer
"MicroRNA: A gift for a broken heart"
Always seeking to expand her knowledge and apply her training in new ways, Samira's background as a clinician allows her to learn new molecular biology techniques and approaches to understand the mechanism of diseases. She has seen parents lose their children due to congenital diseases and there is no treatment available to cure their babies. She is inspired to find a new approach to improve the life of infants and give hope to sick babies and their families.
Gayle Buzzi, Fine Art (Master's)
Bringing nature to the urban landscape
Advisor: Professor Mark Neufeld
"Accidental landscapes"
Growing up in rural Northwestern Ontario, Gayle was surrounded by nature, but moving to Winnipeg caused her to search for nature within the urban. She became interested in the wildlife that adapted to urban environments, and their relationships with people living there. Gayle creates fragile glass animals that generate thought about people's individual and societal relationships with wildlife, specifically wildlife that has learned to call urban centers home.
Kashfia Shafiq, Human Anatomy and Cell Science (Master's)
Stopping the clock on aging
Advisor: Dr. Jiming Kong
"Dying young at a very old age"
As a practicing physician in her home country of Bangladesh, Kashfia has worked with several rural non-governmental agencies and organizations concerned with global health projects. Now studying neuroscience here at the U of M, she believes that if the aging of our brain can be delayed, the onset of other age-related diseases can also be delayed.
Tammy Nelson, Social Work (Master's)
Traditional healing for sexually exploited women
Advisor: Dr. Mary Kate Dennis
"Mookii Mikinak: The traditional road to healing for Indigenous women who experienced sexual exploitation"
A survivor of sexual exploitation herself, Tammy personally has known women who died as a result of abuse, crime, and addiction. A member of the Sexually Exploited Youth Community Coalition for 10 years, and the youth sexual exploitation abuse investigator for Child and Family Services for 7 years, Tammy believes that Indigenous people hold the keys to both prevention and healing, through application of traditional ways of knowing and ceremonies.
Avery Simundsson, Biosystems Engineering (Master's)
'Siri, drive my tractor'
Advisor: Dr. Danny Mann
The use of sound in autonomous agricultural vehicle control
Born into a farming family, Avery is looking to pursue studies involving agricultural innovation. Having also managed a reforestation crew in British Columbia doing "grunt work" as well as working on technical and computing projects, Avery has applied her varied skill set in mechanical engineering to design, program, and build automated guided vehicles that can be used in agricultural settings.
Tasheney Francis, Linguistics (Doctoral)
It's all in the way you say it
Advisor: Dr. Terry Janzen
"Unavoidable avoidance strategies in the West Kingston (Jamaica) Commission of Enquiry: An ethnographic examination"
A graduate of the University of the West Indies, Tasheney has learned that linguistics is the science of communication, and finds the simple complexities of linguistics fascinating and the study of them very fulfilling. Tasheney believes linguistics is a key to social transformation and that research in the field can demonstrate practical relevance of this field of the humanities.
Berardino Petrelli, Biochemistry and Medical Genetics (Doctoral)
Using Vitamin A to mediate FASD
Advisor: Dr. Geoff Hicks
"Retinoic acid deficiency as an etiology of FASD"
A dedicated biochemist and geneticist, Berardino's undergraduate work and honour's project involved the development of a gene targeting system in mice. Through this, he developed a valuable arsenal of molecular biology skills and garnered a keen interest in the topic. His current research aims to better understand how alcohol exposure during pregnancy causes Fetal Alcohol Spectrum Disorder (FASD) and how Vitamin A supplementation may prevent or reduce the effects.
Justine Hudson, Biological Sciences (Master's)
The one about whale snot
Advisor: Dr. Marianne Marcoux
"Snot for science: A non-invasive technique to measure stress in beluga whales"
When a beluga whale exhales, it releases thousands of tiny droplets of respiratory vapour (snot), which can help researchers understand stress in the whale population. Justine, a dedicated biologist, spent weeks on the ocean, gathering the icky substance in the name of science, demonstrating her true love for research and the Arctic.
André Coleman, Physiology and Pathophysiology (Master's)
Long term care of spinal cord injury patients
Advisor: Dr. Katinka Stecina
"Novel mechanisms in the development of blood pressure changes after spinal cord injury"
A graduate of the University of the West Indies in Jamaica, André saw the long-term consequences of spinal cord injury while doing his medical internship. His goal is to greatly improve the long term care of spinal cord injury patients, through gaining a better understanding of the pathophysiology of their conditions.