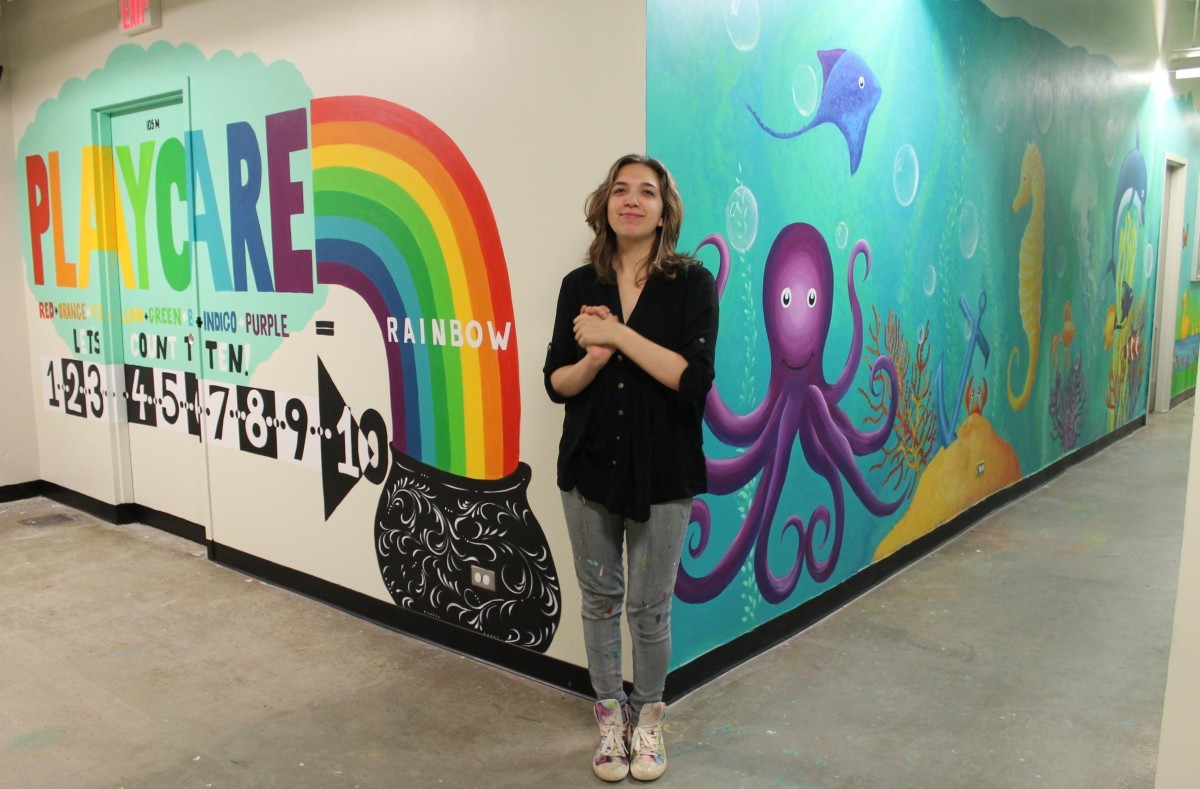 Colourful new mural celebrates PlayCare space
September 26, 2013 —
This year, when children arrive at the PlayCare Centre in the basement of University College, there will be something special to welcome them. Anya Nikoulina, a young artist from Winnipeg, has been working on a colourful, expressive large-scale mural that begins in the hallway and lines the entire corridor of the entrance to the centre. Commencing her work in March 2013, Nikoulina volunteered her time and skills. Shawn Jordan, communications staff with the Faculty of Arts, calls her volunteer work and the mural "a magnificent act of generosity and creativity."
The mural covers the walls from floor to ceiling. Painted over a blue background, the mural is composed of an underwater scene on one side of the corridor and a blue-skyed, above-ground scene on the other side, a rainy day scene, and shifts to a night scene, nestled into a small nook of the hallway. Each of the sections includes animals, from domestic farmyard animals to exotic safari creatures to otherworldly underwater creatures.
The PlayCare Centre in University College is a licensed daycare that offers fulltime, part-time and occasional early childhood care and education. A department of student advocacy and accessibility services, the centre has a mandate to provide care for the children of students of the U of M. Since it celebrates its 30th anniversary later this fall, the mural was commissioned as a permanent tribute.
Nikoulina, who was a U of M student for a short time, says that art is "only a hobby." It's something that she's been working at, however, since she was a small child. Much of her artwork is based in fantasy-scapes; she likes to build imaginative worlds, she says. "Things that don't exist — but should," as she puts it.
What appealed to her about this project was the opportunity to build an entire world that would appeal to children. Though she largely stuck with animals and creatures that exist in the real world, the work does have a magical quality. She wanted the style of the work to be "child-like and simple" — something that could be enjoyed by the kids and that would also be somewhat educational. To enhance the educational element, the artist added numbers for counting, the colours of the rainbow and a variety of animals.
The thought that "the kids will love this" motivated her work throughout the process, she says.
And the kids do love it. They have been watching in wonder as the mural creeps over the walls of the corridor, creating an experience that surrounds the viewer. "It's raining," observed one child as she passed the mural on her way outside for play. "It's still raining!" she marveled on returning.
"The kids' reaction — that's the rewarding part," says Nikoulina, smiling.
PlayCare's 30th anniversary celebration
The University of Manitoba PlayCare Centre celebrates its 30th anniversary on Wednesday, October 9 from 6:30 to 8:30 p.m. Marlynn Childs, Lori Reuther, Marian Siemens and staff will host an open house in conjunction with PlayCare's annual Family Night at the PlayCare Centre, room 109, University College. Current and former PlayCare families, past staff and volunteers as well as members of the university community are invited to attend.