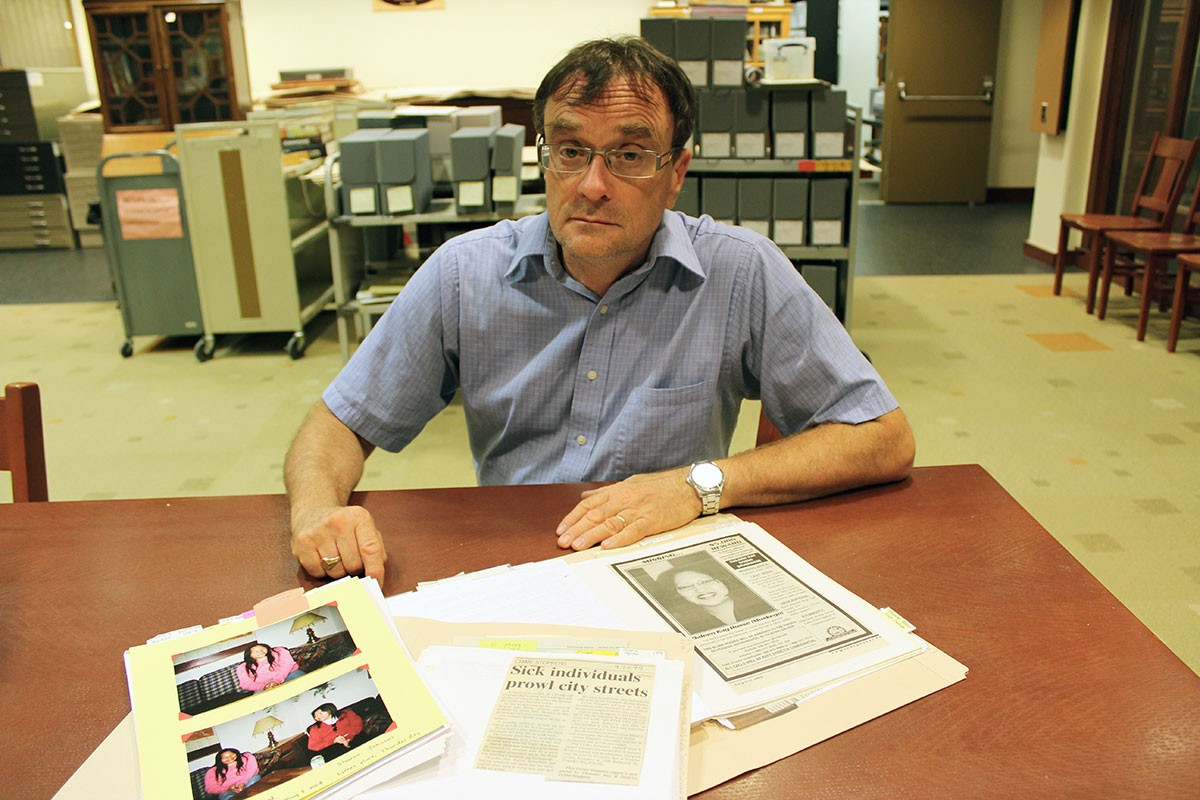 Collection donated to UM Archives includes MMIW materials
August 3, 2016 —
A large collection of newspaper clippings and other materials documenting abuse, trauma, assault and murder of vulnerable people in Canada has been donated to the University of Manitoba. The private set of materials, mostly from sources otherwise unavailable to researchers, includes many records relating to missing and murdered Indigenous women.
The Lynn Moss Sharman fonds is now available and, although some materials are restricted, it is ready for use by investigators, says Brian Hubner, acquisitions and access archivist, Archives & Special Collections.
"This is an extremely valuable and unique resource," notes Hubner. "I am sure it will prove to be very useful to researchers, especially in the light of the government announcement concerning its inquiry into cases of missing and murdered Indigenous women."
Lynne Moss Sharman was an artist, activist, survivor of child and domestic abuse, and a supporter of trauma victims and Indigenous rights. Born in 1947, she grew up in Hamilton and moved to Thunder Bay in 1987, where she began attending Aboriginal healing circles in the community, leading her to recollect past memories of childhood abuse and trauma.
Sharman had undergone Cold War medical experiments as a child and began documenting her trauma through drawings. Her sketches of doctors, as well as the experiments conducted and tools employed, would later be substantiated by claims made by other survivors of similar trauma.
As part of her own healing, Sharman began creating an archive of newspaper clippings, photographs, posters, research material, correspondence, journal entries and negatives. Included were articles and information from the late 1990s to 2012, related to missing and murdered women, especially in the Thunder Bay and Northwestern Ontario area, and then throughout Canada.
Sharman also compiled clippings related to topics such as sex work, the Highway of Tears, the Robert Pickton trial, jail deaths, residential schools, child abuse, Tyrone Conn, foster care and adoption.
Her collection is part of the fonds now housed with the Archives & Special Collections department within the University of Manitoba Elizabeth Dafoe Library. The fonds further includes planning records and documentation related to walks held for missing and murdered women, records related to the Advocacy Committee for Human Experiment Survivors – Mind Control, research and workshop material, lists of missing and murdered persons, jail deaths, assaults and records related to organizations such as the Children's Aid Society and the Native Women's Association of Canada.
Sharman later pursued and completed an Honours degree in Social Work from Lakehead University in order to assist children and become an advocate for trauma victims. She passed away on March 14, 2014 in Thunder Bay.
Hubner was contacted about the archives by a friend of her daughter, Zena Sharman, in fall 2014. In time, he was able to contact Zena directly and arrange for the transfer of the records from a storage locker in Thunder Bay, which finally occurred early in 2016.
Details of the fonds can be found here.