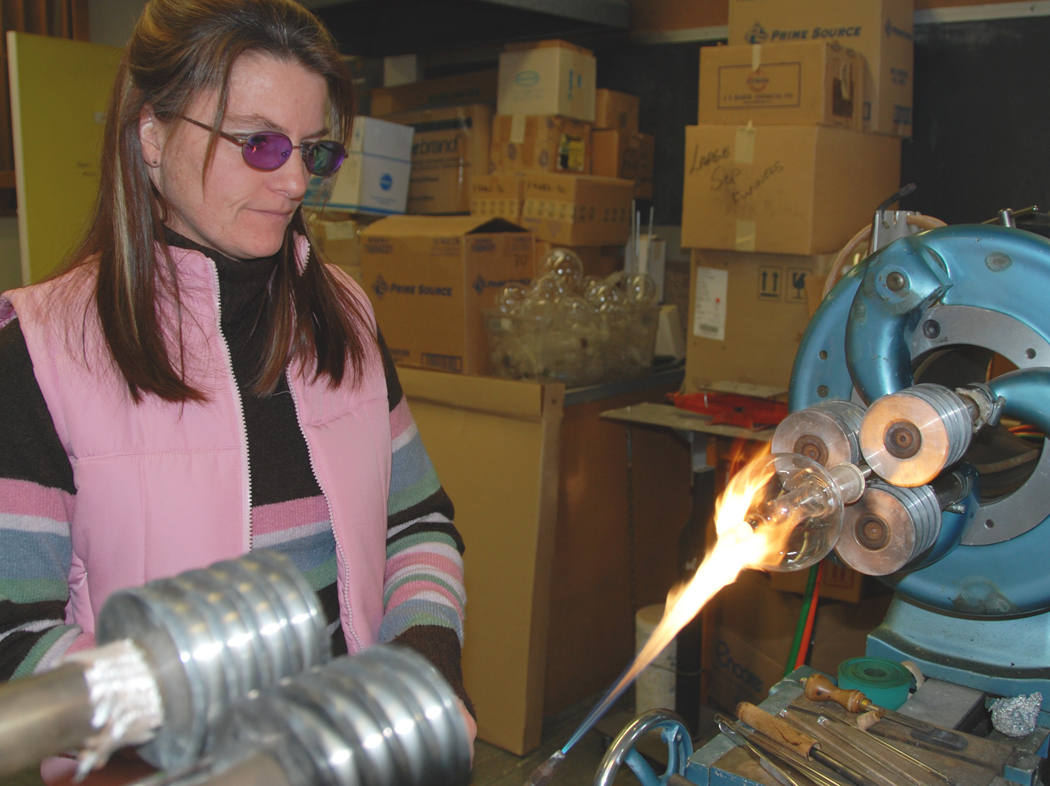 Coffee With a Co-worker: Lesa Cafferty
February 9, 2012 —
Horsewoman, rancher, glassblower, all-around-superwoman. Every day, before driving in from her Anola-area farm to her work as a chemistry glassblower at the U of M, Lesa Cafferty wakes up at 4:00 a.m. to clean out her horses' stalls. Cafferty says she is somewhat accustomed to a reaction of surprise to her work, but her inner strength and clarity may well come from the kind of work she does. What she enjoys most about making glass contraptions is that there is always a new problem, she says. "The hardest part is not the glassblowing itself, but planning your attack."
In addition to her full-time work, Cafferty trains horses and competes in horse jumping, and coaches young riders and jumpers. She has always loved animals, she says, and remembers getting on her first horse at age five, completely unafraid.
She would hang out at the stables while her father sold merchandise at the Morris Stampede. "You have to be brave, or your horse won't be. I'd like to be braver. It's a relationship," she says about jumping horses. "You teach them to trust you in how you will work with them — it's a shared endeavour."
In a sense, her glassblowing has been a shared endeavour too. She took over the U of M shop several years ago when the glassblower retired. How did she wind up here? The previous U of M glassblower was one of two who apprenticed with her father, who did both scientific and artistic glassblowing; Lesa was the other one.
What puts a smile on your face? There's not much that doesn't put a smile on my face. My husband, as he's my best friend, my #1 fan and the best supporter I could ask for. He's got a great sense of humor and when you're feeling down, he always has a way to make you feel better and get you laughing. My horses and my dogs; I love my animals. The trust the horses have in me to do what I ask them to do and the reward of coming through the finish line. It's such a rush! My dogs, for always doing something so ridiculous to make me question myself in regards to whether the dogs have lost their mind, or maybe it's me.
Where did you grow up? Pinawa, MB
Childhood hero? I looked up to the top level [horse] riders when I was younger and told myself I was going to be as good as them someday.
One thing not many people know about you: I want to go to the Olympics. People know I have horses, and that I do this "competing" thing; however, a lot don't know that I have a goal, and that is to go to the Olympics. Someday, when I get that 'right' horse, I'm going.
Favourite place to visit: Florida. I love the palm trees, the smell, the vegetation. I love being close to Sea World where the killer whales are (it was a childhood dream to train them). I wouldn't mind seeing more of the Caribbean. The Florida Keys, and the Bahamas. I see pictures of this crystal clear water and would LOVE to see it.
An unforgettable experience: Winning the 1996 Manitoba Summer Games Individual gold medal in the sport of show jumping. Receiving a gold medal on the podium was the most incredible feeling and experience I've had, and it just drives me to want to be there again, this time somewhere as big as the Olympics.
Dinner with friends: Cooking at home or out? I will happily meet with friends at a restaurant, but I much prefer to have friends over so I can cook a meal and sit down in comfort and really enjoy the company. As for what I cook? I'm a great cook when it comes to a nice warm meal, especially meat and potato dishes.
Something you appreciate or admire in another person: The ability to stand your ground, and not being afraid to do a little bit of work.
Recent movie enjoyed? There's a few, but my absolute favourite move is Twister. Why? It's funny, I'm terrified of tornados but how angry Mother Nature can be always intrigues me.
Coffee With a Co-worker is a regularly appearing column that features staff and faculty of the university. This article first appeared in the February 9, 2012 edition of The Bulletin.