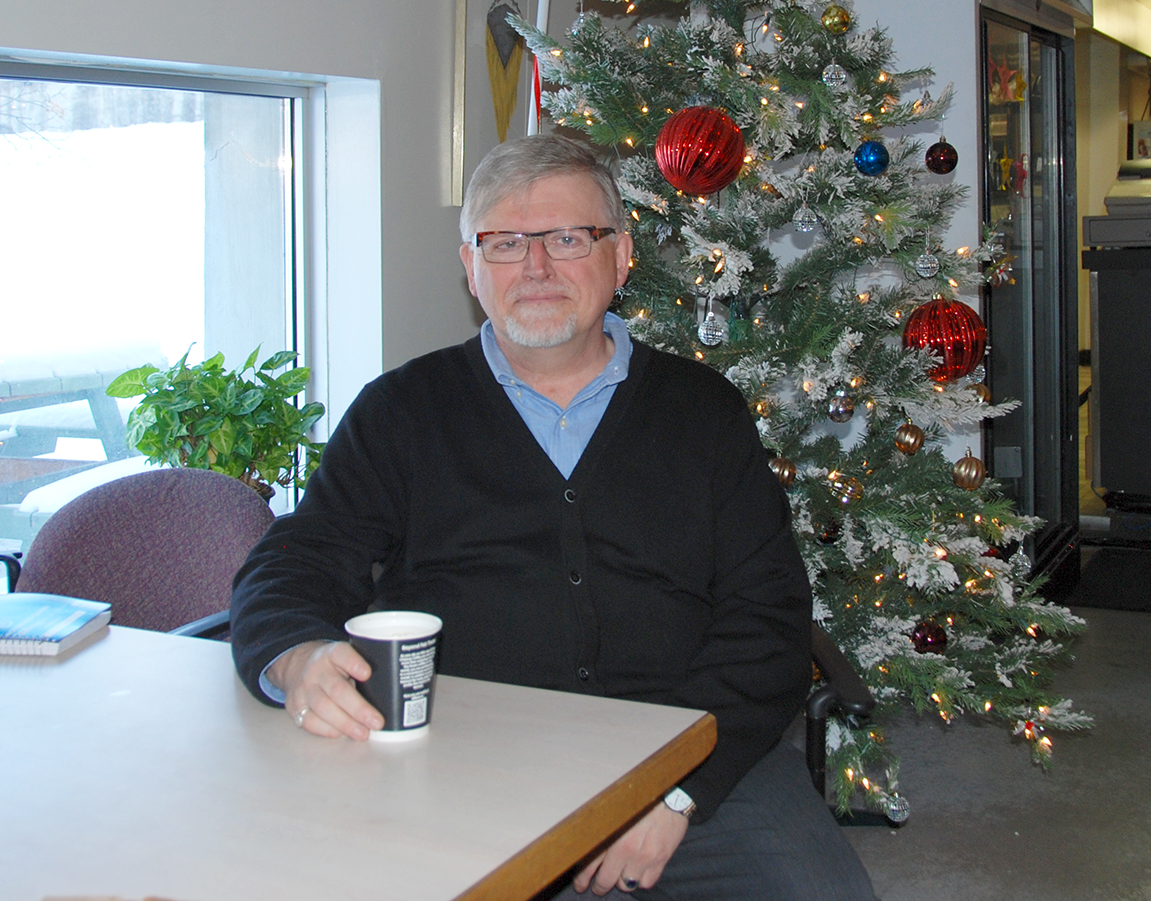 Coffee With A Co-worker: Jim Blanchard
December 10, 2014 —
Jim Blanchard always felt comfortable at the library. As a kid growing up in Brandon, it's where he went on a Saturday to hang out; he says he was "a junior nerd."

He's also one of those people who is just genuinely nice. And if his face looks a little familiar to some of you, it may be because Blanchard spent the past 22 years at U of M Libraries as head of reference services in Dafoe Library. "My first real job was at Winnipeg Public [Libraries]," he says, "and they used to have a program — you would work for them for two years, and then you could go to library school and they would hire you back." After library school, though, he decided to go to Spain for a while, where he taught English.
Reference services head has been an ideal job, says Blanchard. Giving library workshops and presentations and ordering new books and reference tools are two components of his role — though his favoured aspect has always been helping the students. "Our students are the best … they are so courteous. Being on the information desk has always been my favourite thing," he says. "You have to keep on your toes because you never know what questions are coming next…. If you do show [students] one of the organized databases, they are blown away. There's so much [specific] information you can find, [as opposed to] a Google search for academic stuff … which is just chaotic. It's kind of a mission to show them the [reference] products that we buy for them."
Blanchard is also a writer and editor who's published two historical accounts of Winnipeg history.
He says that he's also enjoyed being part of Dafoe Library, in part because he's very interested in its collection. Blanchard is also a writer and editor who's published two historical accounts of Winnipeg history, Winnipeg's Great War: A City Comes of Age and Winnipeg 1912, and one edited collection, A Thousand Miles of Prairie: The Manitoba Historical Society and the History of Western Canada. He's currently working on another book, this one about Winnipeg in the 1920s — post-Great War, post-Winnipeg General Strike. "The War really shattered Winnipeg," he says, "and the strike tore the fabric of the city…." He says that he's already stumbled on "some interesting characters" through his research for the project.
Through his involvement with St. John's College and St. Paul's College libraries, he's become even more a part of the university community. The colleges put an emphasis on "building community," he says, which he's enjoyed. What he especially appreciates about the U of M overall is its diverse student population due to its regional and accessibility mandate. "Most of the students who come here aren't too privileged. Many have to work — as opposed to universities where most of the students are from very well off families. I like the fact that we're open … and have access programs … that we make an effort to bring in Aboriginal students and students who need support, maybe some who are older or haven't had many opportunities.
"I value that about the U of M. It has that role, that it has to accept everyone," adds Blanchard. "And I think the libraries are very good, with great people working there."
 –Mariianne Mays Wiebe
Q + A with Jim Blanchard
Coffee or tea? Coffee, black.
What puts a smile on your face? Little kids. Children between age six or so and 11 or 12 are very honest and generally have a lively curiosity about things. I do some ESL teaching and my favourite student is seven years old. She is a great little person.
What did you like about your childhood? We had my grandfather living with us and he was a pretty important influence on my early development. He was from another era, having come to Manitoba in 1886, and he gave me an interest in history.
Childhood hero? Roy Rogers. I think it was his hat.
Dinner with friends: Cooking at home or out at a restaurant? I like to cook for people. I make simple things like lamb stew and salmon, nothing fancy. I also like Hermanos Restaurant and The Peasant Cookery.
Something that not too many people may know about you: I once started out to be an Anglican priest but I didn't make it through the first year.
Something you do better than anyone else (or most people) you know: Brag about myself.
Something you appreciate or admire in another person: Loyalty.
Underrated: Comedy.
Overrated: Money.
Something essential or enjoyable to do every day: Reading. I am always reading several books.
You are always thrilled to spend any free time doing: I am a writer and I like to do research.
A goal: I want to be able to speak basic French.
What is your guiding principle or motto? Keep on improving and learning new things.
What do you like to read? I read mysteries and history. I enjoyed Danubia by Simon Winder. It's that rare thing — a history that has jokes and fun in it.
Favourite TV show, blog or website: I don't watch TV. I have come to enjoy reading books from the Public Library online. I like the BBC 3 Radio website and listen to it every day.
A favourite place: I lived in Madrid for a couple of years in the late 1970s and I would like to go back for a visit soon.
Anything else you'd like people to know about Jim Blanchard? I am a grandpa with two grandsons. Unfortunately for me, they live in Sydney, Australia, but I get lots of emails and pictures and movies from their mom.