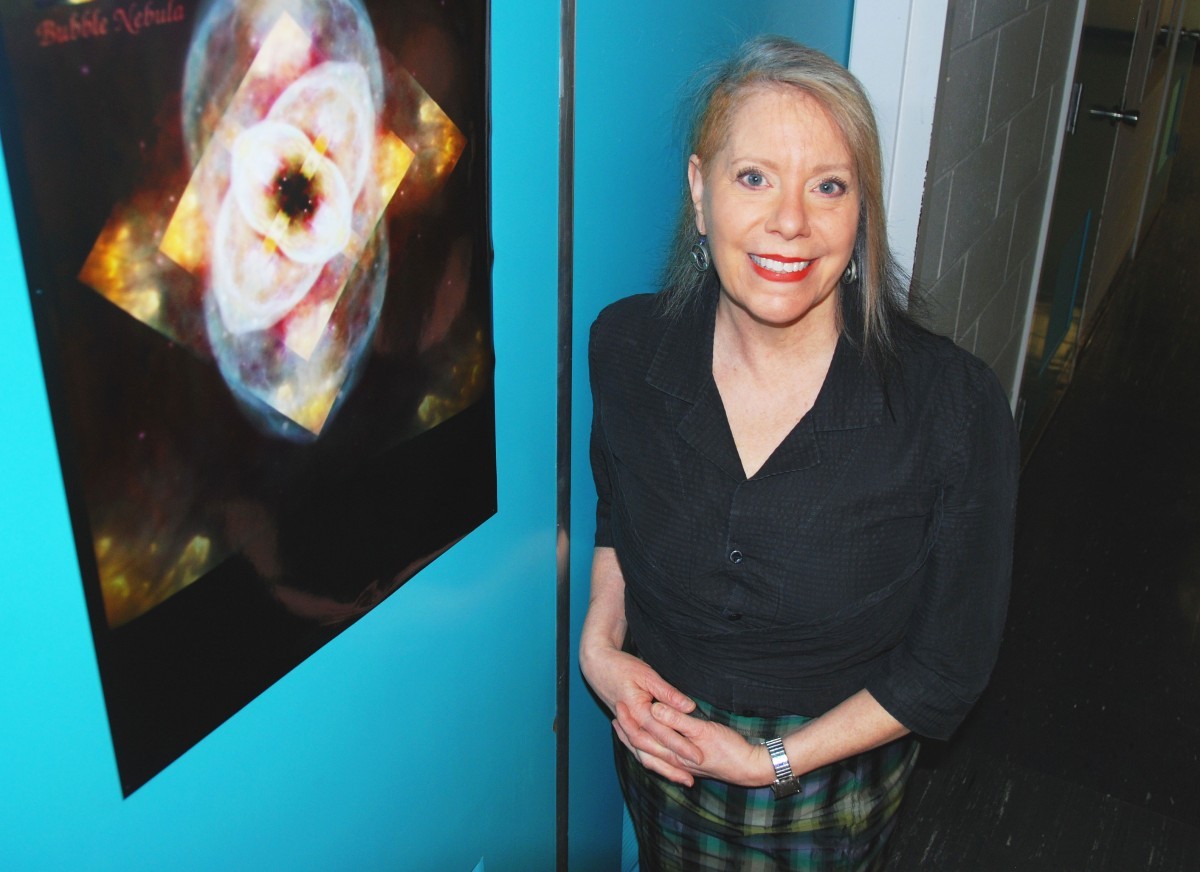 Coffee With A Co-worker: Jayanne English
April 16, 2014 —
"I'm an explorer," laughs associate professor of astronomy Jayanne English.
English knew she wanted to be "a space explorer of some sort" back in high school. A self-proclaimed lover of big ideas, she "really wanted to know everything possible about space," she says.
But her interests in astronomy and astrophysics were put to some unusual uses in her earlier art career — it was only when she was just shy of 30 that she finally pursued a pure astronomy career.
In fact, you may recognize English from around campus for her nifty sartorial style, bright, colourful hair and funky, fierce eyewear.
English: 'Perhaps not your typical scientist.'
"Perhaps not your typical scientist," as she puts it.
During a postdoc at the NASA facility called The Space Telescope Science Institute (or STScI), which runs the Hubble Space Telescope, she coordinated the Hubble Heritage Project. The team, she explains, "takes scientific data and converts it into public outreach images."
It was during that time she also became further immersed in astronomy image making; production, research and education around this imagery continues to be a specialty for English.
"We use all of the electronics to capture photons of light — but you're getting a black and white image, which you then have to colourize. Because of the way we collect the data, we know which parts of the electromagnetic spectrum it comes from, so we can thoughtfully assign a colour to the black and white data images and combine them together. After the image has been colourized, she says, "at this point you can't make measurements anymore — but what you end up with is revealing and inspirational."
The imaging work involves overlaying and comparing different sets of data and interacting with other scientists and their data to interpret and translate all of the data in a way that ensures maximal astrophysics and public outreach impact. A colour image can also give a scientist more information about how to analyze the data.
For two years, English was a columnist on CBC's "Quirks and Quarks" science radio show. This kind of public outreach was a different kind of challenge — one that she always felt afraid might land her in some hot water. (She remembers thinking a colleague of hers would be upset by her characterization of the study of dwarf stars as 'geriatric astronomy.')
English: 'In science we're not thinking in metaphors at all. They are inadequate. However, when doing outreach, I have to think about analogies in order to connect with people.'
"In science we're not thinking in metaphors at all. They are inadequate. However, when doing outreach, I have to think about analogies in order to connect with people."
Then, she says, "people may believe that as a scientist I think in terms of metaphor. But it's not true! As a scientist, I'm thinking in terms of measurements and equations. I do think very visually — for me, that's primary, so that might be a distinction."
Not that English is entirely averse to causing a bit of a stir. (It's case it's not clear, she's also a lot of fun.) Another reason she loves her job, she says?
English: Astronomers are 'cute as kittens!'
"I love astronomers! I think they're cute as kittens. I'm saying that as something you can love and adore, rather than the mad scientist — it kind of changes the slant on it. Really, they're not kittens," she laughs.
"But when I walk into the reception for The Canadian Astronomical Society, I love it. I walk around kissing everybody."
— Mariianne Mays Wiebe
Q + A with Jayanne English

Coffee or Tea? Black, strong decaf Americano. It was a sad day when the doctor told me to give up caffeine.
One thing that not many people may know about you: I'm simultaneously an artist and a scientist. From being an artist or training as an artist, I have incorporated into my new method the ability to see things from an orthogonal perspective and to create from an orthogonal perspective, which ties into innovation.
What puts a smile on your face? My nieces and cats; when I discover something counter-intuitive in my research; when I manage to blend my science perspective into my art collaborations. Collaboration. Pioneering proposals.
Something essential or enjoyable every day? I'm learning to sing. I love to practice singing — I like participating in singing circles with friends and some professional musicians. It's essential for me to talk to UM colleagues Samar Safi-Harb and Jason Fiege. That also puts a smile on my face.
You are always thrilled to spend any free time doing: Making art, looking at it, or thinking about it. I'm an art junkie.
Something you do better than most people you know: Public outreach images – I'm the first person to make radio telescope images look compellingly realistic. I've worked for NASA making images and continue to do so while being a prof at UM.
Childhood hero: Besides Peter Pan and Captain Kirk? I adored my father who was an architectural designer and a landscape painter; I was molded by all the strong women in my family.
Underrated: The Oxford University system. It is fantastic! One-on-one tutorials with the professor in your college every two weeks or weekly help you do all of your assignments.
Dinner with friends: Cooking at home or out at a restaurant? I'm a foodie – known to be a good  cook who makes food that you would not have Out at a Restaurant. I'm renowned for my nitrotinis; I use liquid nitrogen to make delicious and freezing cold cocktails.
Place to visit: Astonishing places I've been include the Atacama Desert (Chile) — with half earth's atmosphere below me. But the Namibian desert is better. The warm colours of the sand changing as the sun travels across the sky are spectacular. Other places I love: Oxford England, the Punjab India, New York City and Sydney, Australia.
I'd like to go to space, but I'm claustrophobic. I have been down deep in a mine to visit the Sudbury Neutrino Observatory, packed like sardines in the two-floor elevator. So I know this is a problem.