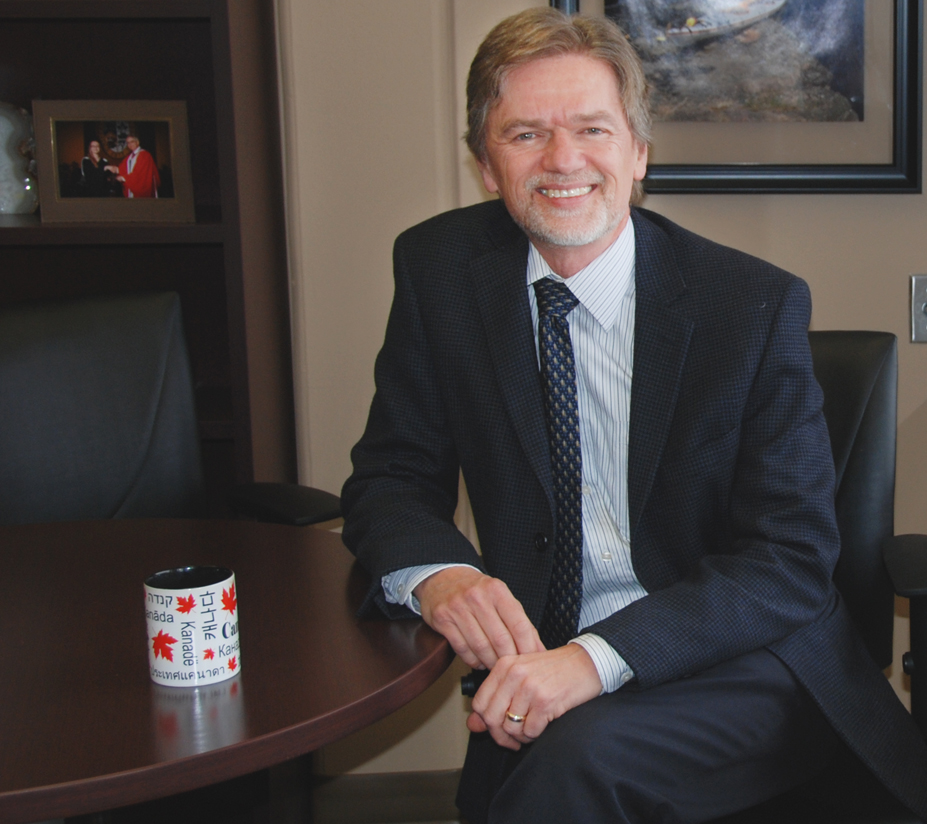 Coffee With a Co-worker: Garry Dyck
December 4, 2013 —
When Garry Dyck started working at the U of M in 1990, he had just graduated with his Master of Education degree in International Education. As someone with a love of travel and a passion for meeting people of other cultures, he had been to far-flung places such as Germany and Brazil. For him, teaching international students was continuing that interest, "a way of traveling without leaving home," as he puts it.
Over the time he's been at the university, Dyck has done a lot of "traveling." Working with English as Another Language (EAL) students and faculty, he's taught, coordinated and planned curricula for international students of all ages and nationalities.
In the 10 years since he's been director of the English Language Centre (ELC) within Student Affairs, it's doubled in size. What began as a relatively small program in the 1990s has become a unit that sees over 800 international pre-university, undergraduate and graduate students per year come through its "doors" on the fifth floor of University Centre.
The ELC offers English for Academic Purposes (EAP) to international students and tests English proficiency for both undergraduate and graduate students via the CanTEST — the Canadian standardized English proficiency test which determines whether students are able to meet admission requirements of Canadian post-secondary institutions or fluency requirements of professional licensing associations.
Courses taught through the ELC include both part-time and full-time programs, including a full-time Intensive Academic English Program (IAEP) and the full-time Academic English Program for University and College Entrance (AEPUCE). Upon graduating from the programs, most of its students continue on to university studies.
With a staff of about 50, its instructors, program coordinators and other staff provide a strong link for these international students to the university, including enrolment services, student life, ELC's homestay program, the International Centre for Students and other university units.
Dyck loves the university because he shares many of the values it embodies. He finds the educational environment exciting and enjoys the diversity he encounters here. In his role as director of ELC, he has also represented the U of M on councils and associations of international education and EAL learning.
Dyck's modest demeanor and genial, respectful style make it easy to envision working for him (full disclosure: I DID work for him one summer many years ago, in an EAL program for Korean nursing students!). He is definitely a people person. In fact, he'd rather go next door and talk with his colleagues than sit at his computer emailing them, he says.
"Even if it means that sometimes we're missing a paper trail," he laughs.
Q + A with Garry Dyck
Name one thing not too many people may know about you: To relax, I enjoy playing the mandolin. I also play violin and banjo. At family gatherings, I enjoy playing with my children, nephews and nieces. We play traditional Irish melodies, hymns and carols. Many years ago, I played banjo in a small blue grass band with a few friends who played upright bass, guitar, and mandolin.
What puts a smile on your face? Having our whole family over and visiting over a meal.
A favourite place you've visited: A few years ago, my wife, Faith, and I went to Ireland to visit some old friends. We traveled along the west coast to see the Cliffs of Moher and stayed at a BB nearby. We found a small pub where we had supper and heard a local band playing traditional music. It was great music in a wonderful little village. More recently, we visited Faith's relative and his wife in a small town in Northumbria, England. We had never met before but our visit was the highlight of our trip. Although we have enjoyed the sights of big cities, the highlights of our trips often feature the people we have met in rural towns and villages.
Something you find essential or enjoyable to do every day? In order to have a productive day, I need to get up early in the morning. When I get up, I spend time reading the Bible (currently Luke and Isaiah), meditating and praying.
You are thrilled to spend any free time: My wife and I own a double kayak. I have been on day trips with each of our children on the Assiniboine and Red Rivers. It is a good time to talk as we see the city from another angle. In my office, I have a photo of our kayak on an island in the middle of South Cross Lake. My wife and I paddled through the tunnel from Caddy Lake to get to South Cross Lake.
A goal (or two) for the next week, month, or year: Every May for the past three years, I have participated in the Motorcycle Ride for Dad to raise money for prostate cancer research and awareness for prevention of prostrate cancer. This was the cancer that took my father. For May 2014, I hope to raise enough money to earn a place in the Captain's Club. My eldest son and I both have Vulcan 900s and have ridden together in this event.
Childhood hero? As a teenager, I read Through Gates of Splendor, based on the diary of Jim Elliot, who was martyred for his faith in Ecuador. I was very impressed by his passion for God and how he lived out his faith.
Underrated: Walking to work in Winnipeg winters.
Overrated: Facebook, Twitter, and LinkedIn. I have had accounts in each of these for several years but I really don't understand social media.
Describe something eye-opening you've experienced: My wife and I became grandparents this year. Our oldest son and daughter-in-law gave birth to twin boys in mid August. Having three children is amazing but having grandchildren is great in a whole new way.
Favourite Musicians: Leon Redbone, The Quebe Sisters Band, Alison Kraus, Natalie MacMaster
Reading: I enjoy historical fiction and biographies. I have just finished reading An Officer and a Spy by Robert Harris, describing the Dreyfus affair in France. My wife and I recently read Robert K. Massie's Catherine the Great: Portrait of a Woman together and are now reading James L. Snyder's The Life of A. W. Tozer: In Pursuit of God.
Coffee With a Co-worker is a regularly appearing column that features staff and faculty of the university.