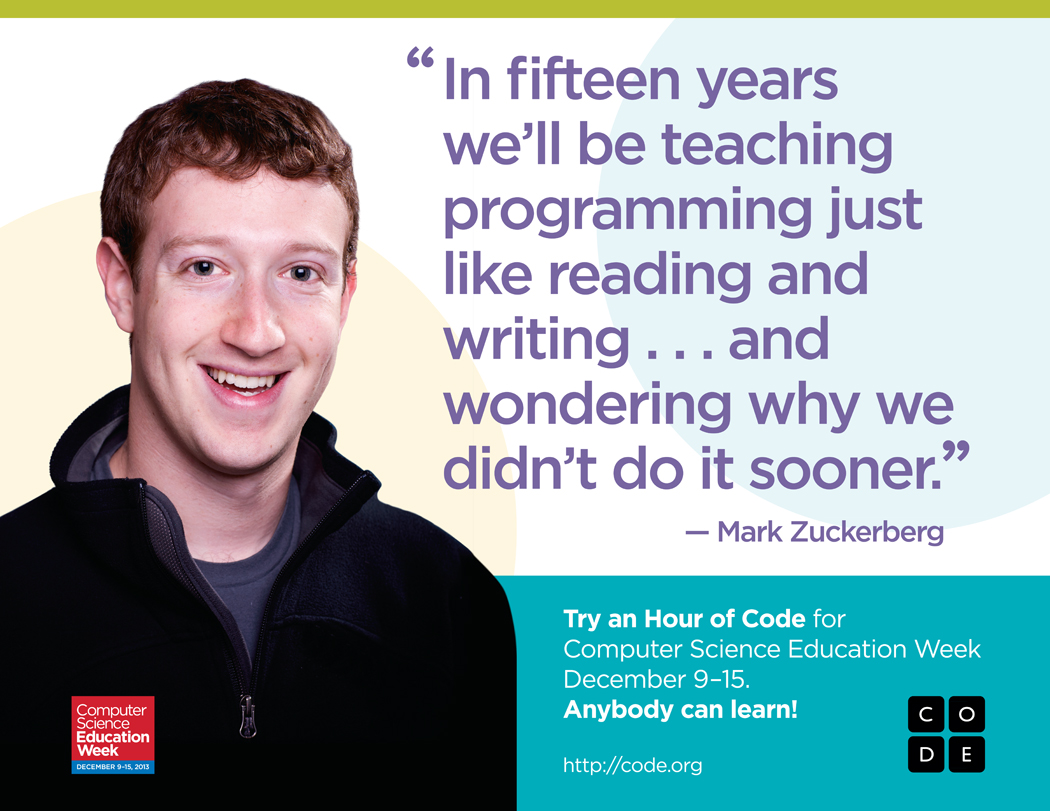 Coding is a political act
Hour of Code event can inspire and educate, says computer science instructor
November 15, 2013 —
Computer science instructor Christina Penner has thought a lot about computer coding. And in her Technical Communication and Professional Practice course, she challenges students to rethink coding as something with political implications.
Penner, who is also a novelist, says that her background in humanities "prepared and provoked" her to start thinking and reading about the political aspects of coding. For her, the Hour of Code event, which takes place during Computer Science Education Week (Dec. 9 to 15) is both an educational and a political act. It can work to inspire and educate students.
The event is intended to engage the general public with computer science through coding.
In addition to providing general awareness and education about computer programming, the mandate is to lead more people to study computer science, an industry that needs trained workers. The goal of the Hour of Code campaign is to introduce 10 million students to one hour of computer science.
Hour of Code calls on computer scientists and programmers, those in the information technology (IT) sector and school teachers to schedule an hour of coding education and activities. There is a website that provides scads of downloadable promotional and teaching materials, including videos, handouts and many fun games and activities. The online participation guide outlines all the ways that schools can participate; a colourful six-page handout provides all of the necessary information.
For her part, Penner has arranged to teach an hour of computer programming at her nephew's grade 4 class.
She sees it as more than simply awakening young minds to the fun and potential of coding.
In her third-year university course, she gives students a wake-up call about what they are embarking upon by telling them that they will control the world in which we live. "Because, in many ways, it can be said [that computer programmers control society].
"Most of the time, they are absolutely shocked by that statement," she adds.
Penner: Information technology itself has this question about its power: 'Are we the hired guns, or are we the thinkers and the doers?'
According to Penner, it's in part because IT itself has this question about its power: "Are we the hired guns, or are we the thinkers and the doers?" University graduates, she says, should be the thinkers and the doers.
"Programming is not just writing code. It is changing the world."
Many people who have power in the world use computers, she points out.
"In the university, I would think everyone uses the computer. Very few people who use the computer understand how it works or are able to change the way it works. And so the few people who are able to do that have tremendous power. They have power in overt ways — they can decide that 'I'll make a program that does this.'"
However, computer programmers also have power that's not as immediately apparent. "If you make a program like Facebook, for example, that changes the way that we relate to each other, then you have exerted much power in our society," explains Penner.
"If you use Facebook, which many people do, then you are perhaps not being fully aware of how someone else's code is changing the way you relate to the world."
A one-hour lesson in coding won't teach anyone to write a program. "But hopefully," she says, "you will be able to start on the path of thinking about how computers work and who controls them.
"And that very basic step of awareness, that a computer is not just a machine — a computer is human action, human politics, human thinking — that's the reason why I think this is very important."
Penner: "I talk about the politics of coding and technology in all of my courses — whether first year or third year. And when I'm not teaching, I think, read, and write about these ideas. As a novelist, my second novel engages with the implications of technology in society: How does technology change the ways we relate to each other, remember each other, and engage with the world around us? How does data affect our perceptions of reality, and perhaps even change the world around us? These are the bigger questions that grow out of and into thinking about code as political."