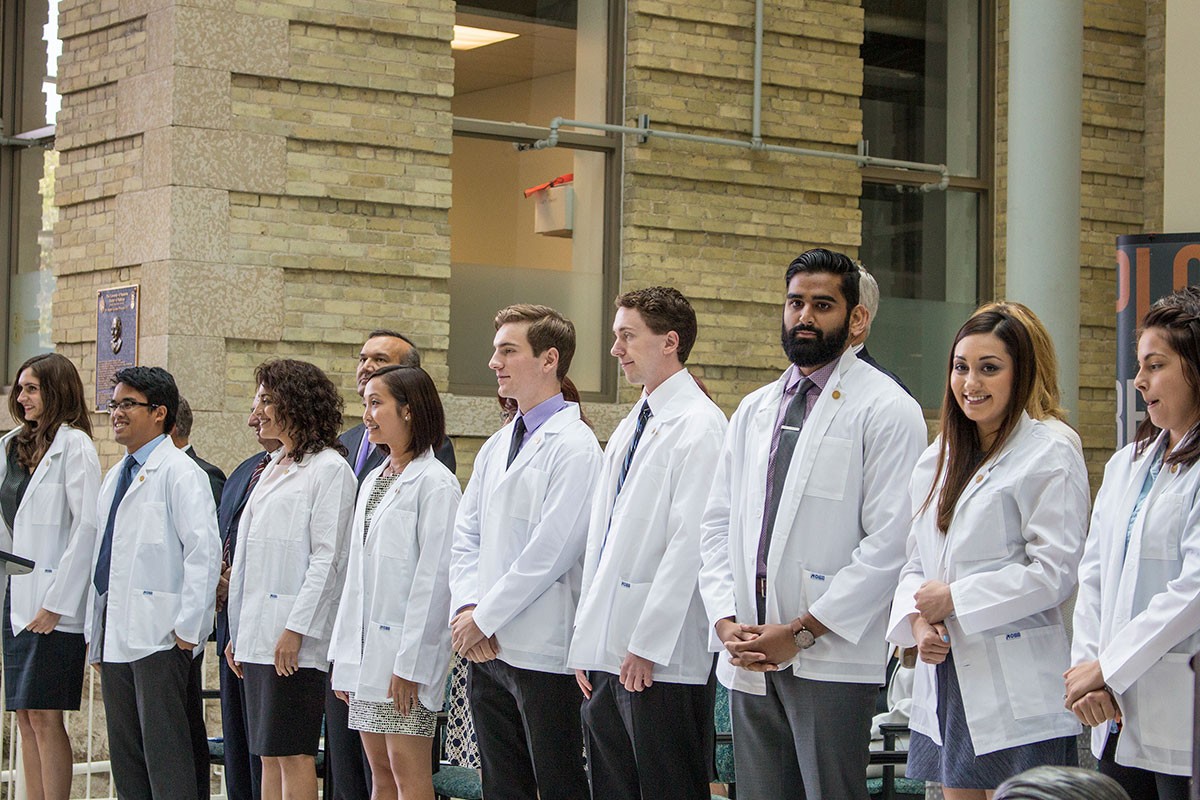 Cloaked for caring
New medical students receive inaugural white coats at ceremony
August 23, 2016 —
Manitoba's newest class of medical students will receive the mantle of the profession and start the journey to becoming physicians at this year's White Coat Ceremony on Wednesday, Aug. 24 at the University of Manitoba's Bannatyne Campus.
The 110 students of the Class of 2020 will be formally cloaked in their first white coats and recite the Hippocratic Oath – a vow to conduct themselves ethically – as part of Inaugural Exercises at the Max Rady College of Medicine in the Rady Faculty of Health Sciences.
"This ceremony is a momentous occasion for the students, who have worked so hard to earn places in the class and embark on their medical education," said Dr. Brian Postl, dean of the Max Rady College of Medicine; dean, Rady Faculty of Health Sciences and vice-provost (health sciences). "It is also an opportunity for friends, family and the community to support our future physicians as they dedicate themselves to compassionate, inclusive and respectful care, reflecting core values of the medical education we provide at the University of Manitoba."
On June 23, Dr. Postl was re-appointed as Dean, Rady Faculty of Health Sciences and Dean, Max Rady College of Medicine. He will concurrently continue to hold the position of Vice-Provost (Health Sciences).
This year, 107 of the 110 incoming students (97 per cent) are Manitoban. The gender-balanced class includes 12 students of self-declared Indigenous ancestry, three French-speaking bilingual students and 29 students with rural attributes, meaning that they have rural roots, rural work experience or rural volunteer or leadership experience.
The class's diversity reflects changes announced last year to the Max Rady College of Medicine's admissions policy. To remove barriers to participation and better reflect the province's diversity in terms of ethnicity, socio-economic or socio-cultural conditions and sexual orientation, the college now dedicates some places in the class to qualified candidates from traditionally under-represented backgrounds.
Who:                        Max Rady College of Medicine Class of 2020
What:                     White Coat Ceremony, including recitation of Hippocratic Oath
When:                     Wednesday, August 24, 2016, 9:30 a.m. to 11:30 a.m.
CLOAKING OF MED STUDENTS AND HIPPOCRATIC OATH WILL BEGIN AT APPROXIMATELY 10:30 A.M.
Where:                  Brodie Centre Atrium, 727 McDermot Ave., University of Manitoba, Bannatyne Campus
Gary Doer, former premier of Manitoba and former Canadian ambassador to the United States, will give the keynote Alan Klass Memorial Address. Doer entered politics in 1986 and became leader of the Manitoba NDP in 1988, leader of the Opposition in 1990 and premier in 1999. During his three terms as premier, Doer's priorities included enhancing and protecting the public health-care system and expanding education opportunities by increasing access and reducing barriers to post-secondary education. Most recently, he served as Canada's ambassador to the United States from 2009 to 2016.
Also speaking at this year's event are Kelvin Goertzen, Manitoba minister of health, seniors and active living; Réal Cloutier, vice-president and chief operating officer of the Winnipeg Regional Health Authority; Dr. Terry Babick, deputy registrar of the College of Physicians and Surgeons of Manitoba; and Margaret Lavallee, elder-in-residence, Rady Faculty of Health Sciences.
Watch it live here
---
The following first-year students are available to speak with media:
Jovana Djordjevic, a French-speaking bilingual student, was born in Serbia, where her first language was Serbo-Croatian. After her family fled the war-torn country for France, she was educated in French. Arriving in Winnipeg at age 14, she attended a French high school until Grade 11. She is entering the bilingual stream of the Max Rady College of Medicine MD program and looks forward to caring for patients in French. "I think that by being able to practise medicine in French, I will be able to preserve that part of someone's culture," she says.
Amir Ali was a talented basketball player for the U of M Bisons. In his fifth season (2014-2015), he was injured and underwent knee surgery. During the long rehabilitation process, he made the tough decision to defer starting medical school until this fall so he could focus on his sport for one final season (2015-2016). "I knew that I didn't want to think about the 'what ifs' when it came to my basketball career," says Ali, the Winnipeg-raised son of Ethiopian immigrants. "The team had one of the most successful seasons in program history, and I can now move forward into what I expect to be an amazing experience in medical school."
Glennis Bushie is a member of the Peguis First Nation. She wrote the Medical College Admission Test in memory of her daughter, Chloe, who died unexpectedly days before her sixth birthday in 2014. Bushie has also faced the challenge of parenting a son with autism spectrum disorder. "These life events challenged me to grow with newfound hope, knowledge, honesty and integrity, instead of remaining cocooned in disbelief and sorrow," the new medical student says. Bushie has been studying Ojibwe with the goal of serving Manitoba First Nation communities as an Ojibwe-speaking physician.
Andrew McDermid, originally from Kenora, Ont., comes to medical school already equipped with a master's degree in medical microbiology, specializing in "surveillance on viruses." He is one of three students in the MD/PhD program, which trains clinician scientists. The program, he says, "connects my love for research with my desire to help people on the front line."