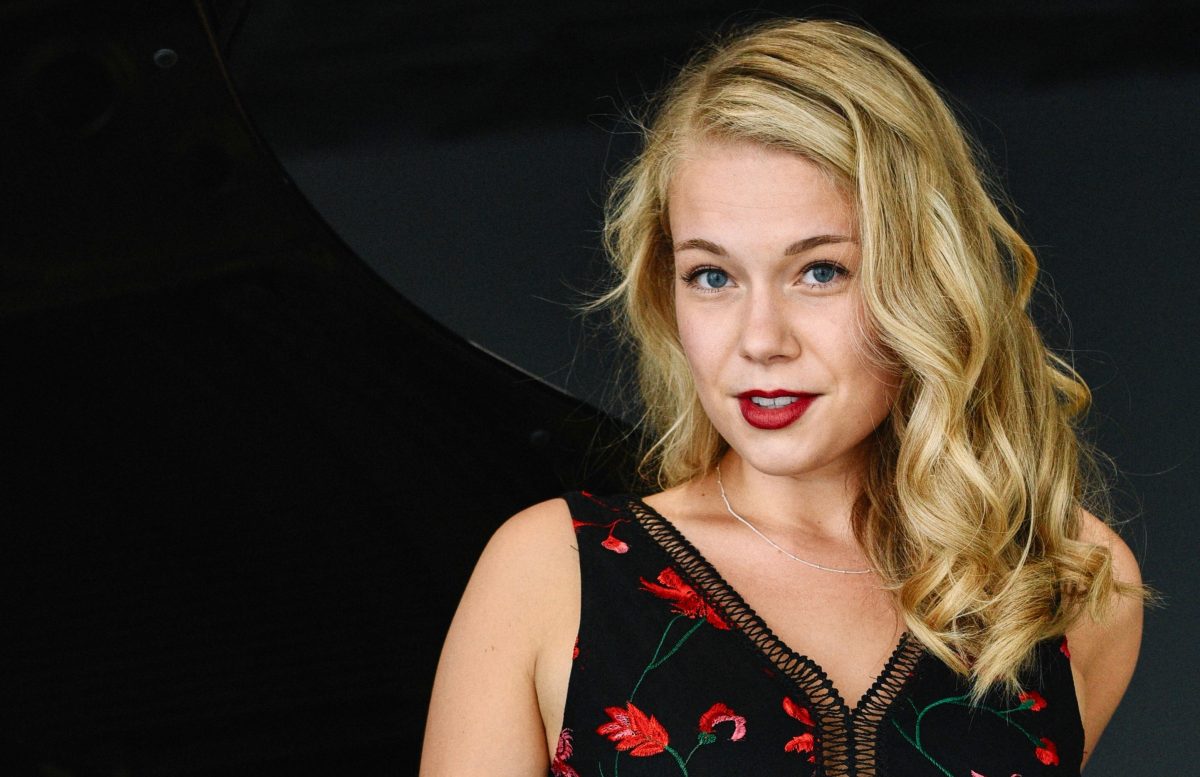 Christina Thanisch-Smith is a remarkable woman
2020 DFOM graduate Christina Thanisch-Smith has every reason to be confident
June 22, 2020 —
NOTE: We in the Desautels Faculty of Music are incredibly proud of our students. While COVID-19 is sidelining in-person commencement ceremonies around the globe, we want to find alternate ways to celebrate our graduates and give them the recognition due to them. Until we can gather together to properly applaud the years of study and practice that have led to this milestone, please join us in congratulating our 2020 Desautels Faculty of Music graduates.
Today we celebrate Christina Thanisch-Smith!
Christina Thanisch-Smith's gifts have been turning heads since before she arrived in the Desautels Faculty of Music.
"I have been aware of Christina since she was in high school," says Tracy Dahl, a voice instructor for the DFOM who has worked with Thanisch-Smith throughout her studies.
"She has always had poise and clearly a gift and passion for music," says Dahl.
Beginning in high school, Thanisch-Smith knew she wanted to perform in adulthood.
"Ultimately, a performance career was at the forefront of my mind," Thanisch-Smith says.
"However, I always knew that as long as my life involved music, I would be happy," she says.
In high school, she was named one of the Winnipeg Symphony Orchestra's "rising stars," a meritorious distinction for students wishing to pursue music. Not to rest on her laurels, Thanisch-Smith, who performed in the Desautels Opera Theatre for all four years, set a bar for herself early in her studies.
Facing every challenge with bravery and enthusiasm
"She was the youngest singer to win the Zita Bernstein competition in our faculty, which she did in her second year, even before being in performance," says Thanisch-Smith's major practical study instructor Monica Huisman.
"Due to my German heritage, I am a German lieder and repertoire fanatic!" exclaims Thanisch-Smith.
"Her interpretation of lieder is exceptional," adds Huisman.
"Christina is a very emotional singer, and her unbelievable ability to communicate so beautifully, is well beyond her years. She was an artist in the making from a very young age," Huisman says.
"Christina is a true artist," adds Mel Braun, who worked with Christina in Opera Theatre.
"Give her a German Lied and she will draw you into its depths with her singular ability to realize the essence of the text and character through her singing," he says.
Later that same year, Thanisch-Smith, who also sang with the University Singers and Cantata Singers during her time in the faculty, took her musical adventure on the road.
"I was incredibly proud to be a part of the University Singers' tour to Germany, Italy, Croatia, and Slovenia," she says.
"Getting to represent Canada to so many audiences was truly special," she adds.
In her third year in the faculty, she performed as Susannah in Le nozze di Figaro in the University of Manitoba Opera Theatre's production Surprise, Surprise!, which featured a collection of opera songs revealing something unexpected.
She followed up that gorgeous performance with another, entirely different, showstopper in the 2020 Opera Theatre production of Tall Tales.
"This past winter I was one of six women who performed Ana Sokolovic's Six Voix pour Sirenes, a 13 minute a-cappella and staged new music piece, with Opera Theatre," she says of Sokolovic's wonderfully avant-garde piece about mythical women first finding, and then realizing, the power of their own voices.
Thanisch-Smith marks these two dichotomous performances as being her favourites learned and performed in the faculty.
Faculty mentors
"My teacher, Monica Huisman, played an integral role throughout my time with U of M," says Thanisch-Smith.
"She is, and will remain to be, a member of my 'vocal team' and I look forward to continuing to grow as a person and performer with her guidance," she says.
Huisman feels the same.
"It has been a real honor to be a part of Christina's journey," says Huisman.
"She is an exceptional talent who will go far. Even before she came into my studio at 17, she had already been winning numerous awards and competitions, and throughout her degree, she continued to soar, continually achieving high accolades and prizes for her unique talent," says Huisman.
"No challenge was ever too large, and she was always wanting to learn more, new languages, different styles and explore every angle of poetry and interpretation. She allowed herself to explore the process of singing, as I always told her the product will take care of itself," she says.
"It wasn't always easy for her, and she openly admits to performance anxiety. What impressed me is how she always faced it head on and relied on the support team we have in our Faculty. She is a team player and a terrific colleague. These are two things that will take her far in this business. I will never forget her singing Eric Whitacre's 'Goodnight Moon', a piece that is based on the children's book. I thought to myself, after I wiped away the tears, that this kind of moving storytelling and communication can't be taught. What a gift indeed!" continues Huisman.
"I wish her nothing but wonderful things. I am so proud of the beautiful young artist she is becoming."
The next adventure awaits
Thanisch-Smith, who will be heading to McGill University's Schulich School of Music this fall to pursue a Master of Music in performance, has some advice for students who are just starting their journey in the Desautels Faculty of Music.
"Particularly during this pandemic, and as we navigate a 'new normal,' don't hesitate to take risks and PLAY in your lessons and practice," she says.
"You are in such a safe and encouraging space, surrounded by faculty and staff that are there to catch you if you fall and help raise you up in your achievements. Take this opportunity to discover new things about yourself and your craft. Strive for growth and excellence, not success!"
"I would love to thank the following teachers and professors for their mentorship and guidance during my time at U of M – Monica Huisman, Tracy Dahl, Mel Braun, Laura Loewen, Katherine Twaddle, James Maiello, and Charles Horton," ," says Thanisch-Smith of the people who have helped her along the path to this milestone.
"What Christina can do can't be taught," says Braun.
"As a Faculty, our only job was to give her the grounded technique that could help her transmit fully what's already inside her," he says.
"Christina has developed her own unique sound, and her grace as a performer has continued to bloom," says Dahl of the growth Thanisch-Smith has experienced during her time in the faculty.
"It has been a delight to work with her and watch her growth as a singer. I wish Christina all the best as she moves forward to her masters degree at McGill University.," she adds
"I'm so proud of all Christina has accomplished, and I know she will be successful in whatever directions her life takes," adds James Maiello, associate professor of Music in the DFOM.
"Working with her revealed a remarkable synergy of talent, intelligence, and a dogged work ethic that has propelled Christina to excel in the classroom, on stage, and in all areas of her education," he says.
"What I will miss most about Christina, though, is her genuine love of learning new things and her enthusiasm for synthesizing diverse knowledge and skills to foster deep, three-dimensional learning," Maiello adds.
"She is an intelligent musician who brings dedication to her work, and even though she works really hard, it is always grounded in her enthusiasm and positive energy," agrees associate professor of music Laura Loewen.
"Christina is a wonderful person, full of enthusiasm and positive energy. I'm so thrilled to have had the opportunity to be part of her musical journey!" she adds.
Credit recital
Due to the disruption caused by COVID-19, the Desautels Faculty of Music had to cancel all of its remaining events for the 2019-2020 season. In addition to final ensemble performances, about 40 student credit recitals were cancelled, including those of graduating students, whose final credit recitals serve as a sort of capstone project showcasing what they have learned throughout their studies. Unfortunately, Thanisch-Smith's final recital was among the cancelled.
In curating her program, she sought to highlight more than just her immense vocal talents. Like her performance in Sokolovic's Sirenes, Thanisch-Smith's credit recital program reads like the biography of a woman working to find her voice and becoming ready to take on the world.
"My graduation recital was a special programme to me," she says.
"It focused on the role women played through character and composition," says Thanisch-Smith.
The program featured a wide range of music either composed by women, or written in a way that shows that inner depths of a woman's life and emotions.
"After opening with Princess Ilia's first recit and aria from Mozart's Idomeneo, next on the program was Obradors' Canciones Clásicas Españolas, a set of seven Spanish art songs, followed by female Czech composer Vitezslava Kaprálová's set titled Navzdy," she says.
"My second half consisted of Richard Strauss' "Epheu" (from Mäddchenblumen), followed by his iconic set of three pieces, Drei Lieder der Ophelia, which tells the story of Hamlet's Ophelia," she says of the tragically exploited Shakespearean character.
She then juxtaposed that characterization with one of a woman who bucked tradition and lived a life that other women of her day either scorned, feared, or admired.
"Purposely following Ophelia's story comes the story of Calamity Jane. Songs from Letters (from Calamity Jane to her daughter) is a set of five pieces written by female-American composer, Libby Larsen, to the text of letters Calamity Jane wrote to her daughter, Janey," says Thanisch-Smith.
Calamity Jane was a sharpshooter and skilled western equestrian. Her daughter Janey was born out of Calamity Jane's relationship with "Wild Bill" Hickock. Due to Calamity Jane's need to work to support her daughter, she sent Janey to live with her friend Jim O'Neil, a "normal daddy."
Her letters to Janey range from giving advice to reminiscing about lost love, to refusing to apologize for the life she leads. In the final song, "A Working Woman" Calamity Jane outlines the scorn she faces from so-called "virtuous women" for her unconventional life, details some of the work she has been doing, and provides a warning to Janey: "These are hectic days – like hell let out for noon./I mind my own business, but remember/the one thing the world hates is a woman/who minds her own business."
Then, Calamity Jane mentions that she is off to perform with the show which, unbeknownst to her at that moment, would make her famous throughout America: Bill Cody's Wild West Show.
In her parting words to Janey, Calamity Jane says, defiantly and proudly:
"Your mother works for a living."
After her final piece, "Les Filles de Cadix," Thanisch-Smith had planned the encore that would bring her program full circle, from a little girl watching musicals, to a woman heading out into the world.
"As an encore, I wanted to sing 'I have confidence' from The Sound of Music — a musical I grew up with and still treasure today," she says.
The anthemic piece opens with Maria leaving behind her cloistered life to pursue an unknown adventure. At first tentative and unsure, Maria is soon giving herself a pep talk about her abilities, and then, as the song rises to its climax, Maria walks through the gates of her new world, singing "All I trust I leave my heart to,/All I trust becomes my own!/I have confidence in confidence alone./I have confidence in confidence alone!/Besides, which you see, I have confidence in me!"
As the song ends, the new chapter of Maria's life begins.
And, now, so does Christina's.
Thanisch-Smith has every reason to be confident, and, like Calamity Jane, we know she is on the cusp of a life that will find her thrilling audiences around the world.
Christina Thanisch-Smith is a woman who minds her own business – rather than let others mind it for her – and we love her for it.
Congratulations, Christina!