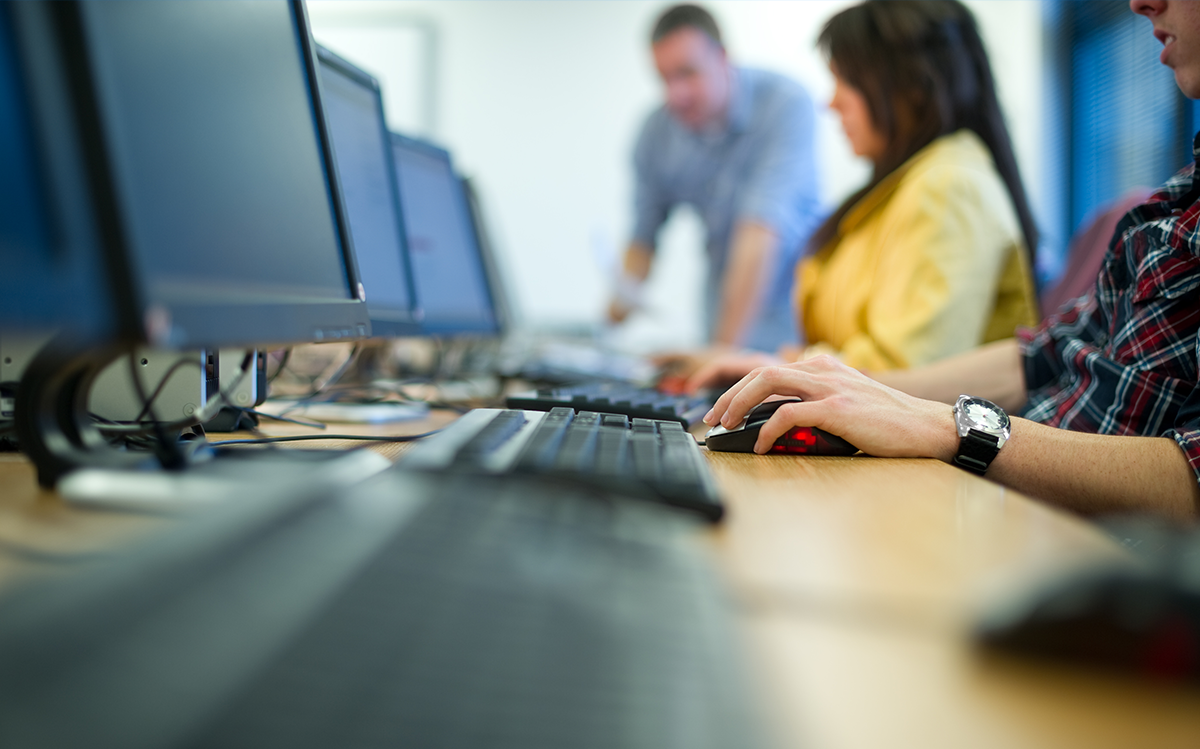 Changes to IST open-area labs effective October 2023
Open-area lab closings and new bookable spaces for online exams
September 22, 2023 —
The Information Services and Technology (IST) open-area computer labs are available for all students and staff. Standard software, including Microsoft 365 desktop tools, Respondus LockDown Browser, Firefox, Edge, and Chrome browsers, are installed on all lab devices. You can find a complete list of the software online at Open-area computer lab software.
Some changes are coming to open-area computer labs starting this October.
Fort Garry computer lab availability and capacity
After a thorough review of computer lab usage, IST will be implementing the following changes. Don't worry! There is still plenty of access and availability of open-area computer labs for everyone.
The following labs will be closed:
St Paul's College 131
Extended Education 188
Agriculture 237
Machray Hall 112
University Center 340
The following lab will be downsized:
Migizii Agamic 106 – 6 computers
There will be no change to the following open-area labs:
St John's College 121 – 10 computers
Machray Hall 108 – 32 student computers / 1 instructor (bookable in AdAstra)
Machray Hall 111 – 32 student computers / 1 instructor (bookable in AdAstra)
Machray Hall 113 – 32 student computers / 1 instructor (bookable in AdAstra)
Machray Hall 115 – 32 student computers / 1 instructor (bookable in AdAstra)
Bookable for online exams
The following labs will be bookable for online exams later this fall. The labs will be open for student use when not otherwise booked. Please note: IST will not configure the labs for specific exams or monitor room bookings.
Dafoe 008 – 75 computers (70 bookable)
EITC2 Room 135 – 75 computers (70 bookable)
Human Ecology 107 – 32 computers (30 bookable)
We strongly recommend planning for fewer than the room capacity to ensure there are sufficient working devices for a web-based exam.
If you are hosting an exam, please add a sign to the door informing students that the lab is not available.
About the IST open-area labs
Information about the open-area labs is available on the IST website at Open-area computer labs – Request support, where you can also find a list of open-area computer lab locations and hours of operation.
Students, staff, and faculty can log on to the computers using their @myumanitoba.ca or @umanitoba.ca accounts.
The university's Use of Computer Facilities Policy and Procedure applies to all users of the labs.
If a computer lab is not open when scheduled, please contact Security Services.
Technical Support
IST does not provide a "fast/instant" response to these spaces. Please get in touch with the IT Service Desk to report any issues. The team will resolve any problems in the next five business days during regular support hours: Monday to Friday, 8:30 a.m. to 4:30 p.m., excluding holidays.