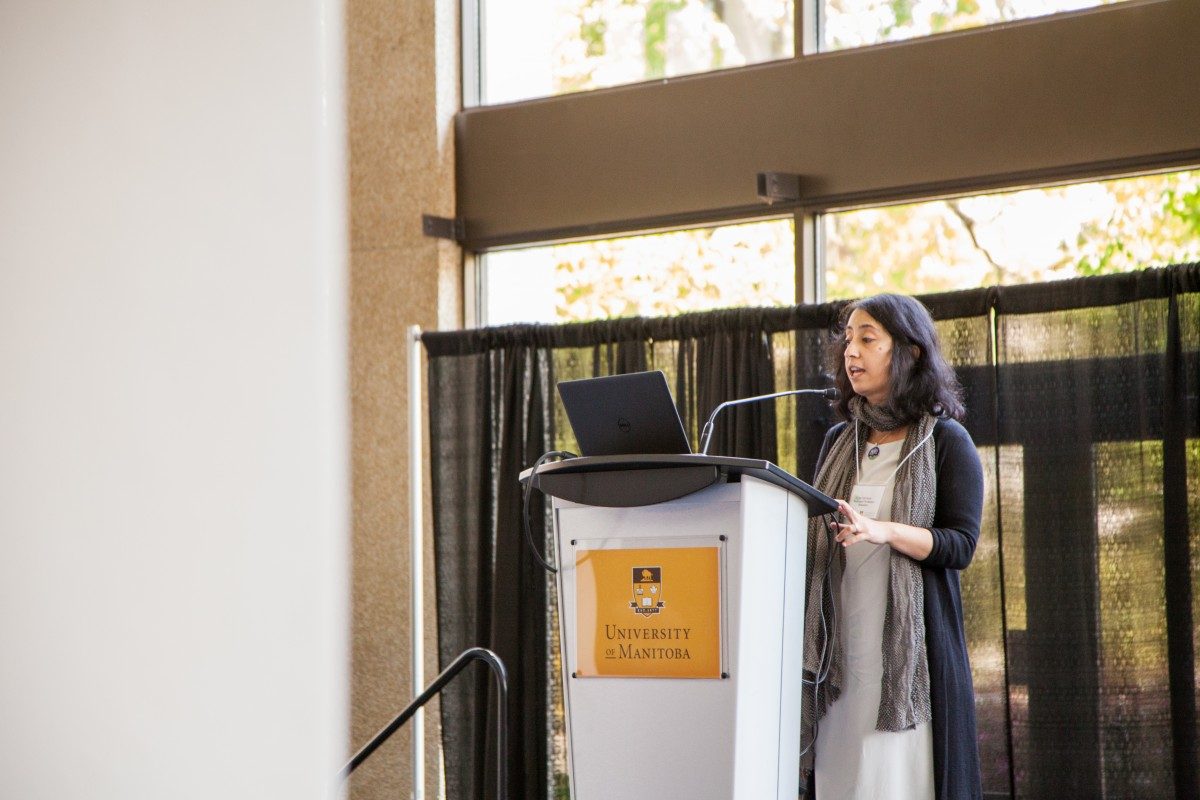 Chances are: statistics Professor Elif Acar tells how a science project changed her life
February 12, 2018 —
As a statistician, Professor Elif Acar knows all about how to calculate the probability of a given scenario, taking into account scores of different variables. However, as skilled a statistician as Acar is, it's unlikely she would ever have been able to predict her current situation as a professor of statistics at a Canadian university, given the facts of her own childhood.
Growing up in Turkey, the young Acar found herself reading a book about a famous American inventor. "I was reading a lot and I read a biography of …George Washington Carver. It was a child's book, called Boy Scientist… I admired his passion for science and inventions."
So it was that the ten-year-old Acar announced to her family (none of whom worked in the sciences) that she wanted to be a scientist. Not too many years later, Acar enrolled at Ankara Science High School, a co-educational boarding school whose curriculum focuses on the natural sciences and mathematics. Established in 1964, the school has been so successful at turning out accomplished alumni (including many world-class scientists, engineers and doctors) that there are now science high schools in all of Turkey's major cities.
"At that high school, our curriculum focused heavily on biology, physics, chemistry, math, geometry… most courses were in the science domain, very little social sciences…. We were doing lab research, and part of the curriculum…encouraged us to participate in nation-wide science project competitions. So I worked on a biology project and did some experiments at the Biotechnology Lab at Middle East Technical University… [and] I needed advice on how to design the study, and this led to my first exposure to the field of statistics. I don't remember her name unfortunately, but the person who helped was the first statistician I had ever met. She gave me insight into experimental design and guided my data analysis, and that was very helpful. I think I can say that she was the one who made me choose statistics, because I thought it was fun."
Acar is quick to stress that becoming a statistician was not simply a matter of her deciding to be one. As it is with life, many factors came into play that were not within her or her parents control. Being accepted to Ankara Science High School was just one of a long list of variables. "I was lucky that I had opportunities that allowed me to follow this path."
Things could have been different if, for instance, she had let herself be discouraged by the sexism she encountered as she progressed. The fact that she didn't see herself represented in the majority of her classes was definitely something Acar found stressful as a young person
"[T]he female proportion at my high school was very low … in a classroom of 24, we were only two girls…. I think that was the period that I felt the existence of sexism in science the most. It was a very tough high school life; very competitive and emotionally difficult because there were very few girls at school…. But it also made me stronger, in terms of sticking to my life goals and becoming a [scientist], [which] was what I always wanted to be."
Acar is happy to be working at the University of Manitoba, where her department is fairly equitably split between the sexes. "In our department, there's a good ratio of female to male faculty members; it's almost half [and] half… But I don't think we are representative of North American universities. … [A]t other universities in Canada, the female:male professor ratio can be much smaller."
Acar's observation is apt. A March 2017 report from Statistics Canada states that "…it is clear that women are under represented by a sizable margin. Specifically, in 2015, 24.4% of the people employed in professional scientific occupations were women, while 75.6% were men."1
Encouragingly, the same report goes on to say that female representation in the STEM occupations had increased by 7.0 percentage point between 1987 and 2015 "… with the proportion of women among mathematicians, statisticians and actuaries [having] increased the most …"2
When asked why she thinks there is still such a significant gender gap when it comes to the Sciences, Acar answers carefully: [It's] a question that people have been thinking about a lot… It is very difficult to determine the field-specific factors leading to a gender gap, even if you are in that environment…. How much of it is because you're a woman and how much of it because you are you? We all make choices in life based on our skills, and hopefully we are evaluated on them as well, not just based on gender or other aspects of our identity."
---
Research at the University of Manitoba is partially supported by funding from the Government of Canada Research Support Fund.