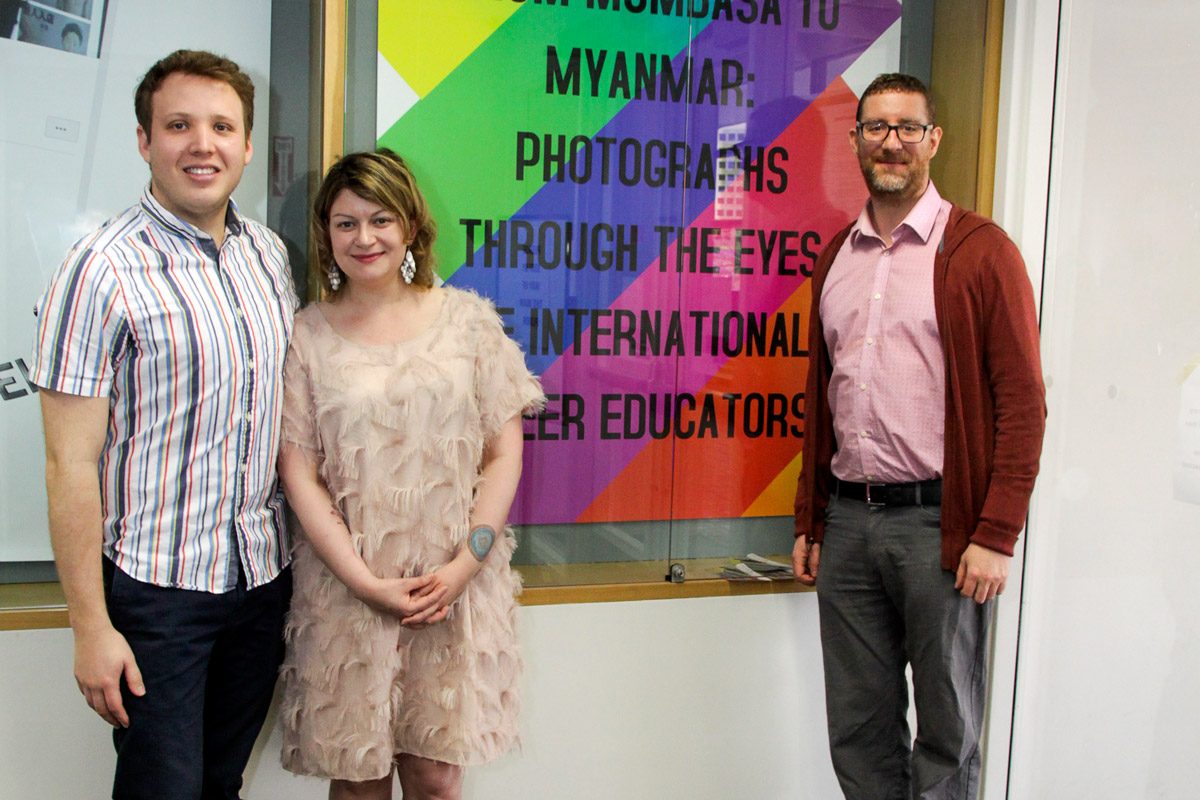 Challenging boundaries
LGBTQ educators overseas share stories
August 13, 2019 —
Discovered to have a same-sex partner while working in South Korea, the teacher was threatened with firing, deportation and followed around the city where she worked. Fearing for her life, she made the case that none of the complaints against her was job related. The complaint was dropped.
"She kept drawing her employer's attention back to the fact that she was an excellent teacher with outstanding relationships with students and parents," said Prof. Clea Schmidt, "And there was no reason for them to be interrogating her about her personal life."
This was just one of the many stories Associate Prof. Robert Mizzi (PI) and Schmidt uncovered with research assistant Gustavo Moura during data collection for "Out There", a project exploring experiences of over 20 LGBTQ teachers working in over 13 countries.
Having completed initial data analysis, the team hosted a month-long gallery exhibit of preliminary findings this spring at the Millennium Library. The exhibit also included photographs taken by research participants while working overseas. During the exhibit, individuals from around the world, and those who had taught in international settings, shared with the researchers how the findings resonated with their own understandings and experiences, Schmidt said, adding the projects findings will lead to recommendations for education administrators, LGBTQ educators and their colleagues. The results so far are revealing.
One gay couple reported problems getting permanent residency for their children, contradicting existing laws.
Schmidt also pointed to an emerging trend of LGBTQ teachers being held to a higher standard.
"When their sexual orientation is questioned, they have to be above reproach in terms of their teaching performance," Schmidt said, adding that because they tended to be strong and capable educators, parents and school administrators tended to be LGBTQ teachers' greatest allies.
"Parents were saying, 'I want that teacher for my child,' knowing that their excellent teaching abilities would best support their children."
While parents and administrators were often supportive of LGBTQ teachers, it was often fellow instructors and staff who were most likely to discriminate, creating barriers to teaching, she said.
"That raises some important implications for ally-ship in schools and among school staff."
In some cases, teachers were forthright about their gender orientation, creating a safe space for LGBTQ students.
"The relationships with students tended to be very strong," Schmidt said.
The 'Out There' team continues its in-depth analysis this summer, with plans to release more findings in the fall.
"Stay tuned for more developments and articles," Schmidt said.