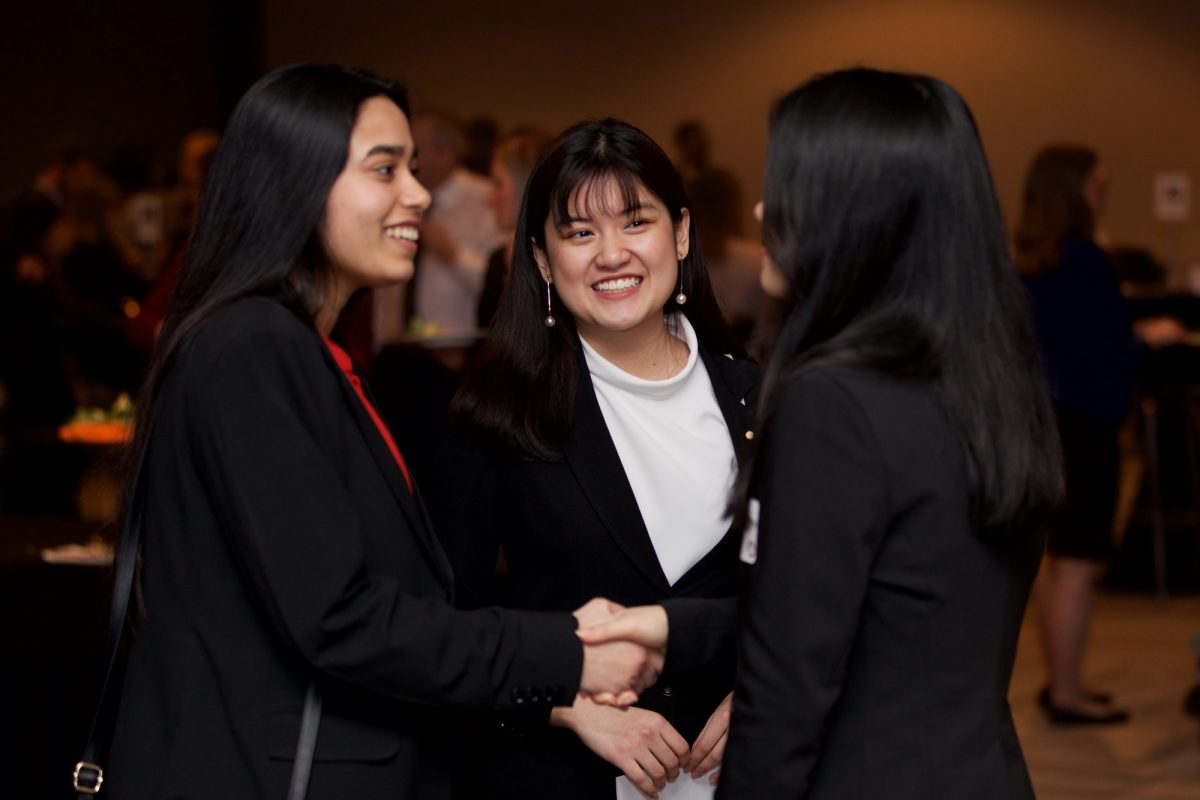 Celebrating the 2019 Co-op Student and Employer of the Year
February 20, 2020 —
More than 230 guests attended the 12th annual Celebrating Co-op event sponsored by the Associates and the North West Company at the RBC Convention Centre. Held Thursday, January 30th, Celebrating Co-op, is the Asper School of Business' premiere event for connecting Asper co-op students and employers and also celebrates the recipients of the 2019 outstanding co-op student and employer awards. As one of the largest co-operative programs across the University of Manitoba, there was no shortage of top talent and partners to select from.
2019 Co-op Student of the Year: Calvin Loi
Calvin has been recognized for his outstanding contributions in the workplace as a CPA student at The Canada Life Assurance Company and for his dedication to the community and the Asper School. He has performed above expectations and made meaningful contributions to the workplace by designing a new internal Sharepoint site for the department to improve collaboration and knowledge transfer amongst team members, led the quarterly global financial close for one of the organization's subsidiaries and took the lead on a number of reporting tasks.
In addition to his strong work performance, Calvin was on the Dean's Honours List with a 4.35 GPA. He is also the recipient of numerous scholarships including the Frederick Johnson Scholarship in Accounting, the Robert Syme Memorial Scholarship and the Tallman Foundation First Degree Scholarship.
In 2019, Calvin was selected as one of only 28 students from a variety of Faculties and programs to participate in the inaugural President's Student Leadership Program through the James W. Burns Leadership Institute.
He has demonstrated outstanding community involvement as a founding member of the Westland Foundation with its mission of empowering inner city youth through education. Calvin has also served on the CSA's First Year Council as the Co-Chair for Charity spearheading initiatives to raise money for a number of Winnipeg charities.
2019 Asper Co-op Employer of the Year: Women's Enterprise Centre of Manitoba
Women's Enterprise Centre of Manitoba (WECM) serves as a resource for entrepreneurs looking to start or expand their businesses in Manitoba. By regularly adding, assessing and revising programs, they have continued to guide, encourage and support clients in their entrepreneurial journeys. As a co-op partner, they have provided an outstanding mentoring experience and exposure to core principles of entrepreneurship and marketing. Asper co-op student Sarah Holtmann, who nominated the company for the award, identified several key qualities that made her co-op experience there an exceptional one:
"WECM contributed to my professional growth by teaching me so much about entrepreneurship in Manitoba. As an aspiring entrepreneur, this experience will help me when I start my own business. To come to a workplace that values your contributions, celebrates your successes, and challenges you to learn more and grow beyond what you ever thought you could, is really the best experience and this organization fosters all this so well. "
The Co-operative Education Program at Asper is an experiential learning program which allows students to transform academic theory into real world knowledge, in a productive work setting. Students have the opportunity to explore different career paths, professions, industries, companies, majors and build a professional network to kick-start their career. 97% of Asper Co-op graduates go on to immediately secure full-time work, with 80% working for one of their three Co-op employers.
Interested in hiring top talent this summer? Hire an Asper Co-op student!
For more information contact:
Meredith Bara
Co-op Coordinator, Asper School of Business
Meredith [dot] Bara [at] umanitoba [dot] ca or 204-474-6673
Holly Klann
Co-op Coordinator, Asper School of Business
Holly [dot] Klann [at] umanitoba [dot] ca or 204-474-8118