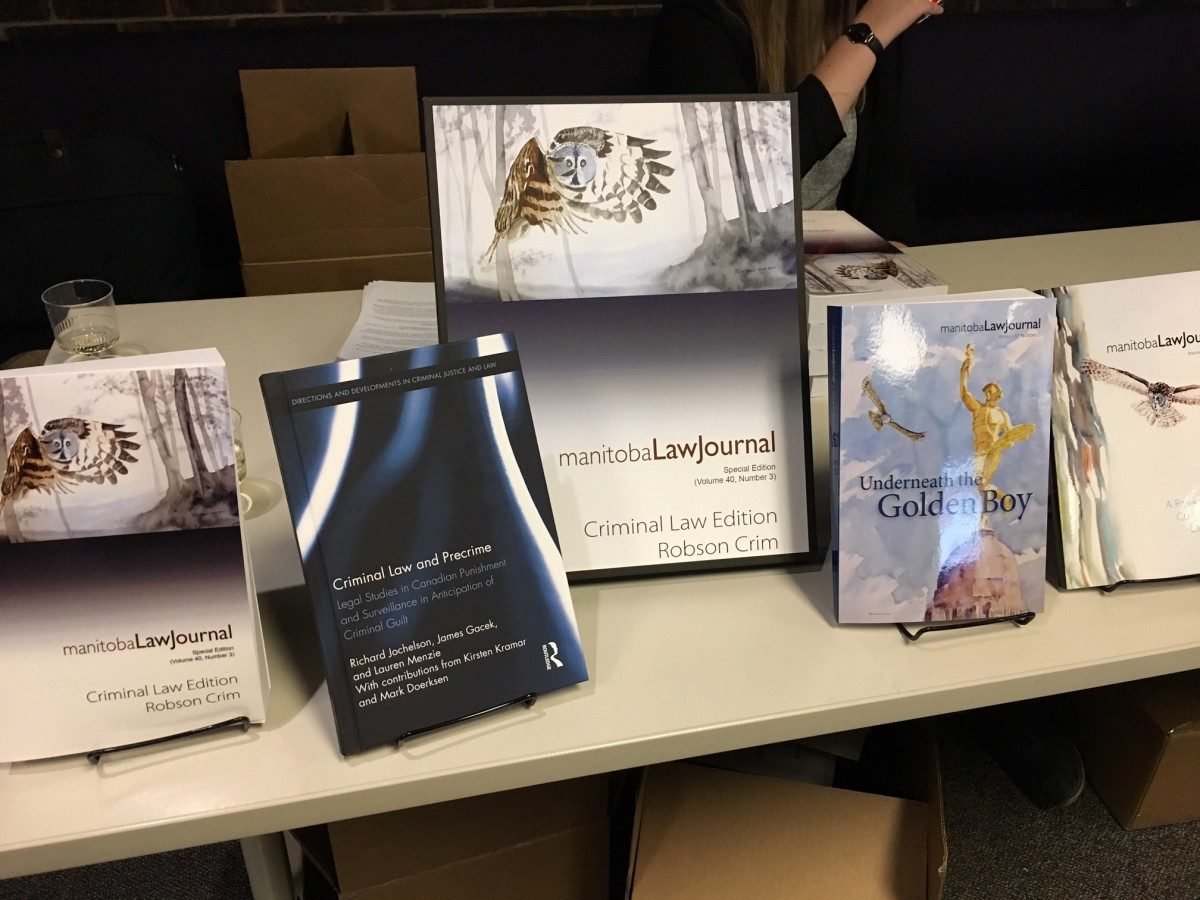 Celebrating Research in Criminal Law and Academic Legal Writing
A "Mega" book launch at Robson Hall, Faculty of Law
October 19, 2017 —
Robson Hall hosted a very special book launch on October 18 celebrating multiple volumes of academic work of its Faculty in a mega launch event. The event was a celebration of the Manitoba Law Journal's resurgence as a leading force on the Canadian Law Journal Scene with the release of its Great Transition issue (providing an oral history of the Faculty), the general edition, Underneath The Golden Boy (dealing with legislative governance in Manitoba), and marking the inaugural release of the double issue of the Criminal Law Edition (the MLJ Robson Crim issue).  The resurgence of the journal was heralded under the stewardship of Professors Bryan Schwartz and Darcy MacPherson. The event marked the release of the Asper Review, in the glare of its rise up the international rankings for specialty journals. The event also featured the launch of a Robson Crim International collaboration between Robson Hall's Richard Jochelson, James Gacek (University of Edinburgh), and Lauren Menzie (Carleton University).
The evening featured remarks from Robson Crim editors Professors Amar Khoday and Davy Ireland. Guest speakers included Dr. Michelle Bertrand (University of Winnipeg) and alumnus and practicing academic, John Burchill. Dr. Schwartz closed the evening with an address outlining the MLJ vision including linking the communities of practice, academia and the public at large to foster knowledge mobilization, best practices and positive social change.
After being introduced by Law Review editor, Kasia Kieloch, there was a poignant moment when Robson Hall house band, Reasonable Doubt, played two songs featured in Professor Kent Roach's article in the Criminal Law Edition. The band's rendition of the Tragically Hip's "Wheat Kings" and "Thirty-Eight Years Old", demonstrated the links between popular culture and resistance in criminal law. It also served as a moving ode to Gord Downie's recent tragic passing.
The event was sponsored by the Asper Chair, the Dean of Law, the Faculty of Law Research Offices and Robson Crim. With over 60 attendees, the common room was packed, as members of the Robson Hall community enjoyed the speakers, music, food and company. A proud editorial staff hosted the journals table where each of the volumes were proudly displayed. Congratulations to the MLJ staff and editorial teams, students editors, the authors, and event planner, Maria Tepper, on a wonderful evening.
A photo album from the evening can be viewed on the Robson Hall Facebook page.