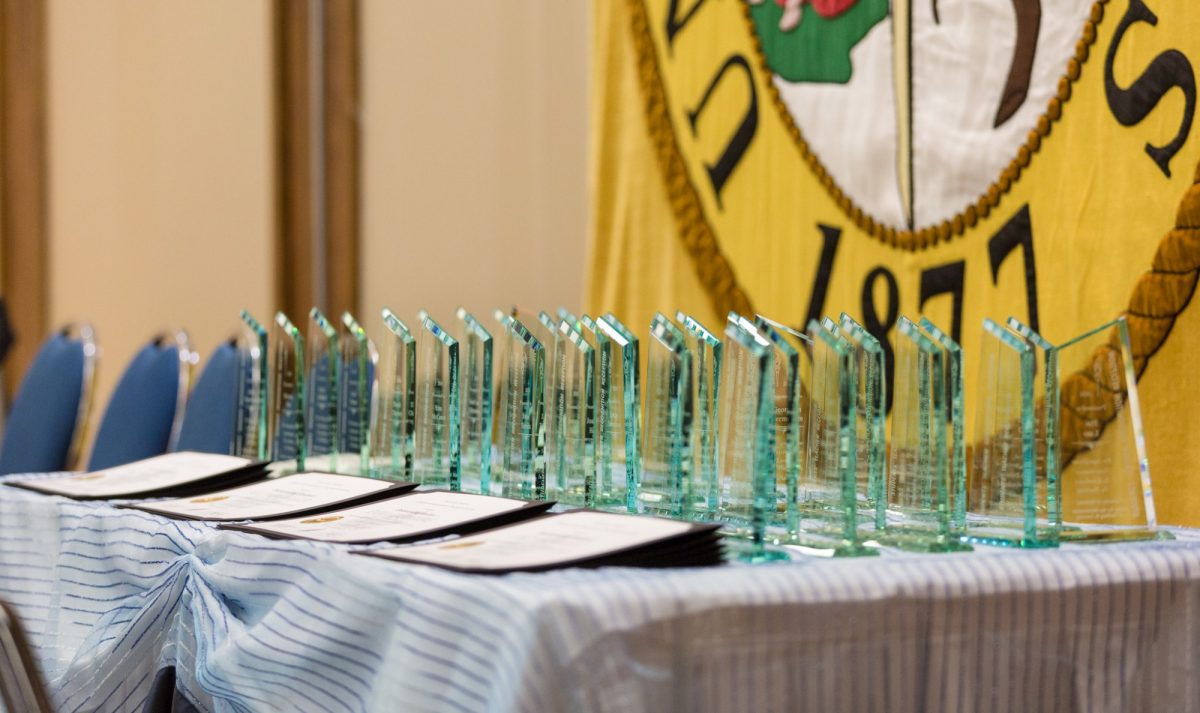 Celebrating educators – virtually
Online Students' Teacher Recognition Reception held on May 4
May 10, 2021 —
Emily Roffey's emotions were apparent as she recounted the acceptance demonstrated by "Mr. A." – otherwise known as Jim Alexander, a teacher at Oak Park High School whose theatre program both inspired Roffey and changed her life.
"It was the one space…that was accepting of you no matter what. A lot of us, growing up in that space, became who we are because we were allowed to in that space," said Roffey, in a video message.
Her growth continued as she pursued an education at the University of Manitoba School of Art. There, another outstanding teacher – Derek Brueckner – made a positive impact on her learning experience, particularly as UM pivoted to remote learning as a result of the COVID-19 pandemic.
"He has been exceedingly helpful and available during online lectures and teaching, demystifying our degree and future career paths as emerging artists," said Roffey of Brueckner.
Roffey, Alexander and Brueckner were among the outstanding students and teachers honoured at the Centre for the Advancement of Teaching and Learning's 29th annual Students' Teacher Recognition Reception (STRR) on May 4.
The event – moved to a virtual format due to the pandemic – provided outstanding graduating UM students like Roffey the opportunity to recognize and thank the primary, secondary and post-secondary teachers who played an instrumental role in their lives.
"It's important to celebrate those connections between students and teachers, and to provide students with the opportunity to show their appreciation for the impact their teachers have had not only on their educational journeys, but also on their entire beings," said Erica Jung, director of the Centre for the Advancement of Teaching and Learning and emcee of the May 4 celebration.
At the event, 21 students from across UM schools and faculties reflected on the teachers and professors who made them who they are today. In his recorded video message, Calvin Loi recalled a memorable interaction with Sisler High School social sciences teacher Filomena Neto.
"She started the first day of classes telling us that we're going to have lots of homework, something that I think not many grade nine students want to hear," said Loi, a recent graduate of the bachelor of commerce honours program at the I.H. Asper School of Business. "However, I was quickly mesmerized by Ms. Nelo's undying commitment to her students and their academic success, particularly her emphasis of the importance of analyzing, and not summarizing."
Asper School of Business assistant professor Sean Buchanan had a similar impact on Loi's academic journey.
"His passion for teaching the role of business and building a stronger – and better – world and society was evident," said Loi. "I believe that it was because of this that I was able to be a well-rounded student during my undergraduate career, understanding the need to have balanced discussions that take into consideration multiple viewpoints and perspectives – even if they differ from your own."
At the event, UM vice-provost (teaching and learning) Dr. Mark Torchia also recalled teachers who made an impact on his life.
"Every time I find myself in a teaching opportunity now, I think back to them and I remember compassion, empowerment, engagement and patience – and then I think about the subject matter," he said in the video. "Their influences have completely impacted my career and my life."
Nearly 1,000 teachers have been recognized at the STRR over the past 29 years. View the full list of 2021 students and teachers, along with the students' reflections, on the Centre for the Advancement of Teaching and Learning website.