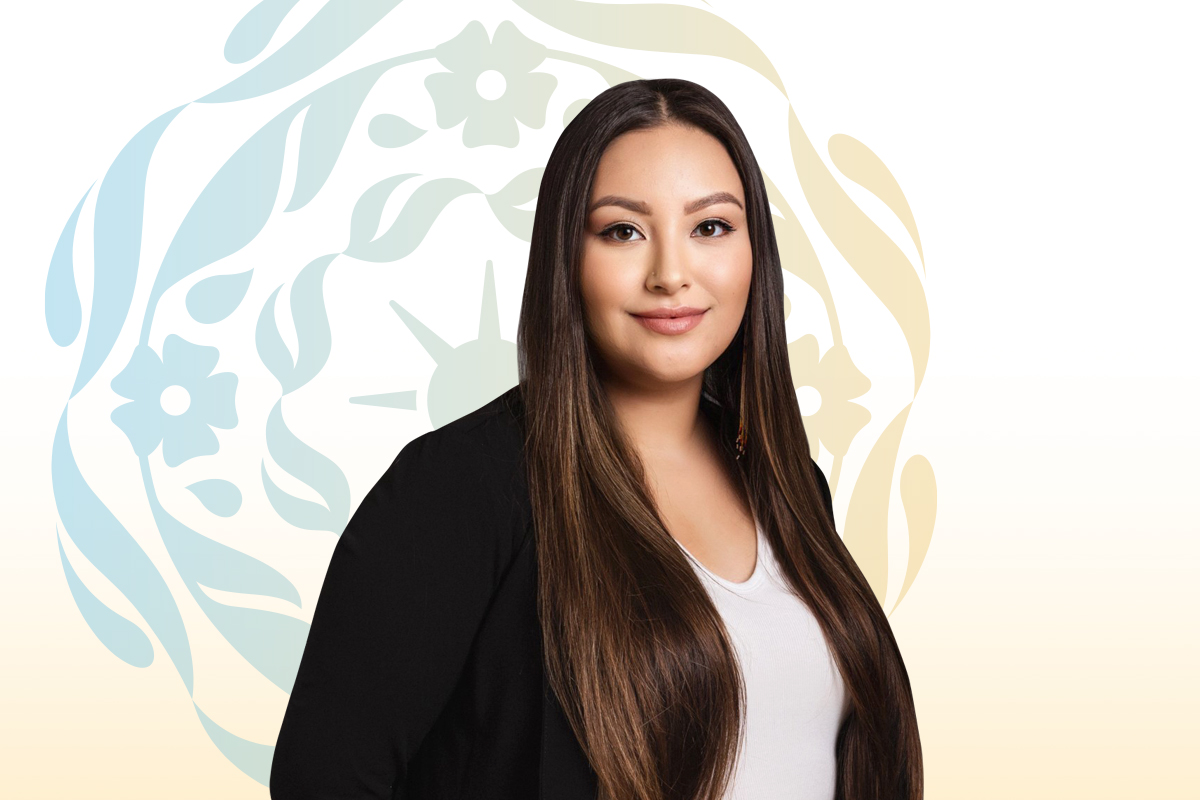 Celebrating an innovative partnership between Mastercard Foundation and UM
New collaboration will transform Indigenous education now and into the future
February 8, 2022 —
No stranger to busy student life, Shelby Sinclair has experienced some of the systemic challenges that many Indigenous students face when pursuing post-secondary education.
In high school and during her first two post-secondary experiences, the Anishinaabe student "kept two or three part-time jobs [while in school]," she says. "When you're out there working, you need to balance that with your schoolwork – and it can be tough to find a balance."
Thanks to a new partnership with the Mastercard Foundation, Indigenous education in Manitoba is about to change for generations to come.
The support from the foundation's EleV program will help transform the lives of thousands of Indigenous youth through revolutionary initiatives developed in partnership with Indigenous communities, governments and organizations, and post-secondary institutions across the province. All initiatives share one common goal: to lead systemic change.
Currently in her first year in UM's Faculty of Law, Sinclair completed a bachelor of arts with a double major in psychology and Indigenous studies at the University of Winnipeg, as well as a diploma in Aboriginal self-governance from Red River Polytechnic (then Red River College), prior to joining the UM community.
Growing up in Winnipeg, she spent her summers, weekends and school breaks in Pinaymootang First Nation, located in Treaty 2 Territory. She still travels to the community to visit family and for special occasions like her grandmother's birthday.
Though early in her studies at UM, Sinclair is already considering possible avenues for her future career. "I want to be a lawyer and help advocate for Indigenous people," she says. "There is a desperate need for Indigenous lawyers [in all areas of law]." Her enthusiasm for her new journey is obvious, her voice rising excitedly when discussing her favourite course: criminal law.
Regardless of where their individual paths take them, Sinclair offers advice to other Indigenous youth in Manitoba: "Focus on your learning, on your goals and on where you want to be."
With the help of the Mastercard Foundation, Indigenous youth will have access to new supports through their educational journeys, addressing some of the systemic challenges they may face, like culture shock when relocating to a larger city, difficulties accessing childcare, uncertainty in how to navigate certain systems, and high costs of education and living expenses
"This partnership will allow us to continue important work and involve Indigenous youth in the re-imagining of programming that reflects who they are and their identities, which hasn't yet been done on a large scale in Manitoba," says Dr. Catherine Cook, vice-president (Indigenous) at UM. "We are thrilled to move forward with these initiatives, which will create new ways for Indigenous students to access post-secondary education and find their career paths."
The $16.1 million gift is already making a difference in Pinaymootang, which will soon be opening a new community learning hub, the first in a series of hubs to be developed with Indigenous communities across Manitoba.
Designed in partnership with the Interlake Reserves Tribal Council (IRTC), which serves six First Nations, the hub will provide students attending any post-secondary institution in the province with resources enabling them to study closer to home.
"We are excited to be working with UM and the Mastercard Foundation to provide opportunities for students in our IRTC communities to achieve their academic objectives at home and in an environment that works for them," says Chief Cornell McLean of the Lake Manitoba First Nation and IRTC chairman.
Sinclair sees the learning hub's opening as a great opportunity for students to be successful while studying in their home communities. Online learning will be supported by enhanced internet connectivity, academic supports, cultural supports and Elders within the community.
"If I had stayed in my community, I would have had to take my courses online. Many Indigenous students have to do a lot of upgrading [in their course work] and there are high drop-out rates when they come to Winnipeg because the learning style is so different," she says. "For many students, it would be way better to stay in the community to do their schooling."
In addition to initiatives like the learning hubs, the partnership will support programs across the province that will increase Indigenous student success, enhance supports for transition to post-secondary institutions, and build pathways to employment and entrepreneurship. All of the programs will be informed, co-developed and evaluated by Indigenous youth, communities, governments and organizations.
The new programming will ensure Indigenous youth have access to post-secondary education in the places they call home, in ways that celebrate their identities and cultures, and with institutions like UM who will continue to support them through their journeys.
Watch our channels for ongoing coverage of the programs and initiatives supported by the EleV Program.
Whether you are supporting health as a human right, advancing reconciliation and promoting Indigenous achievement, climate change research, or transforming the learning experience, you are making the world a better place.
Read more in our Gratitude Report