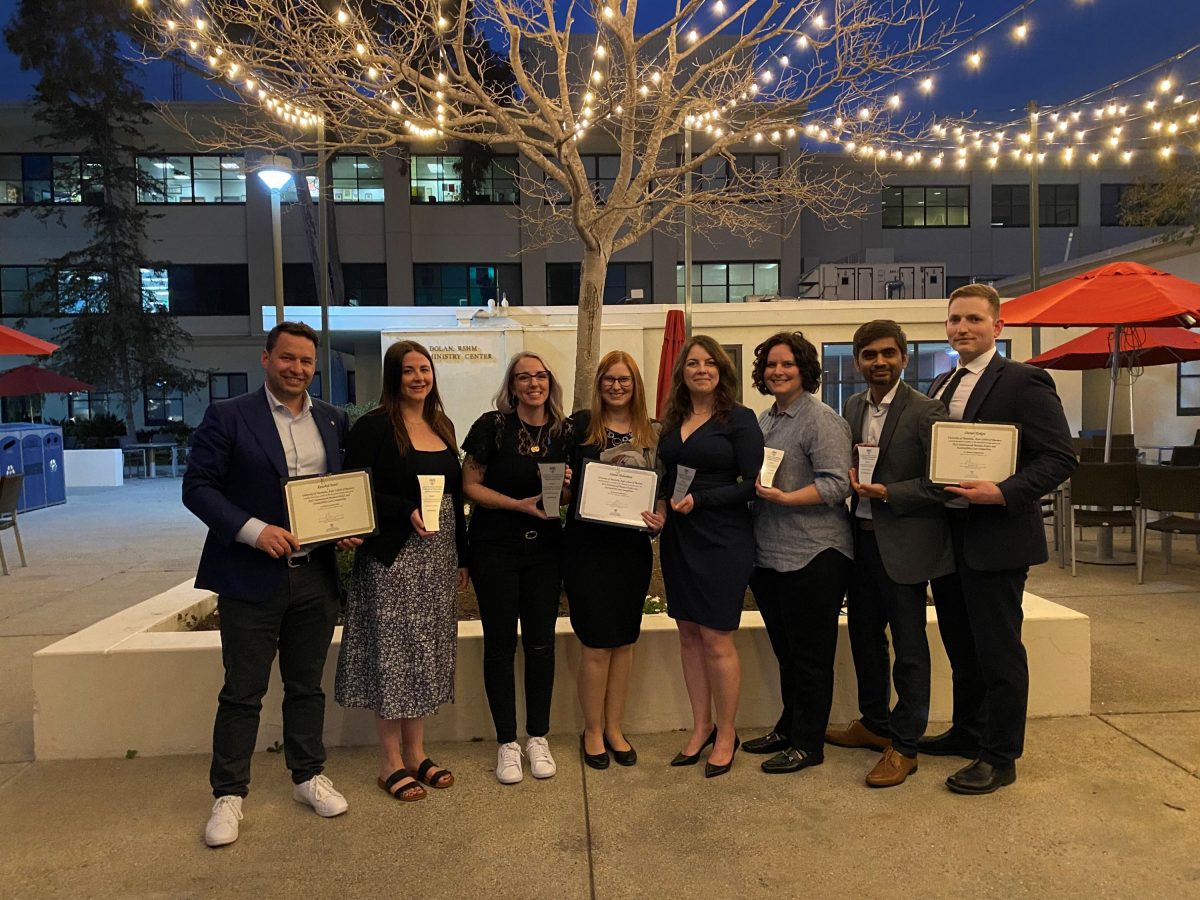 Case season wraps up at Asper with collaboration, community and experiential learning excellence
Asper and UM students make it to the podium 15 times in nine competitions.
May 1, 2023 —
In the last three months, the Asper case community has been busy with a diverse array of competitions, generating invaluable experiential learning opportunities and community engagement.
This season, teams competed across departments and degrees and were supported by a dedicated community of advisors and alumni. Most importantly, they had the opportunity to learn by doing, and they garnered great results.
Engineering and Commerce Case Competition (EngComm) – February 22-25
Asper undergraduate (UG) students Adriana Ong and Kayla Oddison worked with Price Faculty of Engineering students Shannon Campbell and Kevin Klimchuk at EngComm hosted by Concordia University in Montréal, where they progressed to the competition finals.
Team member Adriana Ong reflects on the value of this experience.
"We worked as a team despite having different styles of case analysis, presentation, research and idea generation. The diversity of perspectives enhanced our team dynamic while we learned how to present our engineering and business recommendations as one robust solution to the judges," she says.
Association for Supply Chain Management Student Case Competition (ASCM) – March 10
An Asper team of Master of Supply Chain Management and Logistics students, Yikun Wang [BComm(Hons)/17], Bo Wen, and Tony Wu [BComm(Hons)/20] as well as undergraduate student Joshua Peterson, won first place in the ASCM Student Case Competition.
The team competed virtually, proposing solutions to the severe operational issues arising from limited cold-storage space in the United States.
Pitch It – March 10
Nardos Ghebremeskel won second place in this entrepreneurial pitch competition hosted by the University of Winnipeg.
The competition was challenging, as Ghrebremeskel had never participated in a business competition individually and without a coach. She says, however, that her experience with case competitions and mentorship at Asper helped her prepare and face her doubts.
HEC Corporate Social Responsibility (CSR) Challenge – March 10-11
Two Asper MBA teams finished in the top 5 at the HEC CSR Challenge in Montréal.
Vanguard Consulting, comprised of Daniel Kokan, Elliot Codispodi, Lianne Huberdeau and Kaushal Patel, placed third, while 181 Consulting, comprised of Jordi Johnson, Chelsea Kokan, Bobby Currie and Laura Effinger, received an honorable mention in the top 5.
The HEC CSR challenge focuses on environmental sustainability and corporate social responsibility, hosting MBAs from around the globe as they provide solutions that advance the role that business leaders can play in contributing to sustainability.
Munich Re Cup – March 23
Asper UG students Vianca Gamboa and Conrad Pragnell joined Alissane Ruest and Ryan Weibe from the Faculty of Science at the Munich Re Cup, where the team won first place.
This year students pitched their outlook on North American inflation and interest rates in the short term, while gauging their impact on the operations of a life insurance company.
Pragnell and Gamboa are thrilled about winning and learning from this hands-on experience.
Gamboa, who had no prior case experience, is proud that stepping out her comfort zone resulted in such a successful first run. "This competition not only allowed me to hone my communication and problem-solving abilities but also provided a valuable opportunity to learn more about the industry and its real-world challenges," she says.
International Business Ethics and Sustainability Case Competition – April 10-14
Asper MBA teams Common Ground Consulting (see Vanguard Consulting above) and 181 Consulting participated in this competition hosted by Loyola Marymount University in Los Angeles.
Common Ground Consulting's chosen topic was Lavazza: Steeped in Sustainability but Pressed for Time, and they placed first in the 25-minute and 10-minute graduate divisions and placed second in the 90-second graduate division.
181 Consulting chose to analyze Licensing Moderna: Moving the Needle on Vaccine Inequality. With their second-place wins in both the 25-minute and 10-minute graduate divisions, Asper teams collectively earned the top two spots in these categories.
RMA Credit Analysis Case Competition – April 12
Competing virtually, two Asper teams participated in this Fargo-based competition. UG students Allan Arnould, Ethan Harms and Amoldeep Malhotra finished in third place, and Chris Marlatt, Harsh Thakkar, Riley Kotzer and Joshua Peterson finished in fourth place.
Teams analyzed and recommended an appropriate structure for a small business loan request, engaging their in-class knowledge and gaining greater insight into credit risk management.
International Business Ethics Case Competition (IBECC) – April 19-21
One MBA team and two UG teams competed virtually at IBECC, where they each selected a topic and examined it from business, financial, legal and ethical dimensions.
Analyzing Delivery Hero: From Carbon Offsets to Green Delivery, Aabhishek Grover, Serene Desmond [BComm(Hons)/09], Trent Vos and Xiaojie Chen placed second in the 25-minute graduate division.
In the undergraduate divisions, Anmoldeep Malhotra, Maisy Do, Nicole Blatta and Tahbit Dewan placed first in their 10-minute division with their assessment of Tesla, Inc: Why Being Green is Not so Black & White – Going to the Battery Source. Tristan Garland, Garrison Glatz, Thea Hughes, Darbara Kaushal and Benjamin Swistun placed first in their 25-minute, 10-minute and 90-second divisions.
MIT Sloan Operations Simulation Competition (MIT OpsSimCom) – April 21-24
Two Asper teams competed online in this competition hosted by the MIT Sloan School of Management.
At OpsSimCom, students compete in a simulation where they optimize the setting to navigate a virtual factory and generate profits.
The Jets, comprised of Asper students Bo Wen, Eric Koc, Matthew Fullerton and Tommy Bernabe, placed fourth out of 70 teams, and Alpha Asper, made up of MBA students Apple Qin and Xiaoyu Wang placed 26th out of 70 teams.
—
Throughout these competitions, teams were supported by a dedicated group of coaches, advisors and alumni, including Judy Jayasuriya [BComm(Hons.)/10, MBA/14], Lauren Slegers [BComm(Hons)/22], James Dietrich, Emma Tran, Jim Sykes, Bhaumik Ghandi [MBA/19], Narendra Malalgoda, Trevor Lewarne [MBA/19], Samuel Hao, Steven Scoles, Arly Akerstream [MBA/17], Aditya Kedia [MBA/18], Tracey Code [BComm(Hons)/99], Nolan Keer, Nathalie Davy [BComm(Hons)/14], Jackson Gustafson [BComm(Hons)/19], Howard Harmatz and Anna Gilfillan.