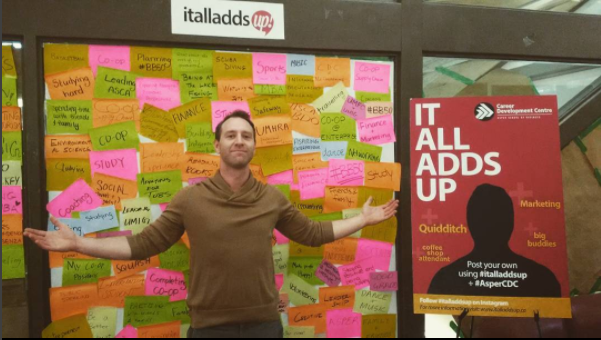 Career Development Centre receives national award
June 9, 2017 —
The Asper School of Business's Career Development Centre (CDC) has won a national award from the Canadian Career Educators and Employers Association (CACEE). The Excellence in Innovation and Student Engagement award recognizes the CDC's It All Adds Up campaign, which took place in November 2016. The campaign, a collaboration of universities and colleges across Canada, aimed to engage students in new ways of thinking and talking about preparing for their futures, and encouraged them to acknowledge and recognize their successes.
The Asper CDC executed the campaign by encouraging students to fill out brightly coloured post-its and stick them to the walls outside the Albert D. Cohen Management Library.
"Kudos to all the students who were brave enough to participate in the program," says Kelly Mahoney, director of the Asper Career Development Centre and Co-operative Education program.