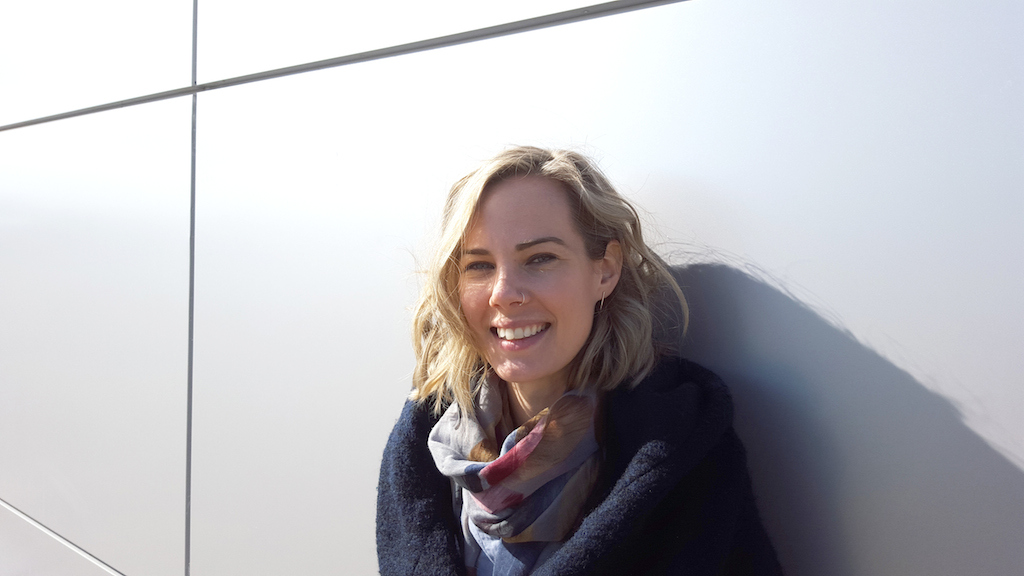 CANDID: Meet Karlee Dyck, 3MT winner
April 25, 2016 —
Karlee Dyck has a lot of talents. She's an award-wining lip-synching performer, a gifted classical pianist, a swing dancer, and the U of M's 2016 Three-Minute Thesis winner. She's also rather tall and really funny. UM Today wanted to learn more about her and we sat down for a chat before she left for the 3MT regional competition, which will be held on April 29 and you can watch live here. And you should, because you can vote for her. The competition and live-stream starts at 3:45 p.m. CST.
Master's student: Karlee Dyck
Studying in: Human nutritional sciences, Faculty of Agricultural and Food Sciences
Advisor: Miyoung Suh
UM Today: Where are you from?
Karlee Dyck: I grew up just outside the city in a really small town called Landmark.
I know Landmark.
You do? That's surprising. It is the heart of Canada though. It's on our sign. We're geographically—from east to west—the centre.
Where did you do your undergrad?
Here at the U of M. I'm a registered dietitian and I did my internship placement in Winnipeg as well. So I've hung around Manitoba for most of my life.
When you're at a party, what do you tell people you research?
Well, I had to do this recently with the Three-Minute Thesis.
So what I tell them is that I work with pregnant women and that we're looking at how nutrition can potentially reduce the risk of FASD.
We know that even though women know not to drink alcohol during pregnancy, it still happens. Women don't know they're pregnant, or perhaps there are substance use issues. But certain nutrients can potentially mitigate the affects of alcohol. At least that is what we have seen in animal models. So my research is to look at how much of these nutrients pregnant women are actually consuming.
How did you get into this line of research?
I was working at as a dietitian up in Thompson and a friend of mine was doing the initial stages of this project as her master's. We connected, and there was an opening for another master's student so I came back down to do this project.
Are your parents scientists or foodies? How did nutritional sciences become your scholarly passion?
My dad is in the auto body industry and my mom is the secretary at the high school where I grew up.
So, my interest in nutrition came up when I was trying to choose a faculty after U1. I was really interested in digestion during my anatomy class, and that's how this whole thing began. Kind of random.
Has your advisor given you any good advice?
She has been very helpful. When I go to her and ask if should apply for something or try something new she always tells me, "Yeah, why not!?." So she's very good at helping me not to limit myself and to try different possibilities.
Whose idea was it to do 3MT?
It was mine. A student from our lab had entered last year and I just thought it was the coolest thing. So I've been thinking about the 3MT for about a year.
What was it about 3MT that you liked so much?
First off, it's great to present what you've worked on for a couple of years and to have people want to listen. That's kind of nice.
And I just like the challenge of it, and I thought… I don't know… it just seemed like the right fit.
Well it was a good fit because you won our competition. How did that feel?
Oh it was crazy. It was really exhilarating. At the finals I really thought that the competition was so high and I had no idea what would happen. So I was pretty surprised when my name was called.
What do you do now to prep for regionals?
I gave myself a bit of a break because I found I was dreaming about my speech.
Now I have a month till regionals so I'm going to pick it up again. Tweak the script a bit and practice in front of other people to get different feedback.
Were you always into public speaking?
Just informally. I'm a musician though so I've done performances in that aspect.
I think that really helps in terms of preparing myself for 3MT.
What type of music?
I play classical piano. I still take lessons on the side—I have one more exam until I complete my ARCT [The Associate of The Royal Conservatory diploma].
What's your favourite classical song?
That's really hard.
How about composer?
[Claude] Debussy. Definitely Debussy.
Were you ever in a band?
In a high school band I used to play flute.
Really!? What else do you play?
I bought a mandolin but I never ended up learning how to play it. Do you want to buy a mandolin?
Nah, I'm good. What did you want to be as a kid?
I went through phases. I thought I was going to be a pop star for a while: I choreographed dances with my best friend and everything. Then I wanted to be an interior designer, but realized I'd have to deign what others liked and not necessarily what I liked.
I think secretly I've always wanted to be dancer but I'm still working on that one.
Did you ever take dance lessons?
Only as an adult.
That was not the answer I was expecting.
I did the UMSwing group on campus. I didn't dance as a kid but dancing is my adult dream.
There were a couple of years where I was really hard-core into swing dancing.
Do you cook?
I felt like I had to learn to cook because I was going to be a dietician.
My poor brother, we were living together for a while during university and he had to go through my experimental phase when I was trying out recipes on him. I'm now a much better cook and he actually wants to come over for dinner.
Do you hate any food?
I'll eat anything, or at least I'll try it.
Were you a good eater as a kid. You ate your veggies?
Oh no. I was super picky. Food couldn't touch other food. Stuff like that.
Do you have any hobbies?
Besides piano and dancing, cross-country skiing. I'm on a volleyball team too. Travelling, when I get the chance.
Where have you gone?
I had this really great experience a number of years ago. I went WWOFING. Have you ever heard of it? It's worldwide workers on organic farms. You can do it anywhere in the world and I went to the UK for the summer. You basically get room and board for working on farms.
And then I was involved in research in Brazil. We were looking at nutrition in Indigenous populations there.
If you were going to give dietary advice to anyone, what's your go-to tidbit?
Eat foods that make you feel good, and in moderation. And move your body in ways that feel good. Food means more than just eating nutrients or 'super foods'.
If you were on Jeopardy, what would your anecdote be when talking to Alex Trebek?
It's embarrassing. It has to do with my days of thinking I'd be a pop star. When I was about 10 or 11 me and a couple of friends entered a local talent show and we lip-synched to Britney Spears. We actually won! To this day we have the trophy and me and my best friend try to sneak it into each other's homes so the other person has to keep it and display it. It's been a back and forth thing for the past 15 years. I have it right now. She got me good. She snuck it into a trunk that I bought off of her.
Oh, Trojan horse style.
Exactly! And now I don't know how I'm going to give it back yet.
Research at the University of Manitoba is partially supported by funding from the Government of Canada Research Support Fund.