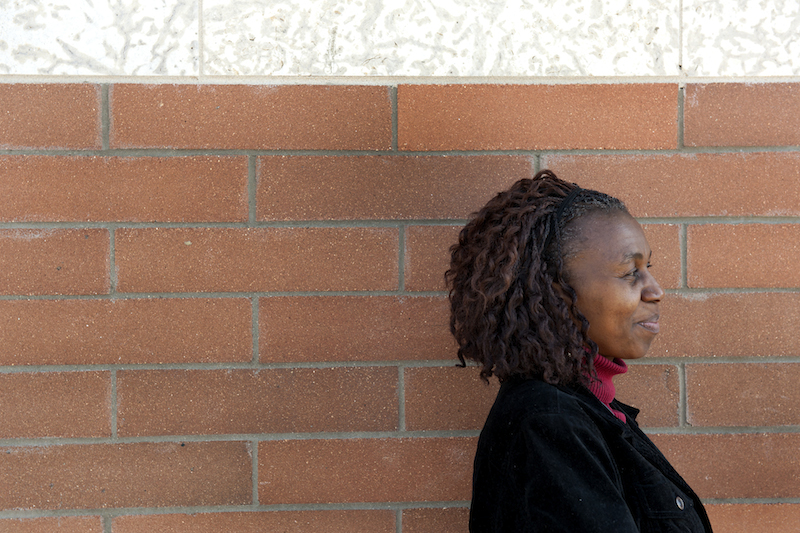 CANDID: Meet grad student Victoria Ndolo
May 11, 2015 —
Roughly 3,800 students are enrolled in the University of Manitoba's Faculty of Graduate Studies. They come from around the world to study here and UM Today is getting to know some of them on a more personal, candid, level. We want to know who they are and why they chose the field they did, and about their hobbies, regrets and musical tastes — anything, really, that comes up in conversation.
PhD Student: Victoria Ndolo
Studying in: Department of Food Science
Advisor: Trust Beta, Canada Research Chair in  Food Processing for Grain-Based Functional Foods
UM Today: Where are you from?
Victoria Ndolo: I am from Malawi. Malawi is located in southeastern Africa. It shares borders with three countries namely, Zambia, Tanzania and Mozambique.
How long have you been in Winnipeg?
This is my fifth year. I came here for graduate studies in the department of food science in 2010. I started as a master's student and towards the end of my second year in master's program I transferred to the PhD program.
Do you miss Malawi?
I miss it a lot. I miss the food, my family and the warm weather most of the year.
Is there any food here that can substitute?
Not really, but I found some African foods in an African shop downtown. What I miss most is Nsima. It is a soft porridge – like a paste – we make from refined corn flour and you eat with any stew and cooked vegetables.
When you came to Winnipeg, was there a culture shock of any kind?
Yes, the fact that we always had to eat veggies as salads. I was used to having cooked vegetables! This was when I stayed in residence on campus. Of course, back home we do eat cabbage or lettuce as salad sometimes.
Why did you choose University of Manitoba?
Oh! It's a long story. Two things. First, I saw that the courses being offered in the food science department would help me achieve my career goals; one of which is to enhance my knowledge and skills in food analysis and food processing.
So in 2007, I had an opportunity to apply for funding through Association of Commonwealth Universities Titular Fellowship which would give me an opportunity to gain hands-on experience in food analysis. This was based on what I was doing while in Malawi. I had been drying mangoes as a way of preserving them because when they are in season a lot go to waste. Fresh mangoes are a good source of vitamin C. So I wanted to know, if I dried mangoes using a solar dryer, would I retain some of the vitamin C, and how long can I keep the retained vitamin C? At that time my interest was to help a rural women keep something that will be a source of vitamin C in their home in the absence of a refrigerator.
Anyway, one of the requirements for this fellowship was that you choose a university that was member of ACU, and the University of Manitoba happened to be among those universities. And when I read about the U of M I said, "Wow, that's the university I want to go to!"
So what is your research now? When you're at a cocktail party, what is it you tell people you do?
I tell them that I am now working with cereals. I would like to understand how various chemical components (phenolic acids, carotenoids and selected nutrients) are packaged within the grain kernel. My aim is to identify botanical fractions with enhanced level of these components for use as functional food ingredients or enhancing the nutritional value of grain-based products.
I do this by manually separating kernel into four botanical fractions, namely pericarp, aleurone layer, germ and endosperm. Then I examine the fractions using fluorescence microscope and analyze their chemical composition and concentration using various equipments.
The cool thing about the fluorescence microscope is that, apart from seeing the microstructure of the grain, I am also able to see certain components that have ability to fluoresce naturally such as ferulic acid and proteins.
Are you going to continue the mango project when you're done here?
Yes, as well as doing similar studies using cereals grown in Malawi, such as maize, sorghum, millet and rice and underutilized legumes. Actually, I am currently helping with analysis of carotenoids of orange maize from Malawi in our laboratory here. This is for a project titled "Malawi Farmer-to-Farmer Agroecology" or MAFFA…..
Have you always been interested in this kind of science?
Yes. But I really never had the opportunity of doing different types of food analysis beyond simple proximate analysis. Actually, my first degree is Bachelor of Education Science – majoring in Home Economics and Biology. So I am a teacher by profession. But my interest has always been in food processing.
…I am slowly getting into what I have always wanted to do and be. All this I did in pursuit of achieving my vision.
What is your vision?
My vision is to be someone who can help a woman in a rural community with the knowledge that I have learned about food processing – to help her preserve her food so she is not suffering from vitamin A and iron deficiencies. My PhD studies are helping me realize this vision.
Are your parents farmers? Or are they teachers?
My parents, I cannot call them farmers, although we used to do a lot of backyard farming. My dad worked as a district administrator and mum was a teacher.
My dad played a pretty a big role in my life because he always told me, "You know what Victoria, hard work with determination is what produces excellence. So if you want to be somebody you have to work hard and be determined to achieve your goal."
Is that the best advice you've received?
From my dad, yes. I actually still keep the small paper that he wrote that on for me.
"Hard work and determination is the road to excellence."
What about academically, what is the best advice you received on that front?
My supervisor, Trust Beta, has been so helpful. One of the best pieces of advice she gave me was, "Victoria you must be able to multitask," and she also echoed the advice from my dad about importance of determination and hard work. Then she added, "a graduate student never sleeps." So thus the joke we always share in our lab! She is so nice and has a good sense of humour.
And my co-supervisor, Gary Fulcher, said to me when I transferred from my master's program to PhD: "You know what, there will be a time when you will feel like giving up, but never do, just keep working hard. Keep your tenacity."
Do you have any hobbies?
Yes, cooking and baking. I like baking a lot, baking scones, banana fritters or banana bread.
And I also like cooking traditional foods, like indigenous vegetables like mushrooms. Unlike here in Winnipeg, in my country mushrooms are not grown commercially (though some do nowadays) but are normally simply picked from the forests during rainy season and are sundried. Mushrooms are a delicacy and my grandma used to say, "I cooked 'nyama yakalundi kamoza' meaning 'meat with one leg'."
What does that mean?
Mushroom have one stalk but when cooked it looks like meat pieces. So she considered that as meat. So she would cook the dried mushroom and added peanut butter to it. It was my best dish as I grew up and I love it still.
What did you want to be as a kid growing up?
I actually wanted to be a banker but sometimes I also thought I would be a teacher because my mom was a teacher.
My big ambition was to be a banker though because the bank cashiers always looked smart and I thought bankers made good money.
But I never became one. But ended up teaching.
So both your parents were influential.
Very much.
My mom was very influential. She encouraged me to be an ambitious girl. She too grew up in rural area but managed to be educated. So she became my first role model.
I look at my professor also as a role model. I see how hard working she is. And I think, "Wow, maybe one day I should also be a professor." So she is my role model too.
What is your prized possession?
Can I have two?
Oh yeah.
I think for me, what I cherish more in addition to what my dad wrote for me are my kids.
How many kids do you have?
I have three kids. Two boys and one girl – I call her my sister!
Are they all still back in Malawi?
Two of them are in Malawi but my youngest son is here with me.
Do you have any regrets in life?
Not really. I know sometimes I was like, "Really?" but I don't sit back and say, "Why did I do that?" because I think everything that you do in life, everything that happens to you in life, builds on who you are. And there is always a reason, why certain things happen in our life. That's how I look at things.
Research at the University of Manitoba is partially supported by funding from the Government of Canada Research Support Fund.