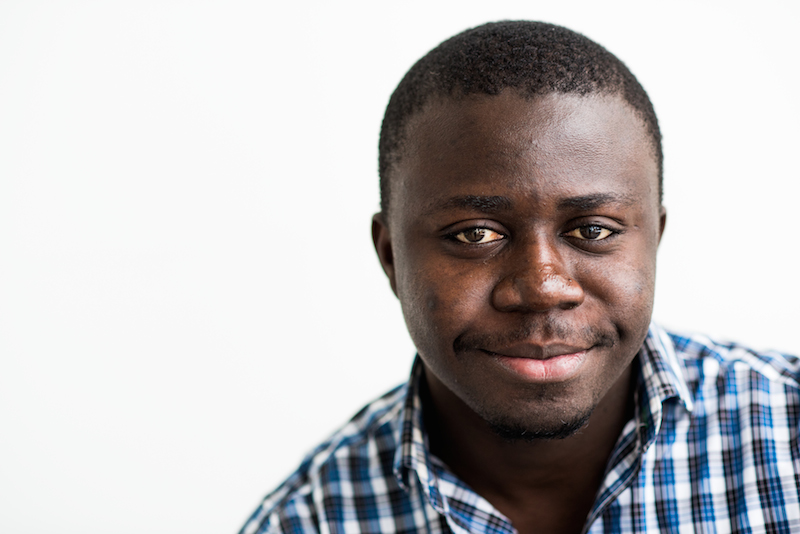 CANDID: Meet Clement Adomah
February 1, 2016 —
Clement Adomah grew up helping his dad on their farm in Ghana. Now he's studying economics at the U of M, and in his free time he's trying to uncover what successful people have in common because he wants to return to Ghana to transform it – creating new jobs and opportunities.  He's one of the roughly 3,800 students enrolled in the University of Manitoba's Faculty of Graduate Studies and UM Today wanted to know what makes him tick.
Master's student: Clement Adomah
Advisor: Ryan Cardwell, associate professor
Studying in: Faculty of Agricultural and Food Sciences
UM Today: Where are you from?
Clement Adomah: I'm from Ghana, from a region called Brong-Ahafo. We have ten regions in Ghana.
How did you find your way to the U of M?
I finished my undergraduate degree in the University of Ghana and I decided I wanted to do a post-graduate degree. I was looking at schools in Europe, America and Canada and finally a friend who studies here advised me take a look at U of M. So I applied, got admission, and was excited.
Does anything strike you as odd about Canadian culture, or Winnipeg?
One of the fascinating things is the weather. I was totally not used to this kind of weather. It took me some time to adjust. And also the culture. The people here are mostly nice and always smiling. I think it's a good thing, unlike my country – because of the weather is always hot you don't see people smiling. It's too sunny. Too hot. People are just straight faced[…..laughing].
Do you miss any aspects of your home?
Yeah, I miss my family, my food, and some aspects of my culture.
What part of your culture do you miss?
The way we…you know, in Canada, you can live in a neighbourhood, or in vicinity for a long time and the people at your next door don't even know you. In Ghana it's not like that. You know everyone in your vicinity. You get together and talk after work. It's very interactive.
What is it you're working on in grad studies?
I'm working on the effect of TRIP agreement (intellectual property rights) on developed and developing countries. It's something I just started so I'm still reading more about it. My supervisor suggested it and I find it interesting.
We have a lot of researchers in for example plant science and animal science, and these researchers come out with new findings that they need a patent for so they can sell it and make money because research is expensive but it doesn't always happen that way.
The systems in the developed countries are okay, but in developing countries researchers don't enjoy this right because farmers just get the improved plant seed replicate them and sell it without paying back the person who did the real research.
New laws and policies are needed.
What is it about economics you like?
Economics? That's interesting. Economics is a form of brain damage.
Most of the things are abstract and hard to conceptualize. Most things you can't explain holistically, you have to hold many things constant. Make lots of assumptions. So it's very rigid. But I like it because it helps to understand how consumers make decisions at the micro level and at the macro level it give me in depth understanding on how countries trade and so on.
Are you sticking around in Canada when you're done or going back to Ghana?
The plan is to go back to Ghana. For now I want to do a PhD and then maybe go back and do more research and teach.
Has your supervisor given you any good advice?
Yeah, he introduced me to this intellectual property rights area. That was good. I had no idea what it was but he gave me some books to read and every day I'm developing interest in it more.
What did you want to be as a kid?
I wanted to be, first a pharmacist, and then later a lawyer.
What do your parents do? Are they economists or chemists or lawyers?
No. I think I got into agriculture because my father is a farmer – he has a lot of farms: a cocoa farm, a maize farm, and we also have farm on some staple foods like tomatoes and yam. But those ones are on a subsistence basis. The cocoa and maize are on a commercial basis.
Did you ever work on the farms?
Yeah, every weekend after school, Saturdays and some Sundays we helped father. So I got interested in doing agriculture and now most of the things I'm coming across here I can relate to because I know the practical side.
And my mom is a teacher. Maybe that's why I want to do my PhD and teach.
Do you have any hobbies?
I go to the gym to workout sometimes. And then watch some YouTube videos. I watch interviews of successful people on YouTube.
Who are you watching on YouTube?
Any interview of successful people like musicians, footballers and the like – what they do on a typical day like, Monday morning? What does a musician do? What does a footballer do? What does a businessman do? What will a successful pastor will do?
Any successful person … what do they do from morning to evening. How do they go about their daily schedules?
What is about this that makes you so passionate towards it?
I just want to know how they reached where they are. What do they do with their time? And I realize one common denominator to all of them is hard work, most of them.
Is there one particular person you have as role model?
Yeah, but I don't think you'd know him because he's a Ghanaian. He's Dr. Kofi Amoah. He is an entrepreneur. He's my role model.
Would you say you're ambitious?
Kind of, because from where I come from, many people finish school and it's hard for them to find jobs and stuff. I don't just want to finish school and just teach. I want to see how we can all help the society by creating jobs and giving people an opportunity to work.
Do you have any regrets in life?
Hmmmm. My regrets come from making bad decisions from wrong information because you make decision based on the quality information at your disposal and if you don't have that you are going to screw up in the end. I have made some mistake but I am learning from them so they are all good.