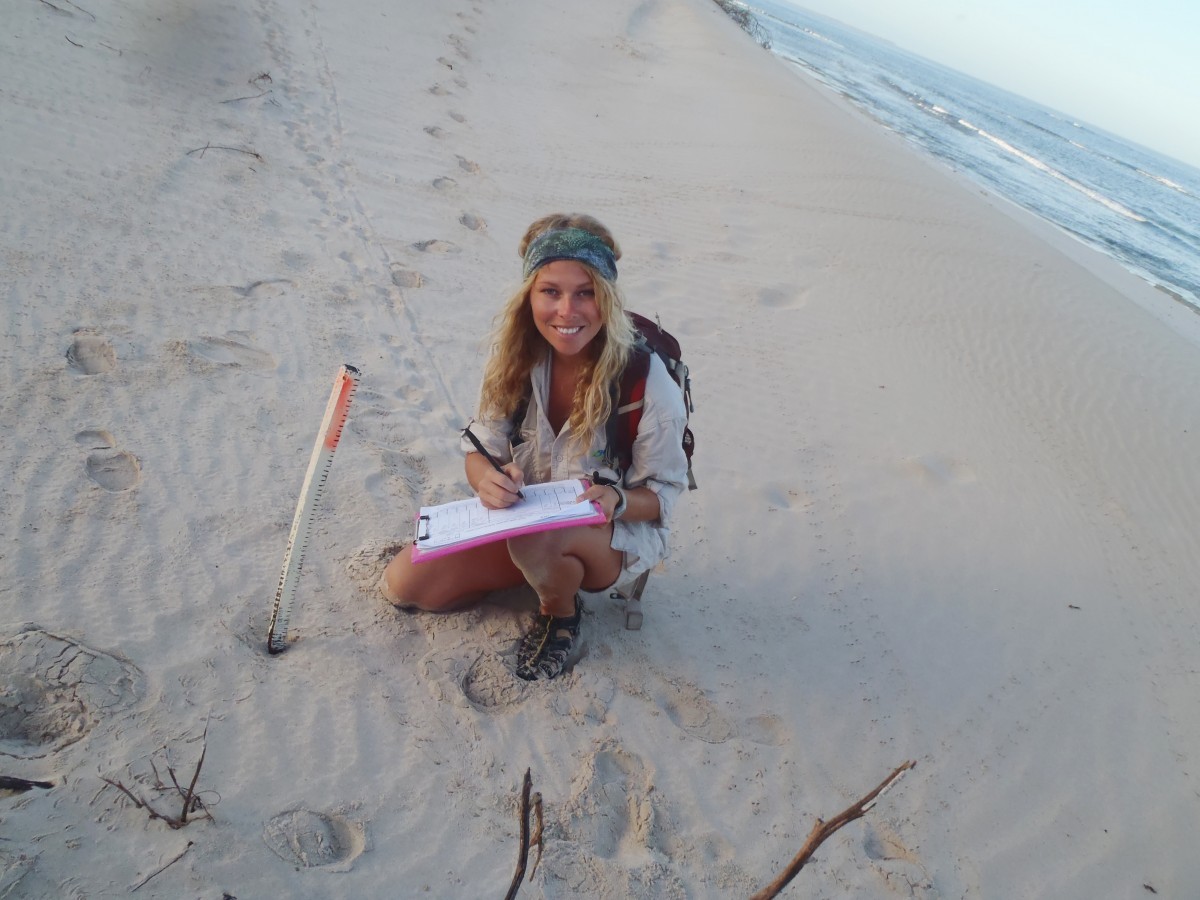 CANDID: Meet Bailey Rankine
March 10, 2016 —
Bailey Rankine loves sea turtles, water, and conservation, but after a brief encounter with a plant scientists, she's now working on an oats research project. She recently defended her master's thesis and is working in a lab on campus. UM Today spoke with her to learn more about the winding road that brought her here.
Master's student: Bailey Rankine
Studied in: Biological Sciences
Advisor: Professor Gary Anderson, associate head of biological sciences
UM Today: Where are you from?
Bailey Rankine: I was born and raised in Winnipeg. I finished high school here and then I went to Red River College to get a two-year diploma in chemical and bioscience technology. Then I went over to Vancouver Island and did my undergrad in biology and earth science.
How did you come to be at the U of M?
I was living in Florida doing sea turtle work in the summer, and in the winter I was working on a mangrove project. And I was emailing researchers at the Experimental Lakes Area (ELA) because it's just an amazing facility and they are doing great work. And I thought, well, wouldn't it be great to work there – it's close to Winnipeg too.
One researcher, Vince Palace, got back to me. He needed a gradate student and he had a project ready to go at ELA.
So Vince Palace became your supervisor?
He started out as my supervisor. He's an adjunct prof here; he teaches ecotoxicology courses.
He was working for the federal government originally – at the Freshwater Institute. And I basically got to ELA and signed a contract, and about two weeks later the Harper government announced they were shutting ELA down, they also closed the division working on contaminants and pesticides. So my supervisor was essentially laid off. He was still kind of available to me but I had to find a new supervisor, and now I have Dr. Gary Anderson, who is just great.
So are you done your master's now?
Yes, I defended at the end of November.
When you're at a party and someone asks about what you did your Master's in, what do you tell them?
I say aquatic contaminants research.
What are you doing now at the U of M?
I'm working for Plant Science now.
How did you end up there?
I went in to interview Dr. Martin Entz when I was the science editor for the Manitoban. At the end of the interview he was like, 'Well, do you need a job?'
I was like, 'Sure! This turned around great.' And I have been working with them since.
I'm overseeing their organic oats-breading project for Agriculture and Agri-Food Canada.
During the field season it's a lot of maintaining the plots and looking for certain characteristics in the varieties. Now it's more taking the weights, running different tests. I also help out on a lot of other projects as needed – for other grad students or researchers.
Are you falling in love with plants now or do you miss sea turtles?
I miss the turtles. Especially in the winter.
Would you go back to that or are you getting passionate about oats?
I wouldn't say I'm passionate about oats but it is interesting because my graduate research was on agricultural contaminants, so actually working in agriculture and seeing the other side of it – even though I'm working in organics – I'm learning a lot about agricultural practices, more than I did just from doing research – literature reviews and stuff. You learn a lot more from the people who are actually working in it. It's pretty eye opening and I enjoy that. But I definitely want to go back to conservation. Whether or not it's marine or freshwater, I don't know, but I definitely want to get back into aquatics.
You did a lot of experiential learning when you were a student. Tell me about that. Where did you go? What did you do?
I started out during my undergrad. The first place I went was Belize for a tropical field school. It was five weeks. We spent a week on the coast doing snorkeling, doing surveys. But we spent the majority of our time in jungles doing terrestrial surveys. We did a couple of homestays with families and that's kind of what opened my eyes to the whole studying abroad experience, getting credits outside the classroom. I was totally hooked. Every opportunity I got, I'd take. Another one I did was in Hawaii – my minor was in earth science so that one focused on volcanoes. But of course I molded my research towards biology so I investigated vegetation succession after a devastating lava flow. That was fun.
I also participated in a two-week summer course at Bamfield Marine Science Centre – a remote facility on the West Coast of Vancouver Island. Their programs promote independent research and are intense and hands-on.
The field research at ELA was great too. And during my Master's I took a leave of absence for six months and went to Western Australia to work on a sea turtle project there.
I'm doing some recruiting here on campus for International Student Volunteers. They are sending a conservation project to Costa Rica. I'm working with them to get that going – doing some recruiting and helping out with fundraising for participants. I'm really encouraging students to take part in it.
What do you say to students to get them to do experiential learning?
Oh, you think it's so cliché because you hear it over and over again but it's totally life changing. When I first went to field school in Belize I remember being so terrified. I was sick to my stomach about leaving home and travelling on my own and stuff like that. It was scary, but by the end of two months I was like, 'I'm not coming home. I'm good.'
So I just encourage students to push themselves outside of that comfort zone. It's such a rewarding experience.
What did you want to be as a kid?
I don't want to say. I'm so embarrassed by it.
I'm a huge Dallas Cowboys fan and when I was a kid I wanted to be one of their cheerleaders. And I remember a time in Grade 1 when the teacher asked what I wanted to be, I remember saying 'Dallas Cowboy Cheerleader.' Every one else was like, marine biologist or veterinarian.
It's funny how those things kind of reversed and I'm closer to being a marine biologist.
Are you still a Cowboys fan?
Oh yeah.
Were you ever a cheerleader?
In junior high.
Was it what you thought it would be?
It was a lot of fun but it was competitive cheerleading. It wasn't as glamorous as the Dallas Cowboys squad.
How did you get into conservation?
It wasn't until I was at Vancouver Island University and I started going to information sessions. At Red River I was very chemistry focused. It was what I was good at, and so I did it. But I realized I didn't want to work in a lab every day. So I knew I should pursue some other education.
I was thinking aquaculture at one point but then I saw information on the Belize field school and that triggered me following this path.
Is the sea turtle your favourite animal?
The sea turtle and the nautilus.
Least favourite animal?
I don't have one.
Do you fear any animal?
No. Well, if something sneaks up on me I'll be startled but I'm not scared of any animal. In Australia I actually did a venomous snake-handling course. So I got to work with a lot of scary snakes.
If you were on Jeopardy, what would your anecdote be when they introduce the contestants?
I think it would have to be about sea turtles because that seems to be what draws everyone.
Tell me a sea turtle story.
In Australia, with the Gnaraloo Turtle Conservation Program, me and a fellow researcher would split up on this super isolated beach and walk in different directions to do our morning surveys. It's a seven-kilometer long beach and at one point he radios me and says he found a stranded turtle who must have been on the beach for hours. The sun was getting hotter, and you know, these turtles can bake in the sun if they can't get back to the water. We needed to help it.
But these turtles are like 500 pounds and she's in between two giant dunes. So somehow we have to get her over this dune, which was running like 100 meters. And we're thinking, how are we going to do this? This is going to be exhausting.
And I have this blanket from Mexico that I bring with me everywhere I go. I always have it with me. So we're like, okay, let's get her on this blanket and heave her up over the dunes.
It was such a crazy ordeal but eventually we got her back into the water.
How did you get the turtle onto the blanket?
We laid it in front of her and tapped the back of her shell, which made her go forward a bit, and then right away we'd haul her. We could go maybe 10 meters and then we'd have to take a break because she was so heavy. I don't know how many times we did that. Like, 40. It was so exhausting. We named her Muriel.
That was quite an experience.
How did the blanket fair in the process?
She shredded it. She absolutely shredded it. But it was worth it. I still have it though. I had to keep it.
Do you listen to music in the lab?
I listen to podcasts. I listen to Stuff You Should Know all the time. I love it. I've probably listened to every podcast. Sometime I re-listen to them over and over again.
Favourite place you've travelled?
Indonesia.
Any hobbies?
I'm so busy I honesty consider learning one of my hobbies. I also really like fishing – walleye and bass fishing. Bass is one of my favourite, they just fight like crazy. Anything outdoors I like, but it's more summer orientated. In the winter I'm really boring. I just read.
Favourite book?
Gone With the Wind