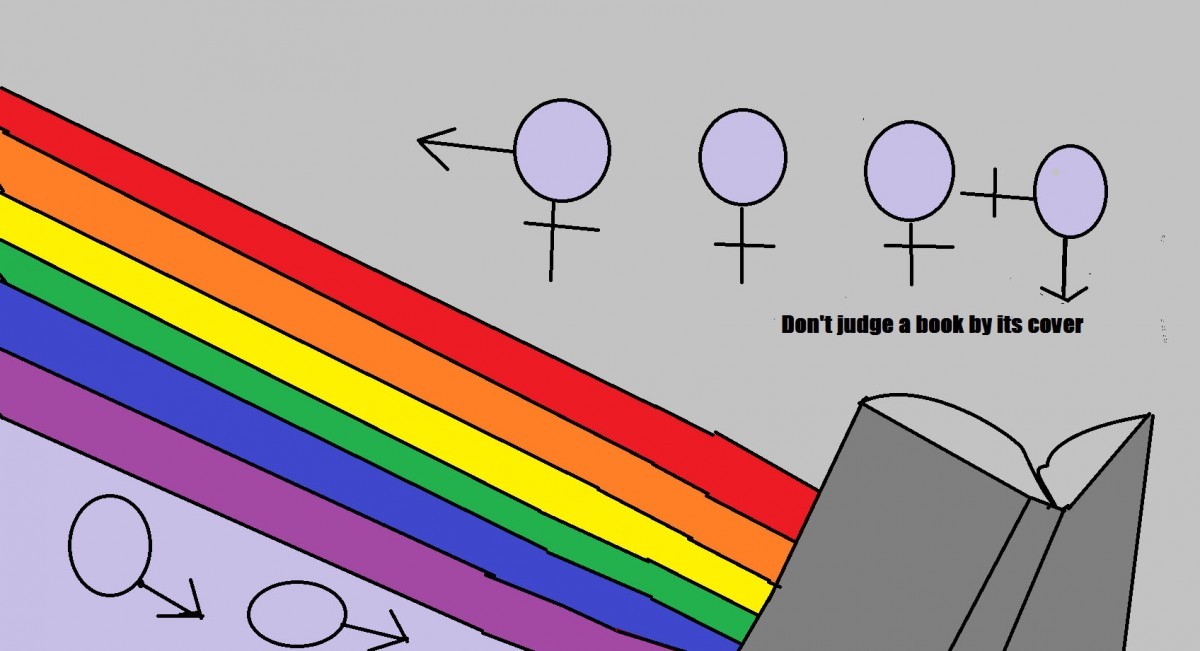 Campus Life student's artwork published in FAQ review
Tabitha Stephenson uses art to create awareness about homophobia and discrimination against those with disabilities
March 31, 2015 —
Tabitha Stephenson has spent many years expressing her views on LGBTTQ* issues and women's rights through her artwork.
And this year, for the third time, a piece by the Campus Life student has been published in the U of M's Feminist and Queer Collective journal, the FAQ review. The Campus Life program helps support students with developmental and intellectual disabilities to audit courses at the university.
Stephenson, along with other contributors to the 2015 journal, was honoured recently at an evening ceremony and launch of the journal. Stephenson made a speech about her piece, Don't Judge a Book by its Cover, in which she explained that because of her disability and her sexuality, she has been judged and stereotyped—but she hopes to use her art to promote acceptance and change.
"I wanted to create this piece, and I used that saying of "Don't judge a book by its Cover," because I myself am LGBT and I myself have struggled with these issues," she told those assembled at the launch party.
"I myself have been judged and labelled, and I wanted to do this for equality and acceptance."
The art piece, which was created using Windows Paint, features a grey book, which is opened to reveal a rainbow. "The book symbolizes fear and homophobia, while the rainbow symbolizes acceptance, diversity and equality for all people, regardless of sexual orientation," she said.
"This piece is a self-reflection. It reflects who I am, it reflects my sexuality," she said, adding that often, those with disabilities are not thought to have "sexuality."
During her speech at the FAQ review launch, the Campus Life student emphasized that she wants people to avoid labelling others.
"Labels make people feel low, and like no one cares about you. Labels are a form of stereotypes, and they don't represent who we actually are."
While she has faced discrimination and people labelling her as "different," Stephenson said she has found a way through the hurt feelings through her artwork.
"Art has been a coping mechanism for me, as a way to use my voice, and develop my own personal slant to my art to tell people to see beyond the labels."
Stephenson said it's also important to her to "make a change" for those in the LGBT community—not just in Manitoba but around the world, as many people who identify as LGBTTQ* in other countries face intimidation and prosecution.
She was also published in the 2014 FAQ review for a piece entitled Lost Identities and in the 2013 FAQ review for her piece called Abstracted Eyes.
Along with digital art, Stephenson does her work in acrylic paint and mixed media. She also has exhibited her art in the University of Manitoba's GoSA Gallery.
Stephenson has spent five years at U of M studying theatre, film, art history and women and gender studies "which really interested me," she said. She also volunteers with the Womyn's Centre and this past year was a volunteer for International Women's Week.
She will graduate from the University of Manitoba this spring.
What's next for Stephenson? "Probably college." She is looking into taking a pilot project at Red River College called "Transforming Futures"—a program for adults with disabilities, which will include a culinary arts track and an office assistant track.
Stephenson hopes that she can continue to help make change for those facing discrimination because of sexual orientation through her art.
"I am one person, with one voice. But I am also an artist and a student and today I'm sharing my art with you, and sharing my story with you, in the hope that you will be encouraged to share your own stories and to help increase awareness about this important issue."