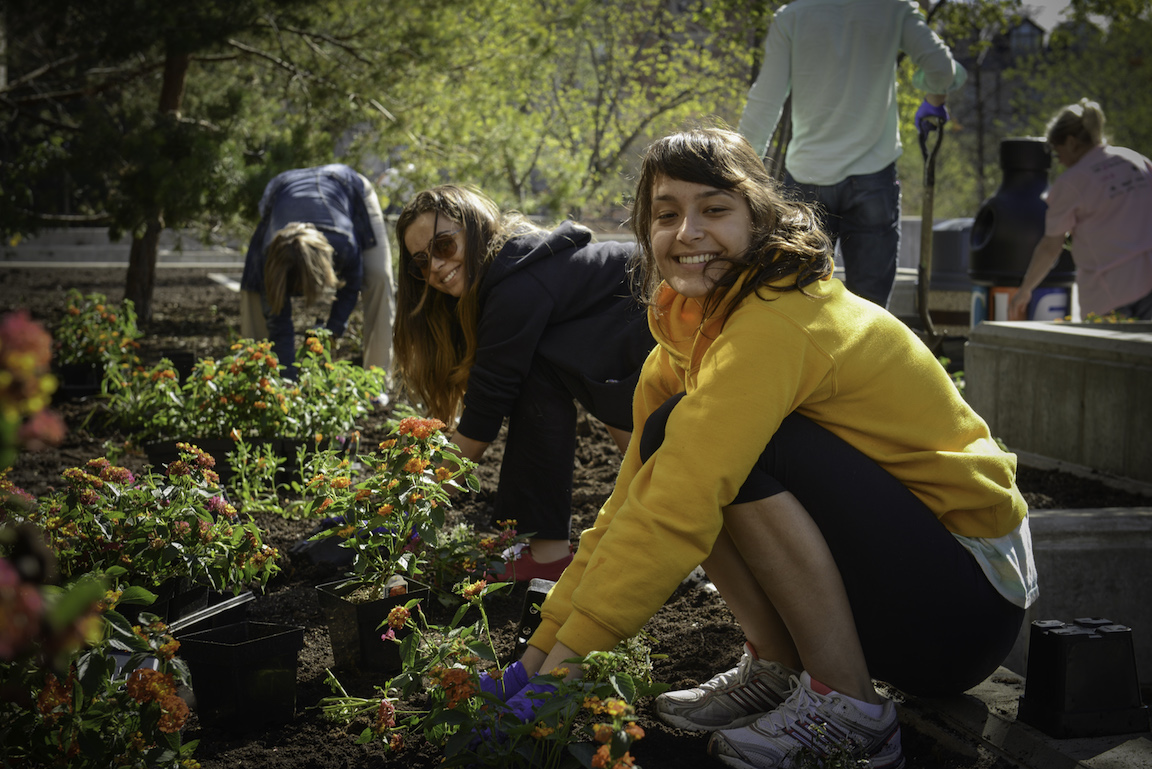 Campus Beautification Day offers gardening activities, music and a free lunch
Join in for fresh air, fun and fabulous prizes!
May 8, 2023 —
Join friends and colleagues outdoors for Campus Beautification Day, which takes place this year on May 25 at the Bannatyne campus (rain date May 26) and May 31 on the Fort Garry Campus (rain date June 1).
Activities go from 9:00 a.m. until noon both days. The entire university community is invited to join in the planting while connecting with co-workers and getting some fresh air. Participants are encouraged to bring their own small gardening tools.
Campus Beautification Day is a popular annual tradition at UM, thanks to the hard work and contributions of the volunteers who take the time out of their busy schedules to help spruce up the campuses.
Join in — we're looking forward to seeing you! Read on to find out about all the fun and activities.
See the Campus Beautification webpage for more details.
For questions please contact: Leah Naumik at 204-474-8912 or leah [dot] naumik [at] umanitoba [dot] ca
Everyone's invited for music and a free lunch
A free barbecue lunch follows at noon at both campuses — in the Quad at the Fort Garry campus and at the Bannatyne campus, in the green space between Medical Services and Medical Rehab (see maps). Both events will have music, and the Mark O'Riley band will also play live at the Fort Garry campus!
Everyone is encouraged to attend lunch and enjoy the band even if they didn't participate in the gardening activities. Stick around for a chance to win some great prizes.
Campus Beautification prize draws
Each year, participants have an opportunity to enter a draw for some fabulous prizes, including this year's grand prize of one complimentary airfare courtesy of Air Canada.
The prize qualifies for airfare to and from any destination in Canada or the continental USA on scheduled flights operated by Air Canada and Air Canada Express in economy class (Hawaii and Puerto Rico are excluded). Space is subject to availability at time of booking and travel must be booked by Sept. 30, 2023, with travel completed by Mar. 31, 2024.
Donate to help others
Remember to bring items for the UM Food Bank — donation bins will be located at both Bannatyne and Fort Garry Campus Beautification events. Donations of non-perishable food and hygiene items are accepted. Please see the list of most-needed items.
Green Event Certification
Campus Beautification Day has been certified as a green event through UM's new Green Events Certification program. In-person and virtual events that consider sustainability throughout their planning process can save energy, reduce waste and support social and environmental sustainability on campus. This event has been recognized with a Gold Green Events Certificate and Seal. To learn more, visit umanitoba.ca/sustainability