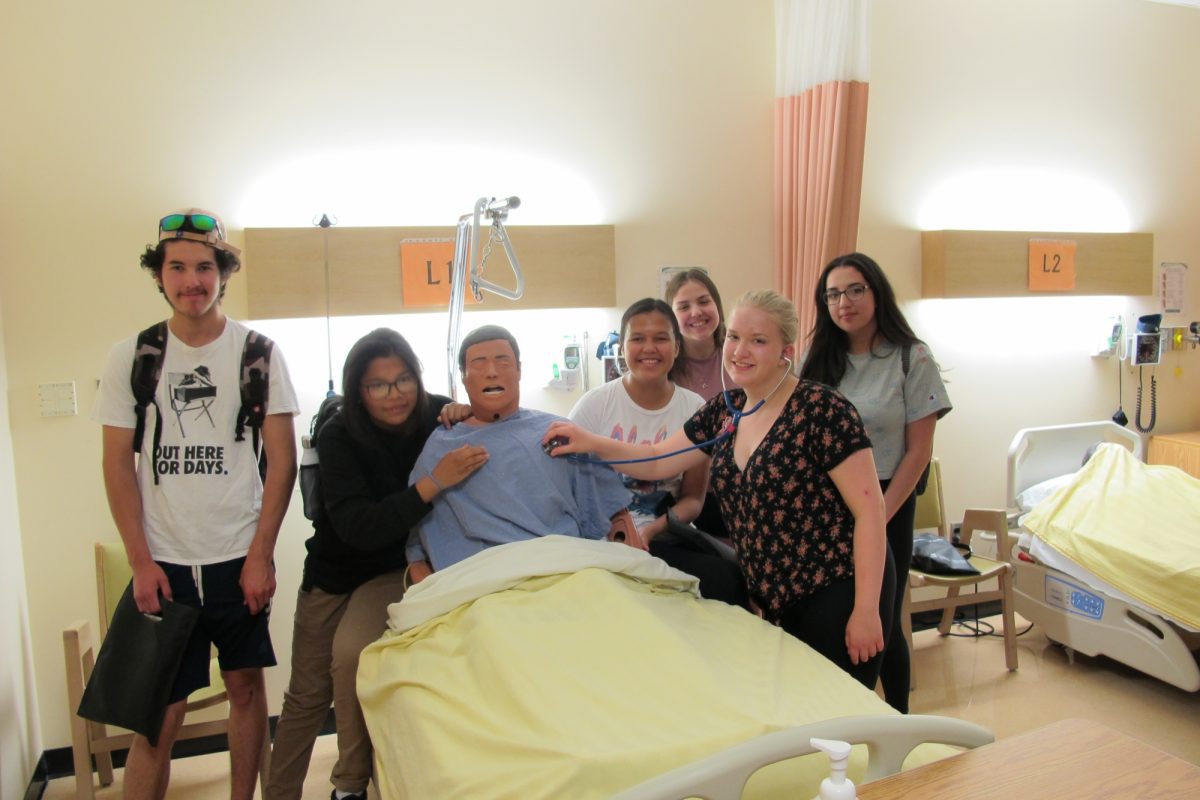 Camp inspires northern high school student to pursue medicine
Students begin their quest for a health care career here
July 22, 2019 —
Six years ago, Curtis Leclerc was a Grade 11 student attending the Health Career Quest Summer Camp at the University of Manitoba. This summer, he is the camp coordinator who just wrote his Medical College Admission Test (MCAT).
"I don't know if I would be in the Access Program or on this path without this camp," says the Métis student from The Pas. "Teachers and counsellors need to know how important this is, and how long-lasting its implications are."
The Health Career Quest Summer Camp gives priority to Indigenous students and this year, brought 12 students from remote Northern communities to the U of M from July 11 to 20. Started in 2008, the camp was designed to inspire Northern Indigenous Grade 11 students with the possibilities of attending university and pursuing health careers. Students live in-residence at the Fort Garry campus, and travel to the Bannatyne campus daily for hands-on experiences in medicine, dentistry, pharmacy and medical rehabilitation through participation in the Biomedical Youth Camp.
Leclerc found out about the camp from his high school guidance counsellor and a mention in his high school's newsletter. His teachers encouraged him to attend this free opportunity. His own experience attending the camp inspired him to come to university, join Access, and start on his health care career path. Originally, he thought it would be to become a physiotherapist but now, he plans to be a doctor.
I can do this
"At the time, I didn't understand the importance the camp would have in my life. It showed me, oh wow, I can do this," says Leclerc, who has counselled at the camp for the past three years. His fellow counsellors this year included Kiana Tait, a camper herself just two years ago now attending U of M with Access, and Carla Kirkpatrick, a recent graduate in social work, as well as camp counsellor and bus driver, Blair Waites from the Frontier School Division.
"A lot of students from the North never get to see and experience university. They may not know they can do it. There are more barriers for them, having to leave their families and support systems. This year's campers are seeing the possibilities."
Among the inspiring activities this year was a visit to Nursing where students met mannequins who simulate real patients. "They are really cool," says Leclerc. "They can move and breathe and go into cardiac arrest." Nursing program information and even a few applications to students who expressed their interest in this career path were provided.
The camp also takes the opportunity to remind students of the importance of their high school math and sciences courses, as prerequisites to their university studies. Planning for these is especially important, when some northern schools may have limited course offerings.
Blair Waites remembers Curtis Leclerc as a Grade 11 student attending the Health Career Quest Summer Camp, and admires how far Leclerc has come. "He was the only male that time. It was a very good camp," says Waites. Waites's divisional superintendent suggested he get involved with the camp six years ago, and he has been a counsellor and driver ever since.
As an evening program coordinator with the Frontier School Division, Waites often travels around Manitoba and runs into former campers.
"I feel so proud to see our students and the accomplishments they make. I am excited for them, anticipating great things. It is a great feeling, says Waites. "The camp opens up a lot of doors for them and then it's up to them to step through."
The Health Career Quest Summer Camp program is offered through a partnership that includes U of M's Access Program, Manitoba's Health Care Provider Network, (Office of Rural and Northern Health), and the Frontier School Division. Other partners who make the camp happen include, U of M's St. John's College, U of M's Ongomiizwin Health Services, and Max Rady College of Medicine, in addition to the many areas of the university that contribute time, services, and funds.