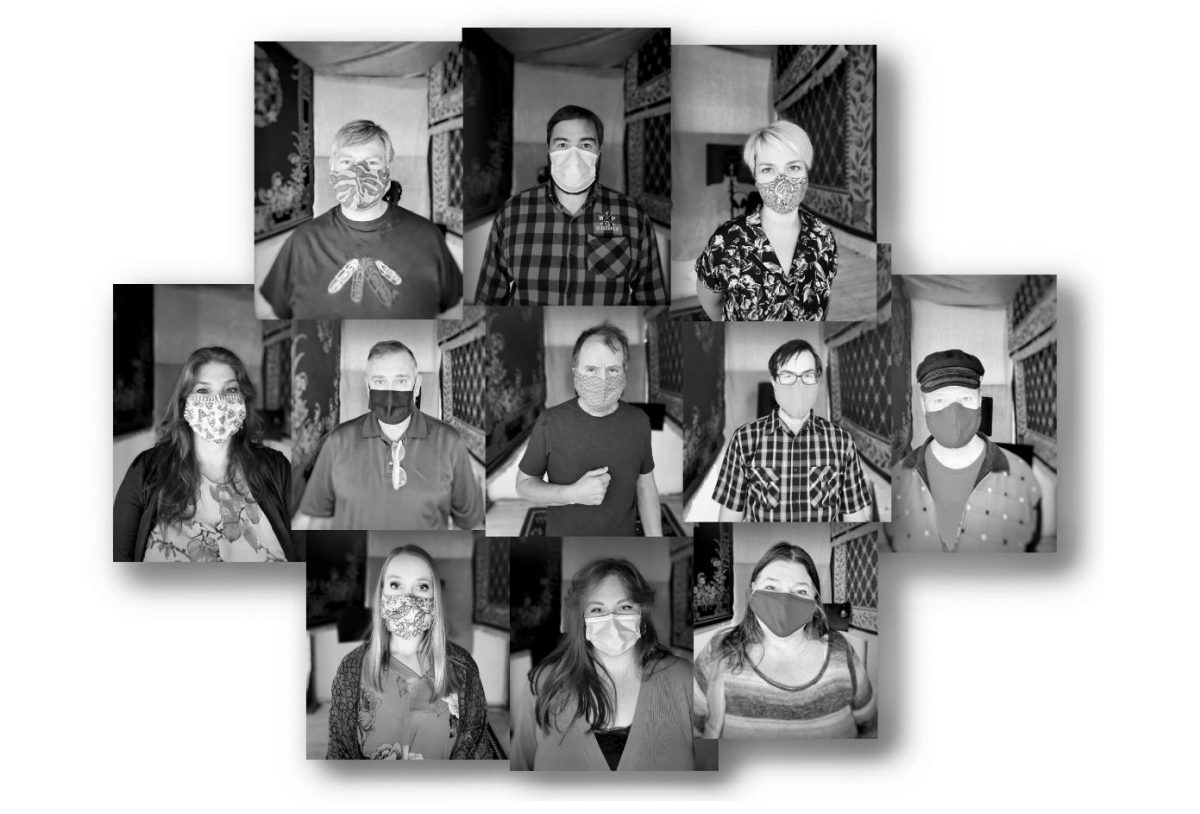 Camerata Nova finds new inspiration during pandemic
The popular Winnipeg choral ensemble, separated from each other and their audiences by COVID-19, is using new methods to connect and share music
October 15, 2020 —
There's never been a year quite like 2020. For musicians around the world, the arrival of COVID-19 met that their performance schedules suddenly emptied. However, in the wake of shutdowns, quarantines, and social distancing, musicians have taken their shows to social media, providing much needed levity during an otherwise serious time. Winnipeg's Camerata Nova, especially, proves that the show must go on.
The popular choral ensemble is a musical institution in Winnipeg is known as much for its gorgeous arrangements of classical works as it is for its concerts featuring new Indigenous and contemporary music. The group, founded in 1996, features a number of Desautels Faculty of Music graduates and employees, and performs in venues across the city, ranging from churches to concert halls to bars, and has produced four albums. With their anticipated spring and fall 2020 seasons suddenly cancelled, Camerata Nova sought to find new ways to collaborate during the pandemic, and bring music to their dedicated audiences. Fortunately, their members have a talent for more than just music, and made the transition with ease – turning to videos to bring music into our homes.
Run to the Hills
"With the help of Camerata Nova's Executive Director Roland Deschambault, a gifted videographer, and his brother Phil, a local pop music legend as audio engineer and video editor, Camerata was able to venture into this new field with confidence," says Mel Braun, a member of the ensemble, and a professor in the Desautels Faculty of Music.
Now, the group needed Zoom-friendly arrangements.
At the beginning of the pandemic, Andrew Balfour, the Artistic Director of Camerata Nova and an alumnus of the Desautels Faculty of Music, found himself on lockdown in a small apartment in Toronto, where the mood of the city brought to mind song from the 80s: "Run to the Hills," by Iron Maiden.
"At the time I was deeply immersed in the heavy metal scene, buying Judas Priest, AC/DC and Iron Maiden albums every allowance day," he wrote on Camerata Nova's blog.
"I remember back then being impressed how a bunch of white English rockers could write a song so poignant about the harsh reality of colonialism," he continued.
Balfour, a survivor of the Sixties Scoop, had wanted to write a choral arrangement of the song for years, and, not knowing how long lockdown would last, he decided that there was no time like the present.
He and Braun went to work.
"Andrew and I arranged this piece in a Georgian choral style, with whoops, hollers, and nonsense syllables, recording the piece one voice at a time to keep with the social distancing required by the pandemic," says Braun.
"We added some unique instruments, including boomwackers, bells, and a Georgian pandori to fill out the sound," adds Braun.
Balfour performed the lyrics of the song, providing a new and powerful perspective.
"Andrew chose this piece because of its commentary on colonialization, and his strong vocal led the way in a riotous celebration," says Braun.
The result was an arrangement that will bring a wry smile to anyone's face, and has to be seen and heard to be believed.
The video can be seen HERE.
Songs written in the age of the bubonic plague updated for a modern pandemic
Inspired by the success and fun of their first video, Camerata Nova decided to continue their efforts. This time, they returned to their early music roots.
"John Wiens, the Camerata Early Music specialist, chose several pieces from the 15th century, and we reworked these in the typical Camerata style, using drones, overtones, digeridoo, and guest folk singer and fiddler Raine Hamilton," says Braun.
Hamilton, an alumna of the Desautels Faculty of Music and winner of the 2018 Canadian Folk Music Award for Emerging Artist of the Year, is a prolific musician. She tours frequently, and has performed her gorgeous, haunting, early-music inspired songs with choirs and orchestras.
"Raine joined us for Adrian Willaert's "Vecchie Letrose", a Neopolitan Villanesca that tears a strip off all the gossips who have nothing better to do than kvetch all day," says Braun.
"Updating the text to reflect what happens with present day social media, Raine and Camerata went back and forth between English and Italian, encouraging people to take a break from tweeting," Braun adds.
This time, Camerata Nova made use of the beautiful Winnipeg summer, and rehearsed outside.
""I was determined to find ways to keep singing and making music throughout this pandemic, despite the ever-changing restrictions and limitations on singing and working in groups," says Sarah Sommer, a member of Camerata Nova, a current post-baccalaureate student in the Desautels Faculty of Music, and teacher in the Winnipeg School Division.
"As long as it is done in a safe way – which this project definitely was – then I don't see any reason not to participate," she says.
Prior to the pandemic, Sommer and her husband Justin Odwak, also a graduate of the Desautels Faculty of Music, and member of Camerata Nova, had formed another choir, Nuovoce, and were set to perform the group's second-ever concert. Sadly, the event had to be postponed due to public health measures to contain the virus, but the pandemic recordings have helped convince Sommer and Odwak find ways to move forward with Nuovoce's second season.
"Singing with a mask in rehearsals is definitely a challenge!" she says of the work to prepare for the video.
"Singing with a mask inherently causes you to change your technique in order to compensate for the lack of resonance, clear diction, full, released breath, etcetera," she says.
"Another challenge was the extremely short rehearsal period, as we wanted to limit our time singing together. Along with this came the necessity to record each musician separately. Recording a choral line as a soloist, without the rest of the ensemble has a very different feel – it feels much more exposed and 'unsupported'," she adds.
"With so many performances and musical events being cancelled, it was great to have a musical project to work on, and an opportunity to collaborate with other musicians," she says of the experience.
"One of my favourite moments was making a big circle in the parking lot outside the recording venue in order to have a short – and safely distanced – rehearsal," agrees Victoria Sparks, a percussion instructor in the Desautels Faculty of Music who has served as a guest artist throughout the pandemic recordings.
"You could see in everyone's eyes that we were all so happy and we all kept commenting on how wonderful it felt to actually be in a REHEARSAL! With fellow MUSICIANS! After such a long drought of live music making it just felt amazing," says Sparks.
"Raine's soulful singing and rhythmic playing, Tori's visceral percussion, and the energy of the vocal quartet were augmented by the cinematic scope of the video, turning Willaert's 15th century utterance into a contemporary earworm," Braun says of the result, which can be seen HERE.
We are family
"Our strengths are innovative programming, collaboration and community – we are family," Camerata Nova says on its website.
For its members, the socially-distanced recordings were about more than performing. They were also about reconnecting with loved ones.
"I welcomed the opportunity to reconnect with other choral musicians now that we had a safe manner to do so," says Camerata Nova member Scott Reimer, a recent graduate of the Desautels faculty of Music who has performed with Camerata Nova since 2005.
"Not having had the option of making music with others in the same room since mid-March, it was a joy to get together and make these recordings," he adds.
"Reconnecting with the people has been really meaningful. You don't really realize how much you miss your community, especially as an introvert, until you get together in the same room. And to make art at the same time was pretty special," says Reimer.
"The best thing for me, was the feeling of singing with others," agrees Merina Dobson-Perry, a graduate of the Desautels Faculty of Music who first performed with Camerata Nova when the group collaborated with the DFOM's University Singers in 2007. She then joined the group as a permanent member several years later.
Dobson-Perry felt particularly hard-hit by the pandemic. Focused on keeping her young family safe, she closed her private studio and temporarily stopped teaching her preschool music classes. She also stopped performing at Young United Church, where she holds a soloist position.
"I was nervous but so pleased to receive an email asking if I would be interested in recording 'Run to the Hills' with Camerata Nova," she says of her first foray back into music since March.
"At first, it felt foreign and bizarre to be in a room with someone other than my family, but much care and planning was evident and we were able to record very safely. It was definitely what my soul needed, and I will continue to take advantage of any opportunities to sing safely!" she says.
"Even when the others weren't physically present in the room with me, being able to hear them in my headset and feel like I was singing along with them did bring me so much joy," she adds.
Up next for Camerata Nova
Camerata Nova recently released a third pandemic recording, Josquin Des Pres' "El Grillo."
"El Grillo is all about the unceasing love song of the cricket, featuring four different languages and vocal styles, all culminating in a Georgian yodel as the cricket does his best to attract a mate," says Braun.
The tongue-in-cheek performance about insects with only one thing on their mind is sure to elicit a laugh from listeners, and can be seen HERE.
The next pieces that will be performed will be more somber and reflective in nature.
"The most recent project, still in post-production, focuses on New Indigenous Music," says Braun.
"Scenes from Cris Derksen's powerful 'Triumph of the Euro-Christ' and 'O how I cried' from Andrew Balfour's upcoming work "Captive" were recorded at the St Norbert Arts and Cultural Centre," he says.
"Cris's piece is about the tragedy of a murdered Indigenous woman and Andrew's piece reflects on Chief Poundmaker's unjust imprisonment at Stony Mountain in the 1870s," Braun says of the works.
Camerata Nova hopes that these pieces will cast new light on the atrocities committed against Indigenous peoples in Canada, and bring new voices to the table.
"I hope the performance inspires our audience to learn more about the stories of the people behind the music," says Dobson-Perry.
"The lyrics for 'Triumph of the Euro-Christ' come from poetry written by Josh Whitehead, and it is powerful indeed. I highly recommend everyone to read it in its entirety – and keep a box of tissues handy. I hope our performances will amplify voices that need to be heard," she says.
That old familiar feeling
Camerata Nova hopes that its performances will help audiences begin to feel again.
"I felt as though this was an opportunity to bring a bit of meaning to the lives of those who watched the recordings," Reimer says.
"I hope that music can serve as a balm for the pain of these times, and that our videos can bring a smile, a tear, or deeper feeling to someone," adds Dobson-Perry.
"These days, there is a certain emotional numbness that creeps upon me, and I doubt I am alone in that. Making music brings me back to feeling, and I hope that that experience extends to others as well," she says.
"It would be nice to know that these videos have brought someone a moment of meaning, and I really hope they remind listeners of the value of choral music," adds Reimer.
"You don't get the same life-giving essence from an online video as you do when you are at a choir's live performance, but this is still a great way to stay connected with your local choral community and remember why you attend live concerts when you have the opportunity!" he says.
"Doing these video projects has allowed us to keep our singers singing during the pandemic, and has allowed us to continue celebrating the community that choral singing brings," says Braun.
"Nothing beats live choral music making, but these video projects are a close second!"
We agree! We can't wait to see what Camerata Nova does next to stir our emotions, but we know it will be outstanding!
For more information about the ways in which you can enjoy and support Camerata Nova, please visit cameratanova.com.