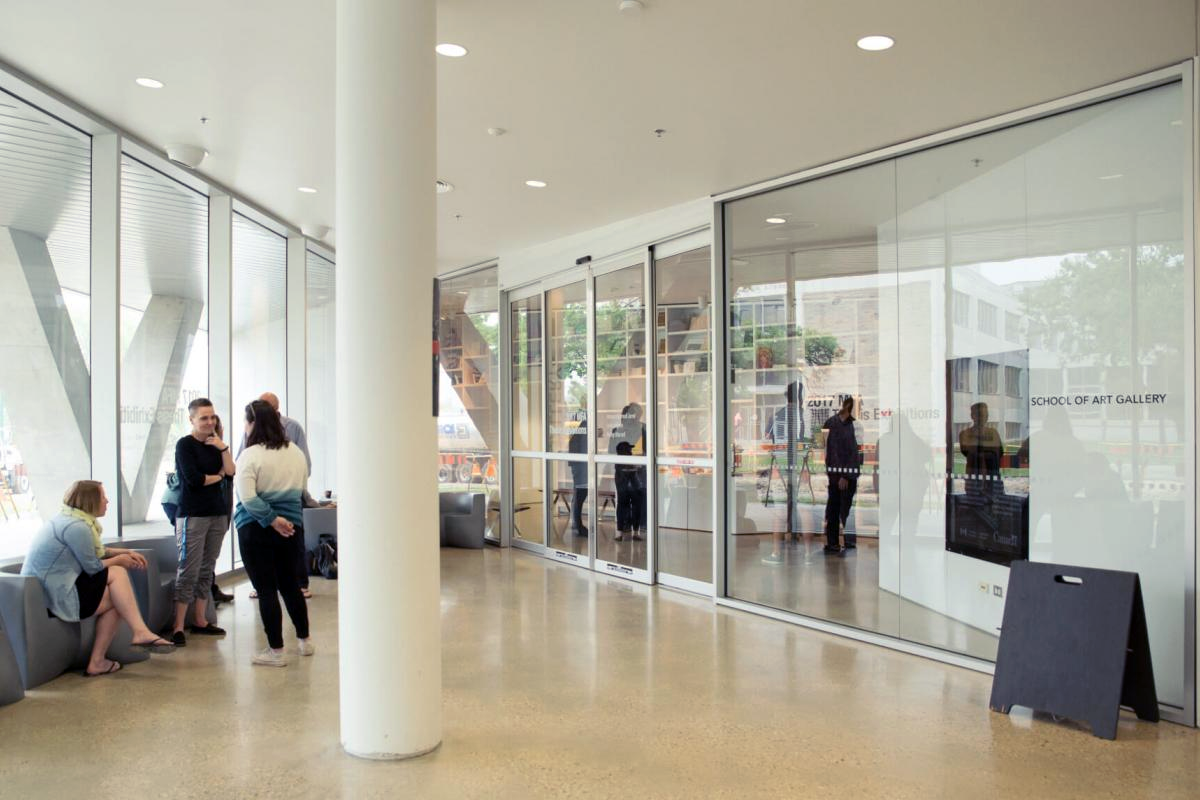 Call for Emerging Curators: School of Art Gallery Visiting Curator Program
July 6, 2021 —
The School of Art Gallery at the University of Manitoba is seeking two emerging curators to participate in its inaugural Visiting Curator Program. The chosen applicants will receive mentorship and support from internationally-recognized visiting curator Grace Deveney, as they propose, research, develop and present an ambitious exhibition, complemented by a lively and critically rigorous roster of adjunct programs and an engaging, substantive publication.
Between Fall 2021 and Winter 2023, the chosen candidates will participate in regular one-on-one and group mentorship sessions with Deveney as they develop their curatorial projects. They will receive additional support from faculty and staff at the School of Art and School of Art Gallery, and are encouraged to develop, foster, and harness opportunities provided by partnerships with other arts organizations.
In-person activities will take place as public health restrictions permit, and subject to travel restrictions, the program will offer opportunities to travel for research and presentation. Emerging curators may provide academic and public lectures, studio visits, and workshops at the School of Art, in Winnipeg, and elsewhere, either virtually, or in-person as permitted. Emerging curators who are not based in Winnipeg will be invited to spend at least six weeks onsite researching, developing, and presenting their programming.
We invite project proposals from curators who have recently graduated from an accredited master's-level program and are within their first three years of professional curatorial practice. While this call is open to Canadian, American, and international curators, we especially welcome applications from BIPOC (Black, Indigenous, and People of Colour) curators based in Winnipeg and the Prairies. Alignments with the research areas of the visiting curator are welcome, as well as disparate and complementary interests and engagements.
Project Timeline
The deadline for submissions is July 23, 2021.
Proposals will be reviewed by the School of Art Gallery Visiting Curator Committee. The chosen candidates will be notified by August 6, 2021.
The Program will begin between late August-early September 2021.
The Program will culminate in Spring 2023 and Winter 2023-24 exhibitions curated by the chosen candidates.
Comprehensive program schedules will be developed in collaboration between the School of Art Gallery Director/Curator and the chosen candidates.
Financial Support
Each emerging curator will receive a curatorial fee of $20,000 CAD. The Visiting Curator Program will also cover the cost of related travel and accommodations.
Project budgets will be developed by the School of Art Gallery Director/Curator in conversation with each emerging curator. All exhibition, publication, and outreach costs will be covered by the Program. Costs associated with the commission of new artworks may be covered on a case-by-case basis. The School of Art Gallery is committed to the fair remuneration of artists, writers, and other presenters and pays artist fees at or above rates outlined in the CARFAC Minimum Recommended Fee Schedule.
How to Apply
All proposals must be sent digitally with the email subject line Visiting Curator Program. In a single PDF, please include:
An exhibition proposal (500 words maximum)
A proposal for ancillary programming, which may include artist talks, workshops, performances, screenings, etc. (250 words maximum)
A CV (3 pages maximum)
1-2 writing samples
A list of support materials
You may include up to ten items of support material, including jpeg images, weblinks, and video files that demonstrate previous curatorial projects and/or artworks to be included in your proposed exhibition. Video support material must be no longer than 5 minutes in length (please include passwords and timecodes, if required, in the list of support materials). The application should be no more than 10 MB in size.
Please address your proposal to the selection committee and email it to gallery [at] umanitoba [dot] ca. You may also use Dropbox, WeTransfer, or other file-sharing services to submit your proposal.
We thank all applicants for their proposals, however, only those selected for an interview will be contacted.