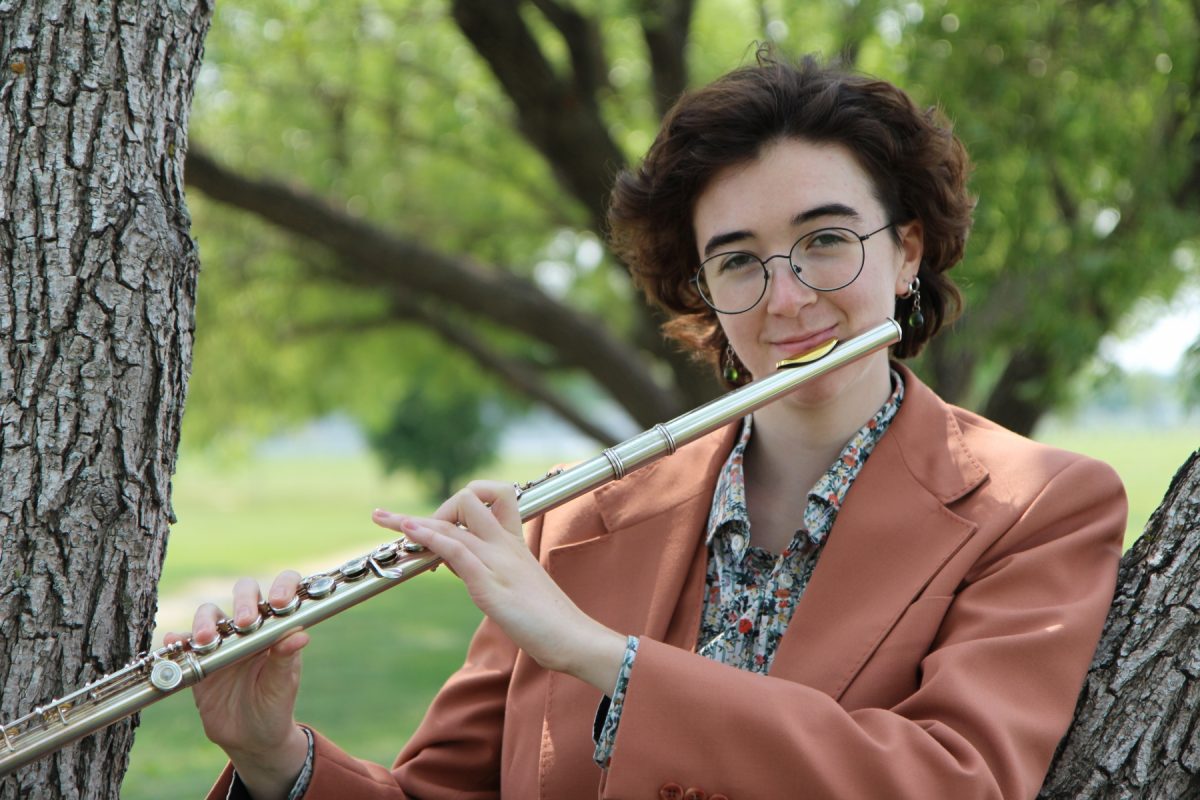 Cal Wiese is a true original, and will bring great things to the classroom
June 30, 2023 —
Most woodwinds, brass, and percussion students get their start in grades seven and eight band classes, but Cal Wiese is not most students.
"I started playing flute at age twelve in grade six to prepare for grade seven band class – I was pretty excited to start!" she says.
Prior to picking up flute, Cal played piano, beginning at age five with lessons from her mom. Over the years, she has branched out, and now plays a variety of wind instruments.
"I'm also a black belt in recorder karate," she says, somewhat cryptically.
We're not entirely sure what that is, but it sounds fairly dangerous, so we'd recommend not getting on Cal's bad side, just to play it safe!
With her growing interest in music, Cal always suspected that her future might be in music.
"I truly decided when I realized that being a music teacher was the perfect fit for me. I love music, I love being busy, and I love working with people. Add those three together and you get a music teacher!" she says.
Two years before she began university, Cal met Laurel Ridd, a Desautels Faculty of Music major practical study (MPS) instructor in flute, at the International Music Camp, and joined Ridd's studio to prepare for her goal of studying music at the university level.
With her growing arsenal of musical instruments and a talented instructor to guide her, Cal was ready to take the next step.
In the faculty
After her successful flute audition for the Desautels Faculty of Music, Cal received a number of scholarships, including the Marcels A. Desautels Undergraduate Scholarship, repeatedly, the Berchman Loh Scholarship in Music, and the Reg and Anne Hugo Memorial Fund Scholarship in Music. Cal also immediately immersed herself in ensemble work, performing with the University of Manitoba Wind Ensemble, various small chamber ensembles, including flute quartets, trios and duos, and Collegium Musicum, an ensemble that focuses on early music. Ever the committed collaborator, she also partnered up with fellow students to perform music composed by other Desautels students.
Indeed, when it comes to the pieces she most enjoyed learning and playing in the faculty, Cal notes that, in addition to "Orange Dawn" by Ian Clarke and the first two movements of Anver Dorman's "Piccolo Concerto," students works rank among her favourites.
"Everything written by my lovely friend Fiona Walker [has been my favourite music]," she notes.
Cal also worked as a clinician at multiple bands clinics during her time in the faculty, giving a glimpse into her future as a committed music educator.
If her work with flute and piccolo weren't enough, Cal decided in her final year in the faculty to pick up percussion and joined the Percussion Ensemble. With that addition, she has fully rounded out her knowledge of musical instruments.
You can hear some of Cal's beautiful performances here.
In addition to her work in the faculty, Cal has also participated in many competitions, including the Winnipeg Music Festival, where she won the 2020 Long & McQuade Trophy for the most outstanding Royal Conservatory of Music (RCM) Grade 9/10 woodwind or brass performance, and was runner-up for the 2020 Beryl Ferguson Memorial Trophy, which is awarded for the most outstanding performance in a competition of RCM grade 10 instrumentalists, both during her first year in the faculty!
Those two accolades came right before COVID-19 shutdowns began. Many music competitions were scrapped while COVID was at its height, but as soon as the world began to open back up, Cal went right back to competing. Later, in 2022, as competitions began opening back up, her performance at the Winnipeg Music Festival resulted in Cal being recommended , at the senior woodwind level for the Associated Manitoba Arts Festival, the provincial competition reserved for the best performers, and this past year, Cal was one of the finalists for the Desautels Faculty of Music's Genser Competition!
The pandemic was tough for Cal, but she ultimately kept her eyes on the prize, and it has paid off.
"I stuck through it throughout the pandemic, not everyone can say that," she says.
"I'm very fortunate to have been able to continue school in that odd format that only works for some," she notes of the difficult time.
But she knew she was working towards something that was bigger than the pandemic, which helped her to persevere.
"I stuck through it because I was able, and because I want to love my job. The job that I'm going to love is teaching music," Cal says.
She's come a long way
Cal's determination and hard work have served her well, and she is very thankful for the mentorship she's had along the way.
"Laurel Ridd [is my mentor]" says Cal.
"Every single lesson I had with Laurel always solidified how passionate I am about music. I absolutely loved working with her and will continue to do so after graduation," Cal says.
For her part, Ridd has marveled at Cal's transformation during their time together.
"I've had a wonderful journey with Cal," says Ridd.
"She has transformed herself from a not-very-advanced high school student to a university graduate who plays at a high level – very musically expressive and with excellent technique, rhythm, and intonation," Ridd says of Cal's talent and growth.
"In addition to the flute, Cal loves playing the piccolo and has brought her skills to the same high level on that instrument as well," adds Ridd.
"She has had success in the Winnipeg Music Festival, the Associated Manitoba Arts Festivals, and the Syrinx Flute Festival over several years," notes Ridd.
"Cal has a special affinity for music of the twentieth and twenty-first centuries and has given some very memorable, beautiful, and exciting performances," says Ridd.
Up next
With her Bachelor of Music in music education now in hand, Cal has set her sights on a second bachelor's degree, this time in education, and will begin work on the two-year after-degree Bachelor of Education (BEd) at the University of Manitoba, which will help her strengthen her pedagogy and prepare her for a classroom full of music students.
Two days after she crossed the convocation stage of the University of Manitoba's Max Bell Centre, Cal stepped onto a very different stage, performing with "The Very Groovy Things," a band that specializes in covering the music of the Mamas and the Papas and other folk rock artists of from 1960s and 1970s Southern California. Their next performance will be a fundraiser for the United Church in Meadowood, on June 29, 2023.
Cal is looking forward to her future, and what it will mean for connecting others with the same kinds of experiences she has had through music.
"I believe that music and relationships are an important part of human existence, and music education facilitates both of these things," she says.
"I want people to make music in my future classes, but more importantly, I want to create an atmosphere where students can make the lifelong friends that I have made through my music education," Cal says.
Laurel Ridd knows that Cal will bring a lot to the table for these very reasons.
"In addition to her musicianship, Cal is great to work with on a personal level, and I speak for her peers as well as for myself. She is a team player," says Ridd.
"We will miss her at Desautels, but I'm confident that her qualities of passion, dedication, originality and humour will find great expression through her teaching career," Ridd says.
We agree! Congratulations, Cal! We can't wait to see what you do next!