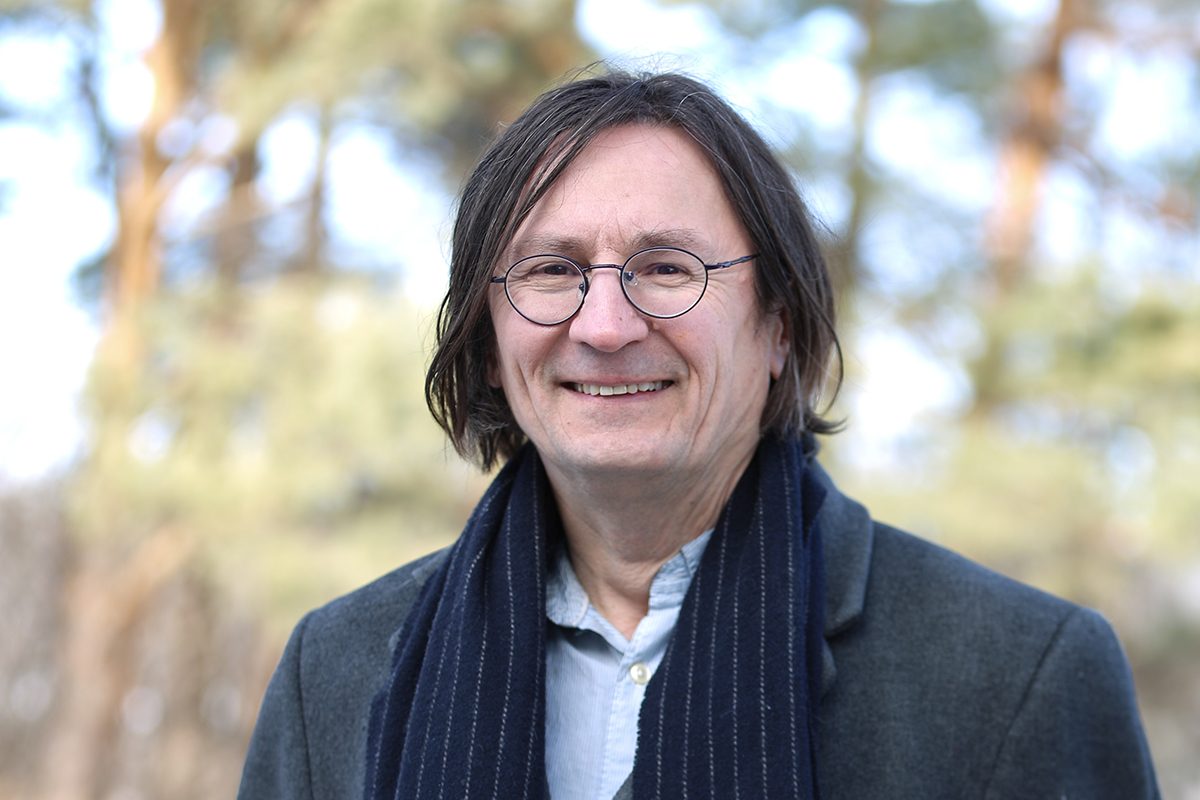 Bush Ethics: Decolonizing the university
April 11, 2018 —
Professor Peter Kulchyski (Native Studies) is the recipient of the 2017 Dr. John M. Bowman Memorial Winnipeg Rh Institute Foundation Award in recognition of his outstanding research accomplishments.
On April 10, Kulchyski was presented with the award at the annual Rh Awards Ceremony, Lecture and Reception. At the same event, awards were presented to recipients of the 2017 Terry G. Falconer Memorial Rh Institute Foundation Emerging Researcher Awards.
Kulchyski's presentation drew upon three decades of research experience in Nunavut, the NWT and northern Manitoba to raise broad concerns about how university practices remain complicit with colonialism, and conversely how universities can assist in the struggle to decolonize.
"At the core of Canada's continuing colonial relations with Indigenous peoples are processes of resource extraction," says Kulchyski. "Most provinces are jurisdictional zones that consist of a large southern city whose prosperity derives from exploitation of regional agricultural, timber, mineral or energy resources on the lands of Indigenous peoples. On many levels, universities remain critical enablers of these processes."
The Terry G. Falconer Memorial Rh Institute Foundation Emerging Researcher Awards were awarded to faculty members in the early stages of their careers who display exceptional innovation, leadership and promise in their chosen fields.
The 2017 recipients are:
APPLIED SCIENCES
Robert Duncan (Plant Science) is a canola and high erucic acid rapeseed breeder. Duncan and his team develop new varieties that are grown by farmers across western Canada. His team focuses on developing high yielding, disease resistant varieties with excellent end use quality. Erucic acid is used as a lubricant and slip agent and can be found in many household products (plastics and cosmetics) that are used on a daily basis. Specific research goals include increasing the erucic acid content of the varieties in order to improve the extraction efficiency, as well as improving the agronomic traits so that farmers can grow their crop in a more economically and environmentally efficient manner.
Yang Wang (Computer Science) works on computer vision and machine learning. His research involves developing algorithms that automatically understand images and videos, including image classification, object detection, human action recognition and image segmentation. The general methodology of his research is to leverage techniques in machine learning to solve problems in computer vision. His research has potential applications in many real-world domains, including surveillance, entertainment, image/video search, health care and assistive technology.
HEALTH SCIENCES
Nathan Nickel (Community Health Sciences) uses big data to better understand how we can support families to have healthy and happy lives. Many factors influence Manitobans' health and well-being: social policy, the neighbourhoods in which we live, and the health care we receive are just a few. In his research, Nickel brings together the rich information on health, social services, education, and justice recorded in the 80 databases held in the Manitoba Population Research Data Repository. He then uses these data to identify policies and programs that promote the health and well-being of children, mothers, and their families. Nathan is also keenly interested in finding those programs that help to reduce inequities in health: those unfair and avoidable differences in health and opportunities.
HUMANITIES
Mary J. Shariff (Law) examines the contemporary, controversial practice of termination of life in Canada known as "medical assistance in dying". In particular, her research explores the substance, boundaries and trajectories of termination of life by examining it through: the different mechanisms of law reform (e.g. court cases versus legislative processes); the ethical, philosophical and social descriptors and arguments (e.g. dignity, autonomy, relief of suffering, compassion); legal strategies and translation into legal vehicles and human rights concepts (e.g. rights to liberty, security and equality); monitoring and compliance regulation; and its legal interface with other critical protections, social goals and objectives (including palliative care, vulnerability, disability, aging, the social determinants of health and freedom of conscience). Through a comparative laws approach, Mary's research helps to identify and unpack different policy concerns to be considered as termination of life practice continues to unfold and becomes operationalized.
INTERDISCIPLINARY
Ehsan Khafipour (Animal Science/Medical Microbiology and Infectious Diseases) uses cutting-edge molecular microbiological techniques combined with bioinformatics and statistical approaches to link the composition, function, and dynamics of microbiomes in the gut, the mammary system and the vaginal tract with individuals' diet, lifestyle factors, and health/disease status. His goal is to move from the current "one-size-fits-all" recommendations for prevention and treatment of metabolic disorders and infectious diseases—in both humans and animals—toward personalized/precision nutrition and medicine. He is also working closely with a diverse group of researchers to characterize microbial communities in the environment to address ecologically important questions.
NATURAL SCIENCES
David Herbert (Chemistry) is a synthetic inorganic chemist, and leads a research team probing the ability of chemistry to answer critical questions in energy and sustainability, all through the lens of fundamental bonding and reactivity at a molecular level. This includes designing novel molecules and materials for solar energy capture and conversion, and molecular battery materials for off-grid energy storage, in addition to applying electrochemistry and catalysis in the pursuit of environmentally friendly alternative routes for the production of value-added chemicals.
SOCIAL SCIENCES
Robert C. Mizzi (Education) examines the work and welfare of educators in educational organizations. He reconceptualizes employment situations to embrace and include educator-difference in order to advance student success, organizational learning, job satisfaction, and educator development. Guided by feminist and decolonizing principles, Mizzi focuses on the perspectives of those educators who identify as lesbian, gay, bisexual, transgender, and queer, and those educators who cross borders to work in different countries. These perspectives enable Mizzi to connect with other social science disciplines, such as sociology, labour studies, queer studies, and Indigenous studies. Mizzi assists educational administrators by helping them understand the connections between work culture, inclusion/exclusion practices, and social change, and then consider the conditions required for diverse ideas and identities to flourish.
Research at the University of Manitoba is partially supported by funding from the Government of Canada Research Support Fund.